Romney's Biggest Cheerleader, Sheldon Adelson, Was in the House in Denver
The casino magnate, who has donated more than $36 million this election cycle, is an increasingly frequent presence around the GOP nominee.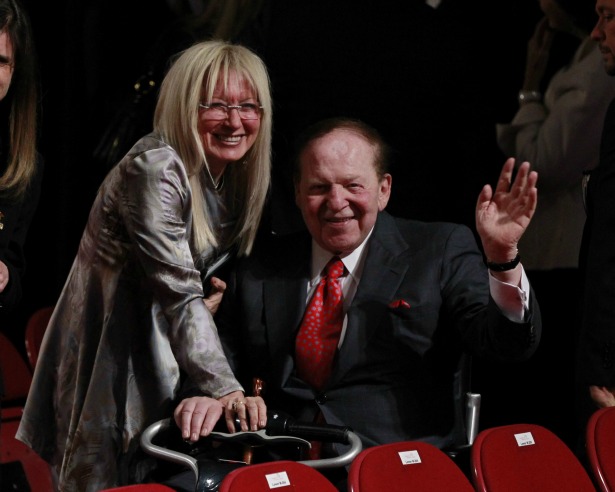 Reuters
Did anyone else spot Sheldon Adelson in the audience at last night's debate in Denver? His attendance seems to have gone more or less unnoticed, but he and his wife Miriam mugged for this photo with Reuters after the Romney-Obama contest at the University of Denver. Adelson had reason to smile: His man Mitt Romney had a good night in the first presidential debate.
Adelson, the casino magnate who donated millions to Newt Gingrich's ill-fated attempt to beat Romney out for the Republican nomination, has become an increasingly frequent presence around Romney. He's donated an eye-popping $10 million to the Romney-aligned super PAC Restore Our Future alone. Overall, Adelson has given more than $36 million to outside groups this cycle. He traveled to Israel during Romney's overseas trip and was present for the much-maligned comments about Palestinian culture and a fundraiser at the King David Hotel. In August, Republican vice-presidential nominee Paul Ryan traveled to Las Vegas to meet with Adelson.
Adelson has been an outspoken critic of President Obama's policies on Israel, and says that's why he backs Romney, but his company is also under investigation by the Obama Justice Department for foreign bribery, adding another potential motivation for him to help Romney win.