Romney Scored Strongest Debate Win Ever
Gallup polling shows that two in three Americans watched the first presidential debate -- and 72 percent of them think Mitt Romney won it.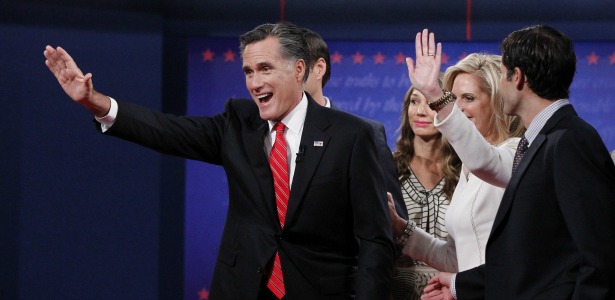 Reuters
Somewhere, Newt Gingrich is saying, "I told you so."
The man who premised his much of his campaign for the GOP presidential nomination on the idea of taking on -- and taking out -- President Obama in a debate may not have won the nod, but he nonetheless predicted the ground on which Obama could best be fought.
"The job of the president is supposed to be to be competent and to be able to stand up for what he believes in and to be able to articulate what's wrong," Gingrich said on NBC's Meet the Press Sunday. "Mitt Romney walked over him."
On that point, there is overwhelming consensus, according to a Gallup poll released Monday, which found that 72 percent of debate viewers believed Romney did a better job than Obama on Wednesday night. Only 20 percent gave the win to Obama. And while there was some partisan split in those numbers -- "Republicans were nearly unanimous in judging Romney the winner," the pollsters report -- Democrats also judged Romney the victor, 49 percent to 39 percent.
That's the strongest win Gallup has ever measured in its post-debate polling.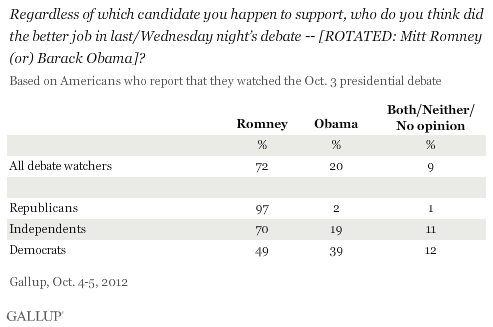 "Across all of the various debate-reaction polls Gallup has conducted, Romney's 52-point win is the largest Gallup has measured," the pollsters report. "The prior largest margin was 42 points for Bill Clinton over George H.W. Bush in the 1992 town hall debate."
Obama won the three 2008 debates against Senator John McCain, according to Gallup polling.