Ralph Reed's Paranoid Style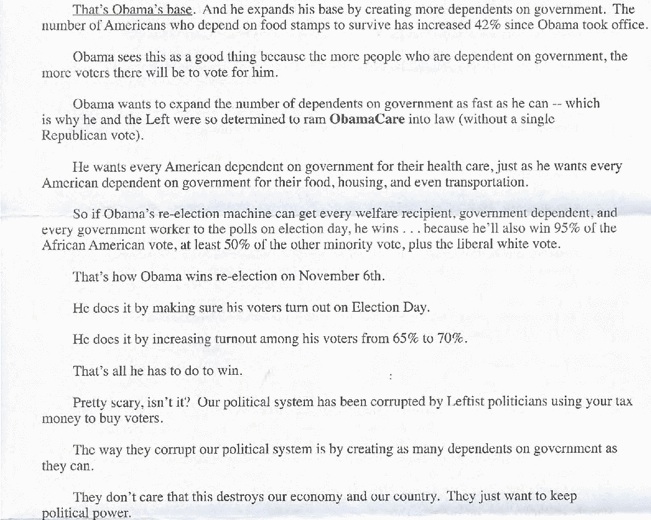 Andrew Sullivan points us to this mailer from Ralph Reed, in which he outlines Barack Obama's dastardly plot. (Original reporting from MoJo.) Again, what makes Mitt Romney's 47 percent tape a non-gaffe is that it is an actual belief which represent actual ideology in the conservative movement. What's noteworthy here is the impossibility that Obama is winning fair and square. Last year Obama was imminently beatable. This year he has a built-in advantage that could make Clifford the Big Red Dog president.
It cannot be that Obama is winning because Americans prefer him. It must be that he is "using your tax money to buy voters." Or, according to George Will, it must be the advantage accrued
from being black in America
:
Perhaps a pleasant paradox defines this political season: That Obama is African American may be important, but in a way quite unlike that darkly suggested by, for example, MSNBC's excitable boys and girls who, with their (at most) one-track minds and exquisitely sensitive olfactory receptors, sniff racism in any criticism of their pin-up. Instead, the nation, which is generally reluctant to declare a president a failure -- thereby admitting that it made a mistake in choosing him -- seems especially reluctant not to give up on the first African American president. If so, the 2012 election speaks well of the nation's heart, if not its head.
I think Will says very little about the nation's head and a lot about his own. What Will offers is a fairly old sentiment -- that on no fair field of battle can a black person emerge victorious. And should they emerge victorious it evidences some grievous wrong -- a nation cowed by sympathy or seduced by welfare queens. Any deviation from the predictive model of actual white supremacy must reveal a democracy that is either perverted or malfunctioning.