Obama Apologists Are Defending a Parallel-Universe Drone War
Not the one the U.S. is actually waging. The fact that the strikes can be justified in theory doesn't mean they're just in practice.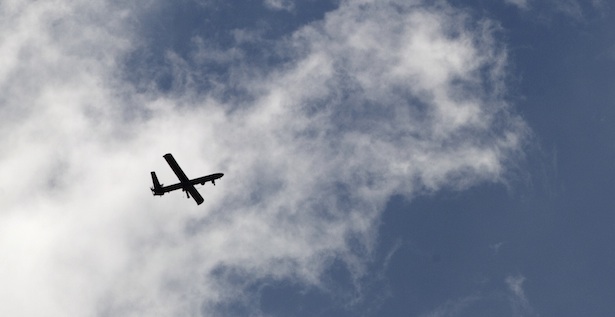 Reuters
Despite my frequent criticism of drone warfare during the Obama Administration, I am not opposed in principle to the use of armed drones. Had a drone rather than a special forces team killed Osama Bin Laden, I'd have supported the strike as fully as I did the raid on his compound. What I object to are specific problematic aspects of America's drone program: the dearth of transparency, the use of CIA personnel rather than Army or Air Force officers for many lethal strikes, the attacks on individuals whose identities aren't even known, the hundreds of dead innocents, and the fact that all dead males of military age are presumed to be militants.
It's rare for Obama Administration defenders to confront these objections.
More often, they insist that drones are a legitimate tool, and the best among the ones at our disposal, as if the fact that a defensible drone program could exist in theory justifies the one we've got. This is especially frustrating when they grant that parts of Obama's actual drone program are indefensible, for that admission is never followed by a condemnation of the program. They just repeat that there's no reason why a program of drone strikes can't be legitimate. It's as if that insight absolves them from the responsibility support or condemn real world drone programs based on the specific ways that they're carried out. It honestly baffles me.
I've written about this phenomenon before. Now I want to show it to you.
This is a clip from an enjoyable debate I had with Michael Cohen. I think he'd contest that his behavior exemplifies what I describe above, but take a look for yourself and see if you agree with me:
 

Says Cohen, "I actually agree with a lot of what you just said. I think the lack of transparency is disturbing. I think we should be more open about civilian casualties than we've been. And I think your point about using the military and not the CIA is a great point. I agree with you completely about that." Glad as I am to hear Cohen acknowledge some of the flaws in a drone war that he otherwise doesn't oppose, it seems to me that he should go farther -- that these are significant flaws, enough so that everyone aware of them should oppose the drone war as a result. Their position ought to be that they'll lend their support if and only if those shortcomings are remedied.
Despite my frustration on this point, Cohen was a great interlocutor, and made various sharp points in our conversation. Given that we were engaged in debate, I also urge everyone to actually watch and judge the exchange for themselves, as I am obviously a biased observer. But if I'm right about the exchange, it's yet another instance of a someone letting their belief that lethal drone strikes are theoretically justifiable skew their judgment about a very different question: whether the actual drone program we're running should be defended or opposed.
I vote the latter.