More Minorities Become Franchise Operators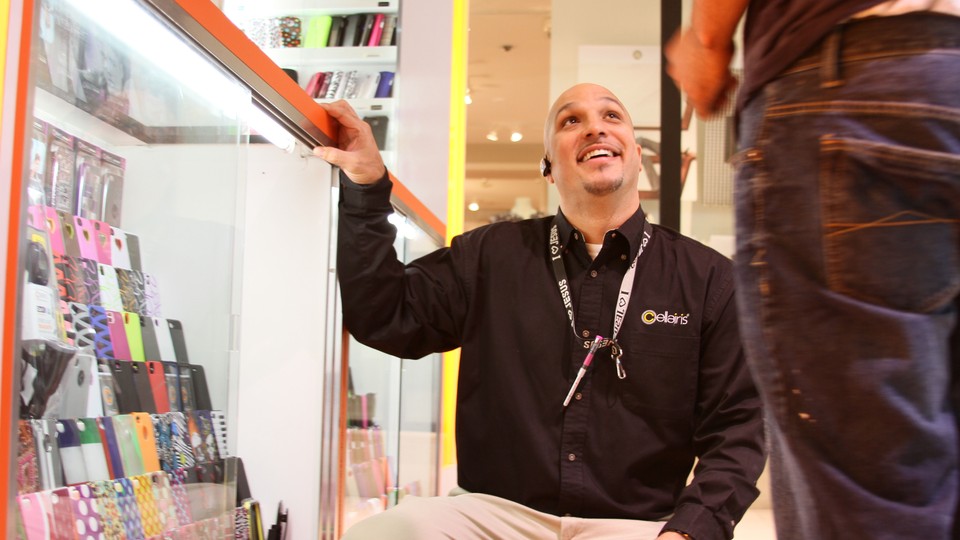 DULLES, Va. — Peter J. Berberena yearned to have his own business since he was a teenager waiting tables at a Denny's restaurant in Hato Rey, Puerto Rico. He just didn't know that it would be selling cell-phone cases with the imprimatur of Hello Kitty or Justin Bieber.
"Who in the world do you know that doesn't have a cell phone?" teases Berberena, 39, at his kiosk at the Dulles Town Center in Northern Virginia. "Some people have two."
Nor did he ever imagine his business would be a franchise.
Berberena is part of a growing number of minority entrepreneurs who see the franchise model as a way to build family wealth. While an overall census of black, Hispanic, and Asian-American franchisees is not available, anecdotal data from two industry organizations suggest these types of enterprises are on an uptick.
A 2007 report by the International Franchise Association's Educational Foundation found that minority ownership increased 1.2 percentage points to 20.5 percent between 2000 and 2007. The National Minority Franchising Initiative published a more conservative figure earlier this month (16 percent), along with a list of the 50 top franchises with minority senior management or ownership.
In the late 1990s, Berberena began working for a cell-phone accessory company, helping to open four stores in Las Vegas. About four years ago, he joined the same company with business partner Chris Whipple, who has Ethiopian roots. Together, they pooled $25,000 to secure a Cellairis franchise.
They now have two Cellairis franchises in Virginia and Maryland. And Berberena hopes the $63 billion-a-year market for mobile-phone accessories will help him expand. "Thank God for the iPhone," Berberena exclaims.
Berberena projects his sales to be $20,000 to $25,000 from January to October and $30,000 to $40,000 during the holiday season that starts in November. He has four employees.
Overall, minority-owned businesses have increased. Black-owned businesses increased by 60 percent to 1.9 million between 2002 and 2007, with sales receipts totaling more than $137.5 billion, latest census figures show. Similarly, businesses owned by Asian-Americans grew by 40 percent. Hispanics, the largest minority group, are starting small businesses at twice the rate of the national average.
As the country's population continues to change rapidly, blacks, Latinos, and Asian-Americans are projected to become a powerful economic bloc. Their combined purchasing power, estimated at $1.6 trillion in 2010, is expected to increase to $2.1 trillion by 2015. Hispanic purchasing power alone is worth $1 trillion, and expected to grow 50 percent in the next five years.
Stan Friedman, first vice chair of the Diversity Institute of the International Franchise Association, expects minority enterprises, fueled by the Hispanic and Asian population boom, fertility rates, and immigration, will spark the nation's economy.
Lower costs to acquire a franchise license have made these enterprises more accessible. "The days when you needed half a million dollars [to join a franchise] have changed, especially with service industries," says Willan Johnson, a franchisor and CEO of VivoPools, which operates in five states. "You can get in for much smaller amounts."
The initial cost to open a Vivo Pools outlet, for instance, is $20,000, plus another $8,000 for supplies such as chemicals and cleaning accessories.
A surge in loans backed by the Small Business Administration also has given franchisees additional oomph. During fiscal year 2011, the federal agency approved more than $19 million in loans, most of them 7(a), a type of loan generally used for franchises.
"You're also seeing more participation in some forms of lending," says Johnson, who entered the franchise pool-maintenance business in 2010 after identifying a need in California's San Fernando Valley. Then, he says, the pool industry was fragmented. Pool cleaners were undercutting each other. "The satisfaction was quite low."
His first franchisee was Southern Californian Richard Figueroa, who had independently maintained pools for years. "He's incredibly ambitious. He soaks up the knowledge and is so customer-focused," Johnson says. Figueroa started with 160 accounts and has added 50 since joining Vivo half a year ago, Johnson adds.
Of the seven Vivo Pools franchisees, four of them are people of color.
Johnson says that minority entrepreneurs often are set apart by their whatever-it-takes-to-succeed attitude. "There's a strong focus on the customer that I may not see from a nonminority. They're very vested in wanting to build a relationship," he says.
They're also more likely to encourage their friends and family to join the franchise, Johnson says. "Richard tells me, "˜My father wants to become a franchisee. He sees how well I'm doing "¦ and he wants to be part of that."
Correction: An earlier version of this story stated the 2007 report on minority-owned franchises was by the World Franchising Network. The report was by the International Franchise Association's Education Foundation.