Mitt Romney vs. Big Bird: Birders Fight Back
Birthers and truthers, meet the new kids in town: defenders of Big Bird.
I like Sesame Street... the trees are the right heights

-- Big Bird (@FiredBigBird) October 4, 2012
Move over birthers and truthers. There's a new constituency alighting on the colorful fringes of the presidential contest, and taking up a seat on its stoop. Defenders of Big Bird, the giant yellow costumed character from Sesame Street, are up in arms over Mitt Romney's remarks about this beloved feathered friend of small children, who has been entertaining and teaching Americans since today's middle-aged creative-class types were corduroys and turtlenecks. I say we call these defenders birders.
"I'm going to stop the subsidy to PBS," Romney proclaimed at the debate. "I'm going to stop other things. I like PBS. I love Big Bird. ... But I'm not going to -- I'm not going to keep on spending money on things to borrow money from China to pay for it. That's number one."
The Twitterverse immediately coughed up the first big meme of the evening, a parody account called @FiredBigBird. On Thursday, @FiredElmo and @FiredOscar joined the pack, though all were subjected to Twitter suspensions.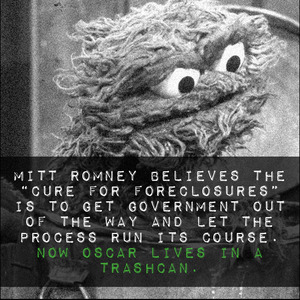 The super PAC American Bridge, which is supporting Obama, quickly turned to Oscar the Grouch (R) to make a point about housing policy, while over at
The Washington Post
's "She the People" blog, writer Suzi Parker
predicted
the remarks about Big Bird would haunt Mitt Romney. "A survey in 2008 noted that 77 million Americans had watched
Sesame Street
as children. That's a lot of potential voters to woo. Nostalgia runs deep, trust me," she noted. "Big Bird, an iconic image, could serve as a bright yellow reminder that the Romney administration is keen on deep cuts to beloved institutions."
Obama quickly integrated a reference into his stump speech, telling supporters in Denver: "I mean, thank goodness somebody is finally getting tough on Big Bird. It's about time. We didn't know that Big Bird was driving the federal deficit."
Though shown on public television, Sesame Street is produced by the Sesame Workshop, which is primarily funded by non-government sources.
"Sesame Workshop receives very, very little funding from PBS," the Sesame Workshop's Sherrie Westin, executive vice president and chief marketing officer, told CNN's Soledad O'Brien Thursday. "So, we are able to raise our funding through philanthropic, through our licensed product, which goes back into the educational programming, through corporate underwriting and sponsorship. So quite frankly, you can debate whether or not there should be funding of public broadcasting. But when they always try to tout out Big Bird, and say we're going to kill Big Bird -- that is actually misleading, because Sesame Street will be here."