Meet the Company Spam-Texting Against Barack Obama
ccAdvertising, a Virginia marketing and polling firm, circumvents laws about unsolicited texts by sending emails. Is that really legal?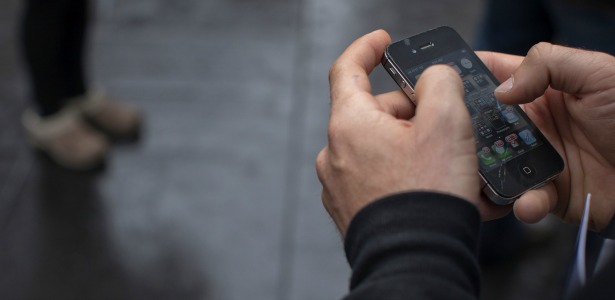 Reuters
Updated November 2
Even if you weren't among those to receive mysterious text messages attacking President Obama on Tuesday night, you might still have one headed your way. The spam texts seek to exploit a legal loophole and may pop up around the country as the campaign runs out its last week, even as they are decried as nefarious scheme that forces voters to pay for the negative messages they receive.
Tuesday's texts covered a range of topics. A few samples: "Obama denies protection to babies who survive abortions. Obama is just wrong"; "ObamaCare: a $700 BIL gamble where Medicare recipients take the risk. Stop Obama!"; "Obama wants to invest in Planned Parenthood instead of your future." Rather than appearing as standard texts, the messages came from email addresses like "sms@gopmessage.com." As of Tuesday night, the registrants for the domains were hidden, but by Wednesday morning they revealed the user: ccAdvertising, a firm in Centreville, Virginia. That was not, apparently, ccAdvertising's move: Whois states that the domains were "suspended for spam and abuse," a move which removed the proxy hiding their source.
CcAdvertising has worked for a wide range of clients, including the National Organization for Marriage, the Family Research Council, and Senator Roy Blount of Missouri -- as well as corporate giants such as Starbucks and Burger King, according to its website. And it's been at the center of controversies over the legality of its methods before, too. Requests for comment from the company were not immediately returned.
Here's how ccAdvertising's method probably works. It's illegal to send unsolicited automated text messages, so the company circumvents the rules by sending emails to phone numbers. Let's say that a company knows your cellphone number is 123-456-7890. It can't send you a text -- thanks to the ban on unsolicited text messages under the Telecommunications Consumer Protection Act of 1991 -- but it can send an email to that number, because every phone number is matched up with an e-address. Now, the emailers don't know who your provider is, so they'll need to send emails to, for example, 1234567890@txt.att.net -- and also the same number at five other common mobile company exchange addresses. One of the emails will be attached to the right company, and then appears in the owner's text message inbox. There, the recipient of the unsolicited spam message will charged for it, unless he or she has unlimited texting.
ccAdvertising has aroused controversy before, including for trying to get around robo-calling laws in states. In 2005, the state of North Dakota sued the company. In a 2011 race for Virginia legislature, anonymous 11th-hour texts attacked state Senator David Marsden, who was running against Republican Jason Flanary. The state Democratic Party questioned their legality; the state Republican Party said it had nothing to do with them, but they were traced to ccAdvertising. For his part, Flanary was vague about the messages, but his campaign paid the company $17,000. Marsden ultimately won the race.
A year later, the name on the registry for the sites that sent out messages on Tuesday is none other than Jason Flanary. Flanary is also running for state senate again, in Centreville; he identifies himself as "Chief Operating Officer of a small business in Fairfax County" on his campaign website. A message for Flanary was not immediately returned.
Scott Goodstein, a Democratic tech consultant who created the Obama campaign's texting platform four years ago, has been a noisy critic of ccAdvertising's methods and is convinced they're illegal. After the Virginia Democratic Party declined to press charges in the Marsden-Flanary race, Goodstein says he decided to take matters into his own hands and filed a complaint with the Federal Communications Commission in January. Goodstein compares the texts to push-polling, the widely decried electioneering practice.
"Look, technology is moving faster than ever, but if you touch a phone and you don't own the phone, you don't have permission to get on the phone. It should be a violation," Goodstein says. He believes current law already bans the texts, and all he wants from the FCC is a clear ruling on what the law says. "We just want [them] to clarify that's the current rule, and somebody should prosecute this guy."
Asked about the law before, ccAdvertising has directed reporters to a press release from February 15, 2012 claiming the FCC had vindicated their practices as legal. In fact, it's far from clear: the FCC only said that a rule had not changed with regards to politics, not that specific practices were legal. In any case, February 15 is also the day that Flanary registered the series of domains that sent messages Tuesday. A call to the FCC was not immediately returned.
Goodstein says the text-message deluge was likely very cheap. It's easy to obtain blocks of phone numbers, and it costs next to nothing to send out emails. In fact, ccAdvertising doesn't even need to know who your service provider is. Returning to the example above, they can send messages to a passel of SMS gateways: 1234567890@txt.att.net (ATT), 1234567890@vtext.com (Verizon), and so on. All but one of the emails will fail, but the one that works will land in your text inbox. And since the only real cost is borne by the recipient of the message, the whole operation costs ccAdvertising little.
So the remaining question is, who's behind the text messages? The Romney campaign says it has nothing to do with them. A search of FEC records for independent expenditures doesn't turn up any recent buys with ccAdvertising that would fit the description of the texts. All that's clear is that whoever it is doesn't want to see Barack Obama reelected.
Update, 11/2/12: On Friday, ccAdvertising sent a comment through Shirley & Banister, a public-relations company. The firm's Gabriel Joseph said, in part: "In the more than 12 years since its founding and currently, ccAdvertising has scrupulously complied with all laws and regulations affecting its activities. It appears that statements currently being made about ccAdvertising may be largely motivated by partisan political considerations." But it's not that clear cut. The FCC is currently soliciting public comment on rules for Internet-to-phone text communications based on Goodstein's complaint. In addition, an FCC release on September 12 stated: "Prerecorded voice messages and autodialed calls (including autodialed live calls, prerecorded or artificial voice messages, and text messages) to cell phones and other mobile services such as paging systems are prohibited, subject to only two exceptions: 1) calls made for emergency purposes, and 2) calls made with the prior express consent of the called party." That would appear to include ccAdvertising's text messages.