Judge Blocks Pennsylvania Voter ID Law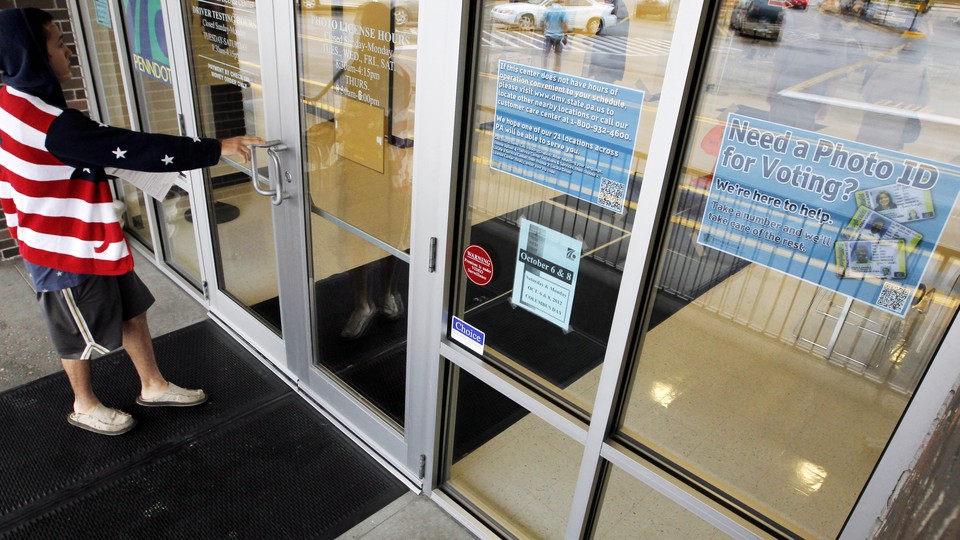 A Pennsylvania judge has blocked the state's controversial voter-ID law from going into effect for this election,the Associated Press reports.
The ruling from Commonwealth Court Judge Robert Simpson doesn't preclude the law from being implemented at a later date next year. The state Supreme Court ordered Simpson to discern whether the state had done enough to provide "liberal access" to photo IDs before Election Day and to issue an injunction if he found that any eligible Pennsylvania voter was being prevented from voting, intentionally or otherwise.
Since it became law six months ago, Pennsylvania's voter-ID requirement, passed by the Republican-led Legislature, has caused a furor nationwide. Democratic activists and voting-rights groups have said that it disenfranchises the elderly, minorities, the poor, urbanites, and other groups that tend to vote for Democrats; GOP proponents have said that it is simply a guard against fraud. The commonwealth of Pennsylvania had stipulated before the proceedings that there had been no instances of in-person fraud.
The stakes were particularly high in an election year with the presidential candidates competing forPennsylvania's 20 electoral votes.
Simpson heard testimony about the bureaucratic nightmare facing Pennsylvanians without the correct type of photo ID when they tried to obtain an approved ID, while the state emphasized its eleventh-hour effort to ease the process.
The new law required a photo ID such as a passport, driver's license, state-issued nondriver ID, or a student, military, or employee ID; all the photo IDs were rquired to have expiration dates. The requirements before the law was passed were that people voting for the first time, or for the first time in a new polling place, show a utility bill, bank statement, paycheck, or other form of ID.