Jon Huntsman Says Romney Is a Strong Dealmaker But Lacks Vision
Regardless of who the next president is, work on preventing the fiscal cliff will have to begin almost immediately after the election.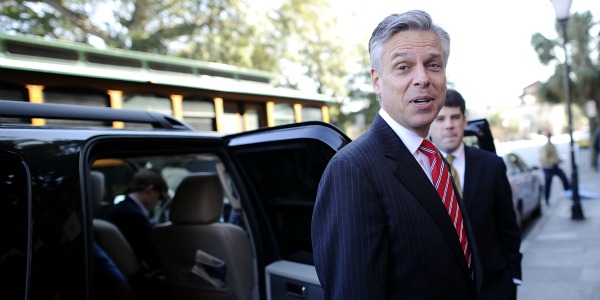 Republican Mitt Romney's business skills won't necessarily make him a good leader, but they could make him good at working with Congress, former Utah Governor Jon Huntsman said on Wednesday.
"I haven't seen a good example yet of a businessperson come into government and make it run like a business," Huntsman said. "We forget that the cultures are very different and I think the presumed outcomes are different as well." But Romney, with his consulting background, is "very well-schooled in how you get deals done," Huntsman said.
Huntsman, who served as governor of Utah from 2005 to 2009, and as United States ambassador to Singapore from 1992 to 1993,= and China from 2009 to 2011, Weekly Standard Editor Bill Kristol, and former Rep. Bart Gordon, D-Tenn., agreed that the two presidential candidates have very different leadership styles. Speaking at a Brookings Institution panel, they said the campaigns the two men are heading don't necessarily reveal those leadership skills -- or the compromises either President Obama or Romney might be willing to make after the election.
---
MORE FROM NATIONAL JOURNAL
---
"I don't think Governor Romney can tell you what he wants to do. He just wants to be a good president. And because of that, he's just weaving around out there," Gordon said of the Republican campaign. Obama "does have those few things that he wants to get done, that he's passionate about," he said.
But if Obama wants to enact that agenda, he needs to learn from the biggest challenge he faced during his first term: working with Congress.
The pressures of the fiscal cliff might smooth Obama's path during the first months of a second term, Kristol said. "There will be an amazing pivot on November 7," Kristol said. In order to avert end-of-year tax hikes and deal with a soaring deficit, the next president -- and the next Congress -- are going to be forced to craft some serious legislation, he said.
Kristol said that the conversations he's had with Romney campaign manager Stuart Stevens and Romney transition team leader Mike Leavitt reveal two different worlds, and that on Obama's side the divide is likely similar.
"The reality is this: We're a few short weeks away from the real work starting," Huntsman said. The lame-duck period will have to be a productive period, he said, with little time for the candidates to catch their breath before the work of governing begins.
Both Obama and Romney "should begin framing real priorities," Huntsman said.