Jennifer Rubin Takes a Cheap Shot at Hillary Clinton
The Washington Post blogger attacks the secretary of state's feminist credentials, but in doing so calls her own into question.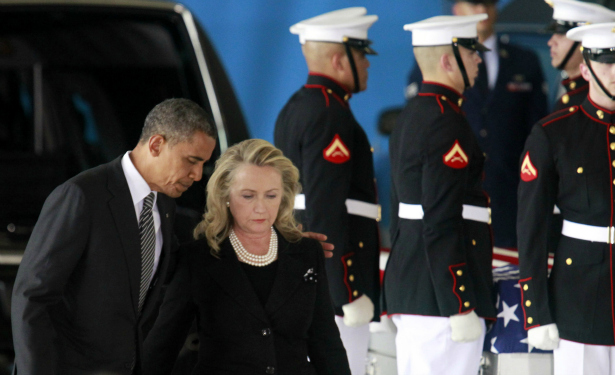 Reuters
Perhaps you've heard the latest about Hillary Clinton.
"I take responsibility," she said Monday in an interview about the attack that killed America's ambassador to Libya.

Clinton insisted President Barack Obama and Vice President Joe Biden are not involved in security decisions.

"I want to avoid some kind of political gotcha," she told CNN.
There are two possibilities here.

The secretary of state is in fact responsible for decisions related to the agency that she heads.
She's covering for her boss so that he can get reelected (a precondition of the advancement of a governing philosophy she's shared for decades). 
Either is plausible and reflects badly on the Obama Administration. Libya remains a headache for them. And neither would justify the reaction of the Washington Post's Jennifer Rubin, who responded with this Tweet:
First Bill humiliates her and now Obama does.. Hillary no feminist, more like doormat

-- Jennifer Rubin (@JRubinBlogger) October 16, 2012
Let's unpack the assumptions here.

If your husband cheats on you it makes you less of a feminist.
Hillary Clinton obviously doesn't bear responsibility for ensuring that ambassadors have sufficient security despite being secretary of state -- it's safe to assume that she didn't mess up somehow.
She was just covering for Obama, who actually bears responsibility. 
Covering for him makes her less of a feminist, and akin to a doormat (even though she'd have obvious selfish and ideological motives for doing so). 
Bill Clinton's actions toward his wife and Obama's behavior toward his subordinate are analogous.
Rubin managed to pack a lot of inane assumptions into that one tweet! In doing so, she demonstrated the very double standard that ought to call her feminist credentials into question. In every presidential administration, appointees "fall on their swords" in ways large and small. Male appointees are described as good soldiers when they do this for the president they serve.
But a female appointee? For Rubin, a woman doing the same thing is a weak doormat who forfeits the title of feminist. It's a charge Rubin breezily makes while dredging up the fact that, years ago, Clinton got cheated on, itself a cheap shot that is irrelevant to the controversy at hand. Rubin's been defending her tweet. She ought to accept censure for her mistake and move on.