Ivy League Faculties Are Far From Reflecting U.S. Diversity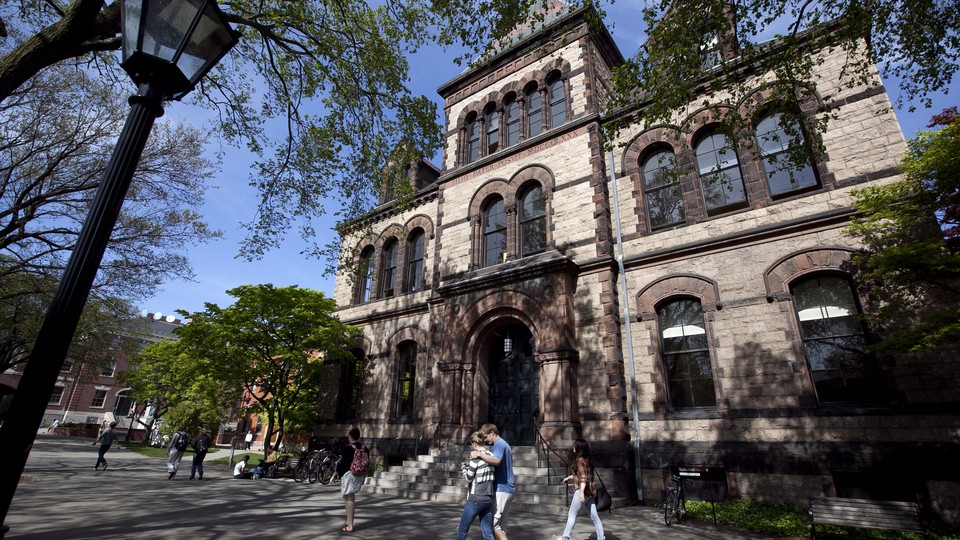 Public and private universities have long tried to diversify their faculty to better reflect the changing demographics of the country, but as in America's boardrooms, where diversity lags, the same thing holds for America's elite universities.
In the Ivy Leagues, the faculty ratio is not reflective of American society. As an example, Brown University, located in Providence, R.I., has a faculty that is 11 percent Asian, 4 percent black, and 3 percent Latino. Native Americans account for less than 1 percent, according to The Brown Daily Herald.
By population percentage, the U.S. racial breakdown is 16.7 percent Latino, 13.1 percent black, 5.6 percent Asian, and 1.7 percent Native Americans, according to federal figures.
Together, minorities account for 29 percent of Brown's undergraduate student body in 2011, in a nation that is nearly 36 percent diverse. By race or ethnicity, Asians comprise 13 percent of Brown's students, while Latinos make up nearly 10 percent. About 6 percent are black.
The argument for diversifying goes something like this: Hiring more women and minority faculty enrich students' learning and research by exposing them to competing ideas and beliefs. Students of color also benefit by seeing faculty members who look like them in these top-notch institutions, said Grant M. Ingle, an organizational psychologist who specializes in developing programs for workplace innovations.
While a comprehensive census of Ivy faculty is not readily available -- partly because each of the eight allied private universities self-reports differently "" most have long tried to address the disparity issue.
Most recently, Brown said it planned to redouble its efforts to hire and retain nonwhite professors. "Faculty diversity is a central issue that we hope to tackle in more systematic and intentional ways," said Liza Cariaga-Lo, the associate provost for Academic Development and Diversity.
While none of six campus committees will focus on increasing diversity per se, the student newspaper said the university's Plan for Academic Enrichment, adopted some 11 years ago, calls for an environment where diversity is integral to campus life.
Other universities are also working on faculty diversity efforts. Among them:
The University of Pennsylvania will direct $100 million to hire and retain more minority and women faculty members over the next five years.
Columbia University says it plans to invest $30 million to hire black, Latino, and female faculty and postdoctoral candidates "to more closely reflect the composition of the national pool of qualified candidates."
Despite the efforts and millions of dollars allotted to carry out these goals, the number of tenure-track minority professors at the Ivies remains dismally low. A 2005 study found that black and Hispanic faculty increased 1 percentage point to 6 percent in 10 years. Tenure-track faculty also increased slightly between 1993 and 2003, from 3 percent to 4 percent, according to "The (Un) Changing Face of the Ivy League."
Overall, faculty composition is largely male and white, with Asians, at 11 percent, accounting for the largest ethnic and racial group, according to the study produced by Yale University's GESO Unite Here, a graduate teachers and researchers' union. Blacks account for only 4 percent and Hispanics lower 3 percent.
Ingle, who worked in higher education for 35 years, and has consulted with universities on how to improve faculty and student body racial and gender makeup, says that few institutions perform assessments to uncover a possible unwelcoming climate.
Evaluating the workplace environment is essential for successful diversity initiatives. Ingle stressed, "You can't come up with a plan for hiring faculty of color without knowing what the problem is."
Pouring millions in hiring incentives isn't always the answer either, and in some cases, can create friction between the newly hired faculty members and the existing ones, he said. There are also issues of retention.
Case in point. Yale University's diversity program launched six years ago to attract 60 new professors "" half of them minorities "" to the Arts and Sciences faculty. The university has since lost more than half of the 56 new minority hires, according to Yale Daily News. Currently, about 17.6 percent of its faculty are minority, while 29.3 percent are female, according to university figures.
In an interview with the student paper, Kamari Clarke, a professor of anthropology and African-American studies who is black, voiced some of the biases minority faculty have continued to fight against, including an undervaluing of some disciplines and research. "Sometimes there is a lack of appreciation for the work that they do," Clarke said.