Infographic: The Enormous Racial Gap in Political Reporting
A stunning 93 percent of front-page election news stories are written by white reporters.
A stunning 93 percent of front-page election news stories are written by white reporters.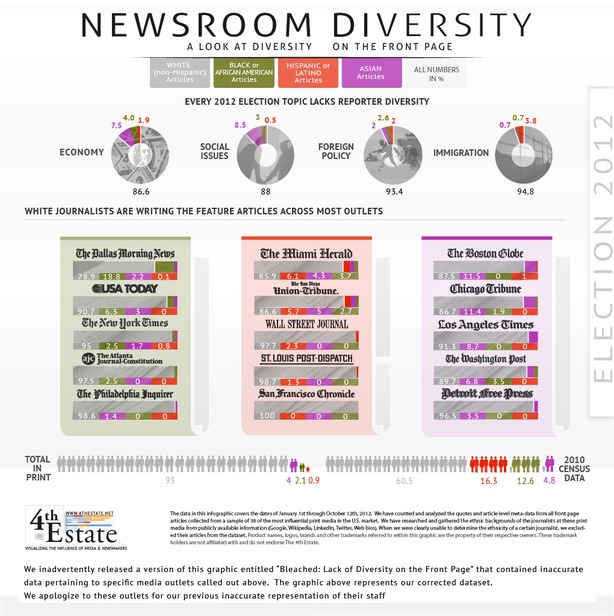 Click graphic for larger size.
Birtherism. Immigration reform. Jeremiah Wright. The Herman Cain campaign. Marco Rubio. The Obama Phone. Issues pertaining to race and ethnicity have been incredibly important to the 2012 election -- if slightly less prominent than they were during Barack Obama's historic 2008 campaign.
But almost all the people covering those stories have been white, according to an analysis by 4th Estate. (They're also probably men.) The media analysis organization looked at who's writing front-page stories for major papers, including a breakdown by broad topic area. It found that 93 percent of page one articles on the election were written by white reporters, with Asian Americans writing 4 percent, blacks writing just 2.1 percent, and Hispanics penning 0.9 percent. * In contrast, the numbers among the general population are 56.1 percent white, 16.3 percent Hispanic, about 5 percent Asian, and 12.6 percent black.
A few surprising results:
Of the four topics covered included -- the economy, social issues, foreign policy, and immigration -- immigration is least likely to be covered by a minority journalist, with 94.8 percent* of stories written by whites.
The Dallas Morning News deserves a prize: The paper managed to get the portion of their front-page election stories written by minorities to 21.2 percent.
The San Francisco Chronicle, by contrast, performed worst. A full 100 percent of the stories 4th Estate analyzed were written by whites. That figure is even more puzzling given that more than 20 percent of the paper's newsroom is non-white.
The highest minority representation came in coverage of social issues, with just 90.8 percent of the articles written by white reporters.
The media has for years struggled with racial and gender disparities. But this should serve as a reminder that it's not just a problem for newsrooms -- it's a problem for the news that lands on stoops around the nation every day.
__
Correction: This graphic originally indicated that the figures for Asian Americans, blacks, and Hispanics were 3.3 percent, 3 percent, and 0.7 percent respectively, and that 98.2 percent of immigration-related stories were written by whites. We have updated this post per updates from 4th Estate.