Immigration Item No. 2 for Obama, if Reelected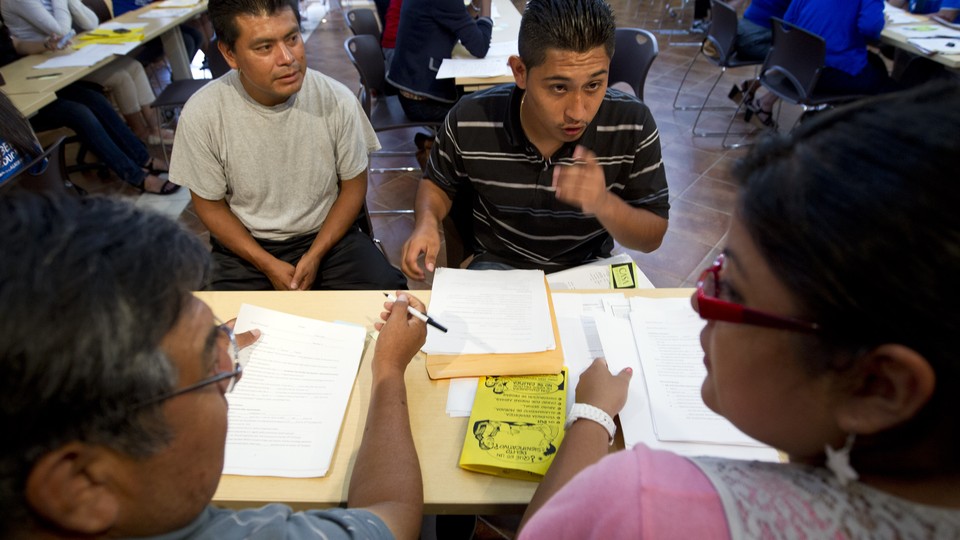 Here is the news that President Obama made on immigration in his interview with the Des Moines Register: He cited immigration reform as his biggest "long-term" priority for a second term if he wins re-election And he plans to tackle it after working to reach a grand bargain on deficit reduction, which he hopes could be accomplished in the first six months of 2013.
Here is the president's quote in its entirety:
"The second thing I'm confident we'll get done next year is immigration reform. And since this is off the record, I will just be very blunt. Should I win a second term, a big reason I will win a second term is because the Republican nominee and the Republican party have so alienated the fastest-growing demographic group in the country, the Latino community. And this is a relatively new phenomenon. George Bush and Karl Rove were smart enough to understand the changing nature of America. And so I am fairly confident that they're going to have a deep interest in getting that done. And I want to get it done because it's the right thing to do and I've cared about this ever since I ran back in 2008."
Boom. There it is. It is the answer to Republican nominee Mitt Romney's oft-repeated question, "Where is that immigration bill that Obama promised back in 2008?" It is a heartfelt statement to the Hispanic community that Obama still cares deeply about the issue, even though he has hit roadblocks at almost every attempt to change the current Byzantine system. It is a mildly snarky reminder to Republicans that at least two-thirds of the Latino vote is locked in for Democrats, and is likely to remain so if Republicans cry "amnesty" at every immigration proposal.
The backstory to the Des Moines Register interview is also interesting. The discussion was originally off the record. Obama was angling for an endorsement, but in typical White House fashion, the actual live quotes he used to make his case couldn't be published. After a public protest from the paper's editor Rick Green, the Obama campaign relented and released the interview.
Why would Obama want to keep this off the record? Romney has been pushing hard on Obama on immigration, running ads in Spanish that criticize the president for doing nothing and promising "soluciones" for undocumented youth and work visas. Never mind that Romney's only pathway to citizenship for the illegal immigrant "Dreamers" who were brought to the United States as kids is through the military.
Romney is doing a good job lobbying for the few Hispanic votes that could swing his way in crucial states like Florida and Nevada. He obviously is paying attention to statements from Republican gurus like anti-tax activist Grover Norquist, who said last week that immigration is "the most important thing to focus on if you're concerned with the future of the country, both as an economic power and as the serious a leader of the free world."
Obama needs those Hispanic votes badly, and he needs to reassure the Latino community that he cares just as much as he always has about immigration. It helps to show a little emotion, indicating that he is just as frustrated with the lack of progress as they are.
Even if this started out off the record--perhaps even more important because it started out off the record--it is significant that Obama has placed immigration at the top, the very top, of his domestic policy agenda for a second term. That is something Romney has not promised, for all his criticism of Obama on the issue.