Hurricane Sandy Is a Reminder of Why 'Obama Phones' Exist
The country has a strong safety interest in subsidizing communications for low-income people.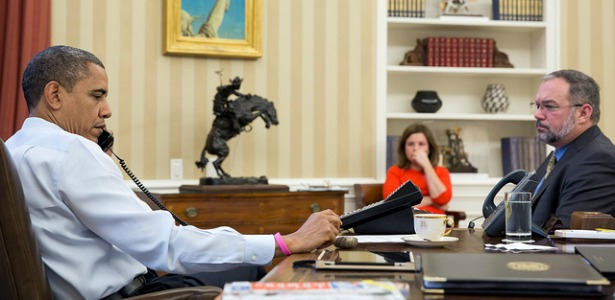 In late September, conservative blogs, Fox News, and Republican fundraisers seized on video of a protestor at a Romney rally in Cleveland that showed her explaining why she was backing Obama. "Everybody in Cleveland ... minority ... got Obama phone," the woman said. For that, Obama should remain "in president." Former Ohio Secretary of State Ken Blackwell sent out an email making the case that the video was a "microcosm of the difference between Republicans and Democrats." There were undeniable racial aspects to the episode, but there was also Blackwell's partisan framing: Democrats take, and Republicans make do on their own.
Quickly, the fact checkers went to work. The Lifeline program the Ohio woman appeared to be discussing has been providing subsidized phones to the low-income for decades. Yes, it was recently extended to include subsidized service for cell phones -- but that was done under George W. Bush. And it is paid for through the government's universal service fund, largely using the USF fees you see on your phone bill, rather than from income taxes.
The Obama campaign wanted nothing to do with the whole affair. On its Fight the Smears site, Team Obama argued that "President Obama does not have a direct impact on 'universal service' programs that improve telecommunications access for all Americans, and to claim that the government is using taxpayer money to give away 'Obama phones' is patently false." In other words, Barack Obama tried to get as far away as possible from "Obama phones."
The destruction wrought by Hurricane Sandy should serve as a reminder of why "universal service" has for so long been a national goal -- one that has led to policies and programs like Lifeline.

Historically, the whole point of advances in telecommunications has been to connect all Americans. Getting a phone in every pot, if you will, was seen as an essential safety strategy, so that all Americans have a way of getting and sharing information when winds start howling and rivers start overflowing.
In its 1911 coverage of the first phone call between New York and Denver, The New York Times predicted the transformative power of the technology: "That consummation will be a universal service, making it possible to carry on a conversation by telephone between any two points in the United States." Steve Coll's The Deal of the Century notes that the slogan "Universal Service" was inlaid right on the entrance-way of the AT&T headquarters. Of course, there's been much bickering over the decades about how you get to universal service, but the parties to that conversation have long shared it as a goal.
The importance of mobile phone access was on display last night in New York City, as cell phones became essential public safety communications devices. Some cell phone subscribers got emergency messages pushed directly to their phones. "Imminent Threat Alert," read one that came in just after 9:30 p.m. "Go indoors immediately and remain inside. DO NOT DRIVE. Call 9-1-1 for emergencies only." (Here's a fuzzy photo of a friend's phone.)
Under the Lifeline program, people at 135% of the poverty line get, for example, AT&T phone service that would otherwise cost $25 for about $16. People living on tribal lands are eligible for service that costs just a dollar a month.
In those cases, New York City officials were making use of a federal program called PLAN, or the Personal Localized Alerting Network. PLAN grew out of the Warning, Alert and Response Network (WARN) Act that Congress passed in 2006, and it was -- somewhat fortuitously, in retrospect -- tested in New York City beginning last spring, six months ahead of the rest of the country
WARN was a bid to update the old Emergency Alert System of "This is a test..." fame. Americans are getting their information from a far more diverse array of sources than in years gone by, so WARN's purpose was to upgrade the emergency alert system to reach them through a wider variety of channels. It was also an experiment in figuring out how to take the best stuff we know about technology and apply it to emergency response. The "L" in "PLAN," "Localized," referred to the fact that your cell phone will know if you happen to be in the five boroughs. At launch, Mayor Michael Bloomberg explained that "given the kinds of threats made against New York City at the World Trade Center, Times Square, and other places popular with visitors and tourists, we'll be even safer when authorities can broadcast warnings to everyone in a geographic area, regardless of where they came from or bought their phone."
Marc Ambinder has written about how there are some features of the PLAN plan that are, well, a little weird at first look. For one thing, it's opt-out, rather than opt-in. And while there are three types of messages carriers can push to your phones -- alerts on threats to safety, (whether from a terrorist or a tornado); Amber Alerts; and alerts from the president of the United States -- you can only opt out of the first two. If the president wants to send an emergency alert and your carrier is set up to accept it, there's nothing you can do to stop it. (That said, some perspective is in order: The Emergency Alert System's nationwide alert has never been used.)
Mandatory presidential text alerts are of a piece with the willingness of federal disaster specialists to experiment. Like Lifeline, WARN predates Obama. But under Obama, FEMA has been marked by its aggressive use of new media to respond to disasters. FEMA Director Craig Fugate, an Obama appointee, is the kind of guy who goes to "codejams." He's talked much about how his approach to disaster prevention and relief involves everything from Twitter to Facebook to text messages. People who have the means to communicate with one another can help each other out in times of crisis, Fugate has said, and that's necessary for making disaster math work: "Even if government was fully optimized and did everything to the maximum ability, there is not enough government resources that can that can get to people fast enough if we don't count on people taking care of themselves and their neighbors." When "everybody's in competition for assistance," said Fugate, "who's going to suffer the most? The most vulnerable. Children, frail elderly, people who are poor."
If a government is going to start relying on people getting their Hurricane Sandy information by text message, then you can see where the idea of subsidizing phone service might make sense. Rescue efforts are expensive. Under the Lifeline program, people at 135 percent of the poverty line can get $25 worth of AT&T phone service for about $16. People living on tribal lands are eligible for service that costs just a dollar a month. Mitt Romney has talked about devolving responsibility from FEMA to the states, if not to the private sector.

But Obama's nearly-four year record on emergency response has embraced a somewhat different argument: There are ways that we can be smart about the networked age and thus do more for less.
That's the "Obama phone" calculation (to use the term Chicago so hates). Is it worth it to for citizens to subsidize poorer Americans' cell phones so that everyone can be reached, including when disasters strike? It's a healthy public policy debate to have. But Obama didn't want to have it.
Instead, candidate Obama would rather focus on the FCC's efforts to crack down on waste and abuse in the Lifeline program. That's made a great deal of political sense in the weeks before the election. But it's left the vision of "universal service" without one of its most powerful potential defenders.