Hundreds of Thousands of California's Undocumented Immigrants Are Now Eligible for Drivers' Licenses
A controversial bill gets a last-minute stamp of approval from Governor Jerry Brown.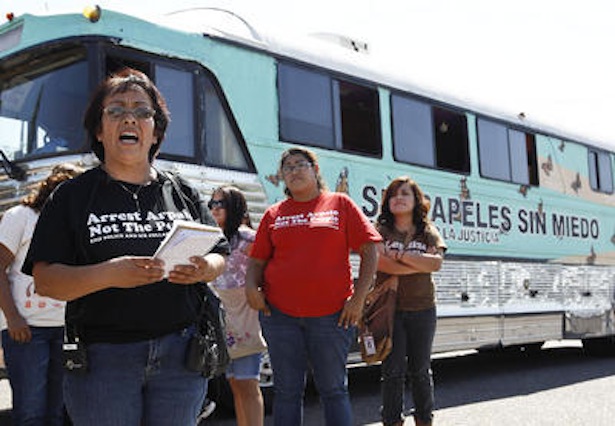 For the past decade, California Assemblyman Gil Cedillo has been campaigning to give the state's undocumented immigrants the right to drive legally. The L.A.-area Democrat's argument has gone like this: Issuing drivers' licenses to those immigrants would enhance public safety by ensuring that they are trained and tested as drivers -- not to mention by making it more likely that they'll buy car insurance.
Tonight, Cedillo's years of work paid off -- to an extent. Governor Jerry Brown signed into law Assembly Bill 2189, which will make hundreds of thousands of undocumented immigrants eligible for drivers' licenses. The new law will affect not the entire population of California's undocumented immigrants, but rather the estimated 400,000 people who are expected to meet the requirements of President Obama's new Deferred Action for Childhood Arrivals program.
The legislation, at its most basic, clarifies a bit of bureaucratic confusion. Officials at California's DMV, the Sacramento Bee's Jim Sanders explains, have already said that Deferred Action participants would be eligible for drivers' licenses. But the state of California requires that applicants produce specific documents to obtain a license -- and those expected to be distributed by the program weren't on the state's list. So AB 2189 specifies that Deferred Action documents meet the DMV requirement to prove a person's lawful presence in the United States.
Beyond those basics, though, the new legislation makes a certain statement about where California is heading in terms of its treatment of its undocumented population. Brown, in his flurry of last-minute legislating this week, also vetoed the measure dubbed the "Anti-Arizona" immigration bill -- the bill that would have shielded undocumented immigrants from federal status checks. But he rejected it, he said, because of the fact that the bill exempted individuals who had committed crimes like child abuse, drug trafficking, and weapons sales. In that politically fraught context, the license legislation is a significant step, if a relatively small one.
And it's "relatively small" because the new law will affect, Cedillo estimates, only about a quarter of California's overall population of undocumented immigrants. Deferred Action, after all, Sanders notes, is relatively narrow in focus. It "is meant for longtime California residents who came to the United States as undocumented immigrants when they were young and generally have lived productive lives since then. It applies to undocumented immigrants between the ages of 15 and 31 who came to the United States before age 16 and have lived in this country continuously for the past five years." Not only that, but "participants must be in school, have graduated from high school or obtained an equivalency certificate, or have been honorably discharged from the U.S. military. They cannot have committed a felony, significant misdemeanor, or three or more misdemeanors."
Today, it's worth noting, was the last day for the governor to sign or veto the 108 measures passed by California's Legislature this year. Brown signed AB 2189 into law late this evening -- giving Cedillo and his fellow campaigners a dramatic, last-minute victory.