Did Biden Hang the State Department Out to Dry at the Debate?
His use of a very restricted "we" in talking about Libya sure seemed to point a finger at Foggy Bottom.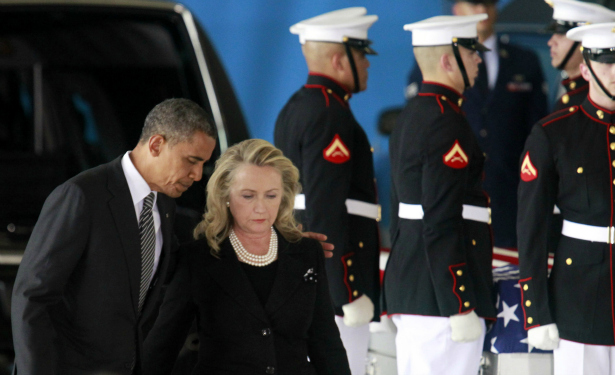 Reuters
Everyone loves Hillary Clinton these days. She's got an approval rating way higher than that of Joe Biden or of President Obama, who can barely muster 50 percent on a good day.
But what if the most politically significant foreign-policy failure of Obama's presidency is actually due to a failure of the diplomatic-security strategy at the Clinton-run State Department?
That's certainly what all the evidence suggests.
Charlene Lamb, deputy assistant secretary for international programs at the State Department's Bureau of Diplomat Security, told a House committee Wednesday that she personally rejected a request for additional diplomatic security in Libya, though what she rejected was not a request for Marines (as Paul Ryan mistakenly appeared to suggest during in the vice presidential debate last night in Kentucky) but extending the presence of a different kind of military personnel specifically detailed to the State Department, as Foreign Policy's Josh Rogin makes clear. As well, the forces were requested for the U.S.'s Tripoli outpost, not the satellite consulate in Benghazi U.S. Ambassador to Libya J. Christopher Stevens so fatefully was visiting on September 11. The U.S. Embassy to Libya is based in Tripoli, the nation's capital.
There were five members of the State Department's Diplomatic Security forces at the four-building, 30,000-square-yard compound in Benghazi on Sept. 11, Lamb testified, as well as three members of the Libyan 17th February Brigade. Confronting them were "dozens of attackers," she said. One of those American security officers attempted to evacuate Stevens from the main building's safe haven after it was set on fire with diesel fuel but lost him and information officer Sean Smith in the thick smoke. As the attack continued, the American security agents regrouped and searched the building, locating Smith's body before having to call off the search when the team of approximately 40 Libyans from the 17th February Brigade who had provided reinforcements "advised they could no longer hold the area around the main building and insisted on evacuating the site." The Americans retreated to a nearby "annex" which was most likely a CIA outpost. A U.S. team arrived from Tripoli, Lamb testified, and proceeded to this second location, which came under assault as well. It was during this confrontation at the second location -- not the consular compound -- that former Navy SEALs Tyrone Woods and Glen Doherty were killed and two other America security personnel "critically wounded," according to Lamb and others. Stevens's body was located later that morning at a local hospital, where he had been taken by Libyans at some point.
During the lively opening round of the vice presidential debate, Biden said the issue of diplomatic security in Libya never reached his desk. "We weren't told they wanted more security. We did not know they wanted more security there," he said. Rogin has confirmed Biden was speaking only for himself and the president, and not using "we" to include other parts of the Obama administration.
The Cable asked Deputy National Security Advisor for Communications Ben Rhodes whether Biden was speaking for the entire Obama administration, including the State Department, which acknowledged receiving multiple requests for more Libya security in the months before the attacks. Rhodes said that Biden speaks only for himself and the president and neither of them knew about the requests at the time.

The State Department security officials who testified before House Oversight Committee Chairman Darrell Issa's panel Wednesday never said they had made their requests to the president, Rhodes pointed out. That would be natural because the State Department is responsible for diplomatic security, not the White House, he said. Rhodes also pointed out that the officials were requesting more security in Tripoli, not Benghazi.
The Bureau of Diplomatic Security at the State Department is its "security and law enforcement arm" and is overseen by Eric J. Boswell, who earlier served at State under President Clinton and was the Assistant Deputy Director for Security in the Office of the Director of National Intelligence for the final three years of George W. Bush's presidency. Lamb is a former police officer and Medal of Valor awardee who has been with Diplomatic Security since 1987, when she became a special agent in San Francisco. She later oversaw a huge team in Beirut during the Civil War in Lebanon, and served in a wide variety of front-line diplomatic security posts overseas before rising through the ranks to her current position under Clinton.
At the House Oversight Committee hearing convened by its chairman, Darrell Issa of California, Lamb defended her decision-making.
"We had the correct number of assets in Benghazi at the time of 9/11 for what had been agreed upon," she said.
"To start off by saying you had the correct number and our ambassador and three other individuals are dead and people are in the hospital recovering because it only took moments to breach that facility, somehow doesn't seem to ring true to the American people," Issa retorted.
How could it? The death of the U.S. ambassador is a res ipsa loquitur failure of the diplomatic-security apparatus. The thing explains itself: If the ambassador is dead, there was a failure of the security set-up.
That's an administration failure. But more than that, it's a failure of the diplomatic-security strategy at Hillary Clinton's State Department. As Ernesto Londono reported of the Benghazi compound in The Washington Post in late September, "They had not reinforced the U.S. diplomatic outpost there to meet strict safety standards for government buildings overseas. Nor had they posted a U.S. Marine detachment, as at other diplomatic sites in high-threat regions."
Biden's statement last night was the first administration one I've heard so far to acknowledge that some people were more responsible for that set-up than others.