Debate Triggers War Over Women on TV, Twitter, Trail, and Phone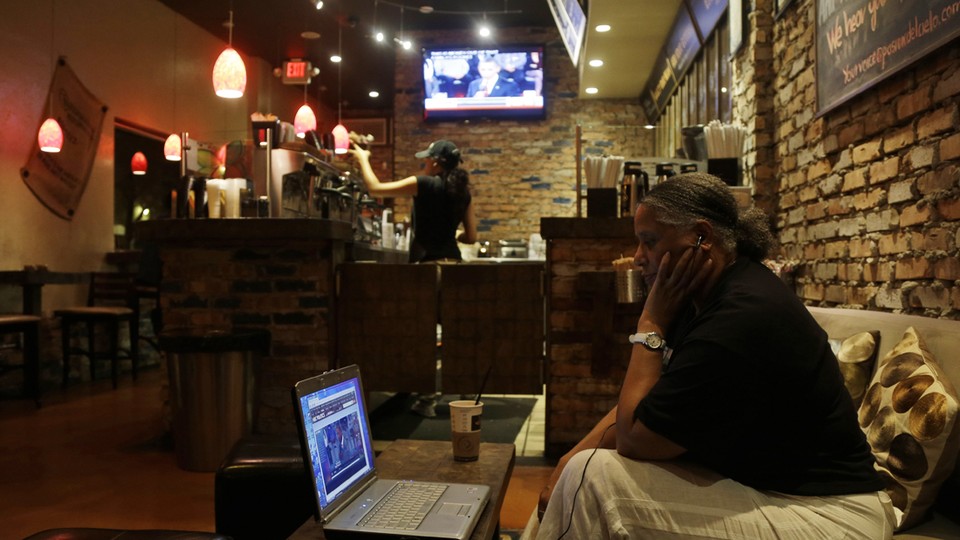 A pitched battle over women's issues between President Obama and Mitt Romney in the second debate escalated into a full-scale war on Wednesday, with both sides taking to TV, Twitter, conference calls, and the campaign trail to launch a barrage of cutting and frequently personal accusations aimed at winning over the largest remaining group of persuadable voters less than three weeks before the election.
Women could easily determine the Election Day winner of a race that will be decided in a handful of closely fought swing-states. "You would expect more undecided and swing voters to be female," said Sara Fagen, George W. Bush's former White House political director. "It's why both campaigns are focused on this issue right now."
On its face, the sudden turn toward women's issues benefits Obama, who has a chance to deepen the anxiety, particularly among moderate and suburban women, that a Romney presidency threatens their health and economic well-being. But that hardly displaces their concern about Obama's economic stewardship "" Romney's primary argument "" and, even if it can change opinions, it's unclear if it's potent enough to halt the GOP nominee's momentum since the first debate.
For Obama and his allies, Wednesday was a day to reprise attacks suggesting that Romney's history on equal-pay legislation, contraception access, and his own hiring practices "" Romney's debate quip about "binders full of women" was mocked early and often "" proved that his ascendancy to the White House would be a dark day for women. Romney and his allies, as they have throughout the campaign, countered that those subjects amounted to a distraction from the issue women actually care about, the economy, and the president's hazardous mismanagement of it.
It's an old argument in an election that has already featured fierce fights over insurance coverage for contraception and funding for Planned Parenthood. But it's taken on new urgency, given the approach of the election and the tightening of the gender gap in recent polls.
Romney's campaign released an ad pledging to support contraception access and abortion-rights in cases of rape, incest and if the life of the woman was threatened. The 30-second spot, which featured a lone woman speaking into the camera about how she researched Romney's real position on abortion, was evidently designed to correct the image of Romney, eagerly pushed by the Obama campaign, as a conservative culture warrior.
On a conference call with reporters, GOP officials implicitly rebuffed Democrats' mocking of Romney's "binders" gaffe, saying that the contest's "empty binder" was Obama's second-term agenda. The goal was clear-cut: Shift the debate from politically unfavorable topics like abortion rights and onto fertile ground like the economy.
"They don't want to talk about the issues that really matter to all voters," said Sen. Kelly Ayotte, R-N.H. "All issues are women's issues. It's very diminishing that they only want to focus on a limited number of issue, as opposed to how are going to get people back to work, particularly women."
The Democrats, meanwhile, waged a more personal attack on Romney, suggesting that he evinced a condescension toward women during the debate. Jesse Mermell, who as former executive director of MassGAP, which helped Romney recruit women into his administration, said he showed a "50s Mad Men attitude" toward the opposite sex, highlighting his suggestion that companies will hire more women when the economy is booming.
"As if women aren't able to compete for jobs in competitive economy," Mermell told reporters on a conference call organized by the Democratic National Committee, "that only when the economy is booming women will companies hire women."
The GOP's economic argument broadly resonates with all kinds of voters, women included. But Obama makes a more acute pitch to females, one rooted in issues of particular importance to women, and evidence shows that it holds greater appeal. A focus group of "Walmart moms" "" broadly defined as middle-class women with children -- conducted during Tuesday's second presidential showdown showed many of the participants connecting better with the president than with Romney when Obama discussed maintaining access to contraception and mammograms.
Margie Omero, a Democratic strategist who helped conduct the focus group, said that Romney's "binders" comment "" which Obama himself mentioned during a campaign stop in Iowa -- wasn't itself damaging, but that it did capture the problem he faces with many women.
"While the phrase "˜binders full of women' didn't provoke immediate responses in moms we talked to, they are responding to what that gaffe does show," Omero said. "He's literally thinking of women as pieces of paper. That does take the kind of human element out of it."
The gender gap between Obama and Romney has been large much of the race, although recent polls have shown it shrinking. An early October Pew Research Center survey reported an 8-point gap between the sexes among likely voters, with Romney winning men 51 percent to 43 percent and tied with Obama, 47 percent to 47 percent, among women.
Among whites, college-educated women are the one group among whom he retains an edge over Romney: He leads among them 51 percent to 46 percent, according to Pew.
Romney's surge in the polls after the pair's first debate was largely a function of his gains among women, blue- and white-collar alike. But the second debate revealed that he remains vulnerable when many of his positions are scrutinized, such as the Lilly Ledbetter law making it easier for women to sue for equal pay. He never expressed a position on the bill "" the first law Obama signed "" but says he would not seek to repeal it.
Any president would rather win with majority support of both sexes. But if you're going to receive more support from one than the other, better the sex that constitutes a majority of the electorate.
"There are more women voters than men. So if you have a gender gap, and if it's pretty large, you could have situation where Obama wins with women and loses with men but wins the election," Omero said. "That seems to be a very possible outcome here."