Colorado: Romney's Comeback State?
The Western swing state may offer the Republican his ripest opportunity to pick up electoral votes -- but locals wonder if he's blowing it.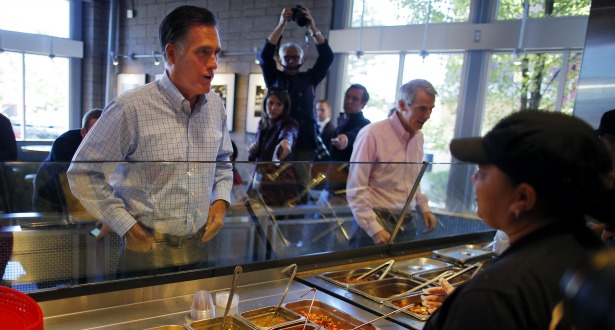 Reuters
DENVER -- You meet a different kind of Republican out West.
They wear sandals. They bring up diversity and the environment. They don't even mind Democrats too much. "I'm a Romney guy, but the president has a lot of support here, too," Denverite Scott Heimel, 44, tells me at a Romney speech in an airplane hangar on the eastern edge of town. "We're a diverse state, a fair state. There's a lot of tolerance here. It's very agreeable, generally -- except when the Raiders are in town."
While Rust Belt states like Ohio and Wisconsin have lately seemed to be slipping from Romney's grasp, Colorado still looms as a tantalizing possibility for the Republican nominee. Polling has been inconsistent but tight; a recent We Ask America poll put President Obama up by 3 percentage points in the state, 49-46.
"Colorado is a lot of farmers and cowboys -- and aging yuppies, like me," Dennis Dougherty, an affable, white-haired Republican financial adviser from the south suburbs, told me. "And hippies, I guess. But deep down, it's conservative. People vote their pocketbook."
Strategists here aren't surprised to see Romney in better shape here than in other swing states or nationally. His pragmatic, moderate image, they say, is a good sell in the West. Secular, libertarian-leaning and skeptical of Washington, it's a region where neither religious issues nor class warfare get much traction, where voters of all political stripes generally like to see themselves as independent and pro-business. A common campaign tactic for both parties is to label opponents "extreme," an epithet that, research shows, makes voters here recoil. And with a sizable Mormon population, thanks to neighboring Utah, Romney's religion doesn't strike most Coloradans as foreign or exotic.
Meanwhile, Romney's economic message resonates. (In Denver on Monday, he spoke in front of four 10-foot-tall blue signs reading "J," "O," "B" and "S.") Colorado's unemployment rate is above the national average, while Ohio, Iowa and Virginia all have rates below it. While Obama's popularity has declined by 2 points or less in the rest of the country since his election in 2008, the president has lost 12 points in the West, according to a recent New York Times analysis. Plus, as of this week, Romney has the endorsement of John Elway, the former Broncos quarterback and local demigod.
On paper, this ought to be a ripe target for Romney -- and given his smashing success in Wednesday's debate in Denver, it would be fitting for Colorado to be the state where he stages his comeback.
But many Republicans wonder if instead he's blowing one of his best opportunities to pick up electoral votes. Romney, they say, is being outhustled by Obama on the ground and outspent on the airwaves, while largely failing to repair a yawning deficit with the sizable bloc of Hispanic voters.
"The lengthened primary season really hurt Romney," said Denver-based political consultant Sean Tonner, who has steered Republican presidential, gubernatorial and Senate campaigns in the state. "The Obama campaign never stopped in Colorado. The Romney campaign was still putting coalitions together in July and didn't hit its stride on the ground until mid-August."
Obama has 59 campaign offices in the state; Romney has 13. While Republicans are outnumbered on this metric in all the swing states, the deficit is particularly severe here. (In Ohio, for example, Obama has 100 offices to Romney's 38.) A robust ground game is especially important in a state where more than 70 percent of voters will cast ballots before election day. Between mail voting, which will begin in the coming week, and early voting, get-out-the-vote is a weeks-long continuous turnout operation. "Whatever the most accurate polls are saying, I would tack on 2 to 4 points for Obama based on the ground-game advantage," Tonner said.
Romney is also being outgunned by Obama on television. In the last week of September, the Obama campaign spent twice what Romney's team did on Colorado TV ads, $1.6 million to $840,000, according to National Journal's tracking. And GOP outside groups aren't picking up the slack. A recent study by the Wesleyan Media Project found that Obama and Democratic groups aired 4,800 commercials in the Denver market in September, while Romney and GOP groups aired 3,000 -- the biggest Democratic advertising advantage of any swing-state media market. Watching network news one morning this week, I saw five Obama ads, zero Romney ads, and two anti-Obama ads from Americans for Job Security. On the evening news, I finally saw some Romney spots, but they were badly outnumbered.
Local Republicans "have noted and raised the issue" of Romney's air-war disadvantage, Ryan Call, the Colorado Republican Party chairman, told me, and received assurances that it's about to change. "I think you are going to see a significant increase in ad spending in the coming weeks," he said.
Up until a couple of weeks ago, local GOPers were also openly griping that Romney wasn't spending time in the state -- and wasn't spending his time here wisely. "There was a fairly long period of time when he didn't get here," said strategist and former state Republican chairman Dick Wadhams. "And there was some concern he was going to places like Pueblo," a Democratic stronghold two hours south of Denver -- "I'm from Pueblo, I love Pueblo, but it is not competitive." In May, Romney perplexed local politicos when he campaigned in Craig, a town with lots of elk but less than 10,000 people in a remote part of the state near the Wyoming border. As one Denver-based Democratic consultant told me, "There are more swing voters within a mile of my house. There are more Republicans within a mile of my house."
Romney visited Colorado once in July and once in August, neither time setting foot in the vote-rich Denver area, whose suburban counties are ground zero for statewide elections. But he has calmed GOP nerves somewhat by visiting twice in the past two weeks and campaigning in or around Denver both times. Leading up to the debate, he spent three days in Denver and ate at Chipotle, the burrito chain headquartered in the city. "The important thing is he's getting here now, he will be back, and he's going to the right places," said Wadhams, who's optimistic about Romney's prospects.
Romney's other liability here is his weakness among Hispanics, who make up 21 percent of the population and in 2008 were 13 percent of the electorate. John McCain took 38 percent of Colorado Hispanics four years ago. But in this year's Republican primaries, Romney took a hard-line position on immigration, advocating "self-deportation" for illegal immigrants and vowing to veto the Dream Act. Meanwhile, Obama, who let down many Hispanic supporters by failing to pass immigration reform as he'd promised, appears to have re-enthused Latino voters with his move over the summer to halt deportations of the so-called "Dreamers," young illegal immigrants brought to the U.S. as children.
In speeches to Hispanic groups since winning the nomination, Romney has repeatedly refused to specify how he'd handle illegal immigrants in the U.S., even as he promises to pursue a bipartisan solution to the issue. This week, he told the Denver Post he would not undo Obama's executive action on immigration, a seeming step toward a more moderate stance. But his campaign later clarified that Romney also would not extend the action forward.
On-the-ground observers say they don't see Romney's camp putting much effort into making inroads with Latinos. Four years ago, McCain's campaign made a major advertising and messaging push in Spanish-language media, emphasizing both his record of working on immigration reform and his conservative stances on social issues with this largely Catholic demographic. But in 2012, aside from a forum on the Univision network in which both Romney and Obama sat for interviews, Romney has made scant outreach efforts, said Lisa Martinez, a sociologist at the University of Denver who tracks Spanish-language media closely. "It just doesn't seem like Romney is engaging on the level he probably should in terms of appealing to Latino voters," she said.
The upshot of all this is that Romney is performing dismally among Hispanic voters nationally. As of this week, Romney was getting just 23 percent of the Latino vote in polling conducted by Latino Decisions. Wadhams, the Republican consultant, urges his party to build for the future by changing its tone on immigration, but he acknowledges it may be too late for Romney to do substantially better. "Frankly, there's nothing we can do in this election to prevent President Obama from getting at least two-thirds of the Hispanic vote," he said.
The combination of demographic disadvantage and questionable strategy has many Colorado Republicans pessimistic about Romney's chances in the state. In fact, I've learned about two elected officials in the state -- one a Democratic, the other Republican -- who have a bet on the presidential race: The Democrat has predicted Obama wins Colorado by 4 points, while the Republican is betting the president takes it by 6. But there's another way of viewing the evidence, and it's why most of the Colorado Democrats I talked to are more nervous than confident. After all, despite all these disadvantages, Romney is still squarely in the race in Colorado.
"The Obama campaign has outspent Romney 3-to-1 in Colorado, and the Obama PACs have outspent the Romney PACs 2-to-1. Based on that, it's kind of surprising to me that Obama doesn't have a bigger lead," said Katy Atkinson, a Denver-based Republican strategist. "Obama has done plenty of advertising. But he hasn't closed the sale."