Clever DNC Website Mocks Romney's Vague, Impossible Tax Plan
How would he cut taxes by 20 percent without raising taxes on the middle class or increasing the deficit? Good question.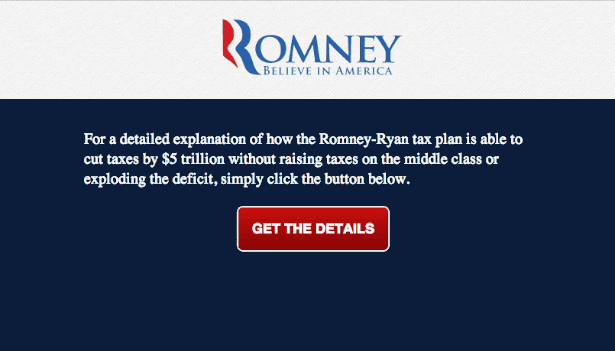 Today's best single-serving website comes from the Democratic National Committee, which has created romneytaxplan.com, complete with the Romney campaign logo and a slippery button. If the GIF above isn't entertaining enough for you, you can have your own fun on the website.
This is one of the few effective ways to get into tax policy, an otherwise somewhat arcane subject on which it is easy for either to campaign to snowball voters on with spurious facts and figures. Even pundits can be diverted -- Paul Ryan, for example, blew off Fox News' Chris Wallace with the excuse that it would take him too long to explain the math behind the plan.)
Here's the story behind the plan: Romney says he'd like to cut tax rates by 20 percent across the board and close loopholes while maintaining a progressive tax code and without adding to the deficit. Independent analyses -- most notably by the nonpartisan Tax Policy Center -- have found that is impossible, even using the Romney campaign's most favorable assumptions. The campaign insisted that there were six studies that proved their plan really would work, but as my colleague Matt O'Brien pointed out, three of them are blog posts, one was a Wall Street Journal column, one was a campaign white paper, and none of them show what Romney's team says they do. Wallace (again!) sparred with Romney surrogate Ed Gillespie on Fox News Sunday this weekend, challenging the campaign's claims.
Given the timing, it seems like it might be safe to wager that President Obama will attack Romney on his tax plan at Tuesday night's debate at Hofstra University.