Campaign Lets Iowa Newspaper Release Obama Interview Transcript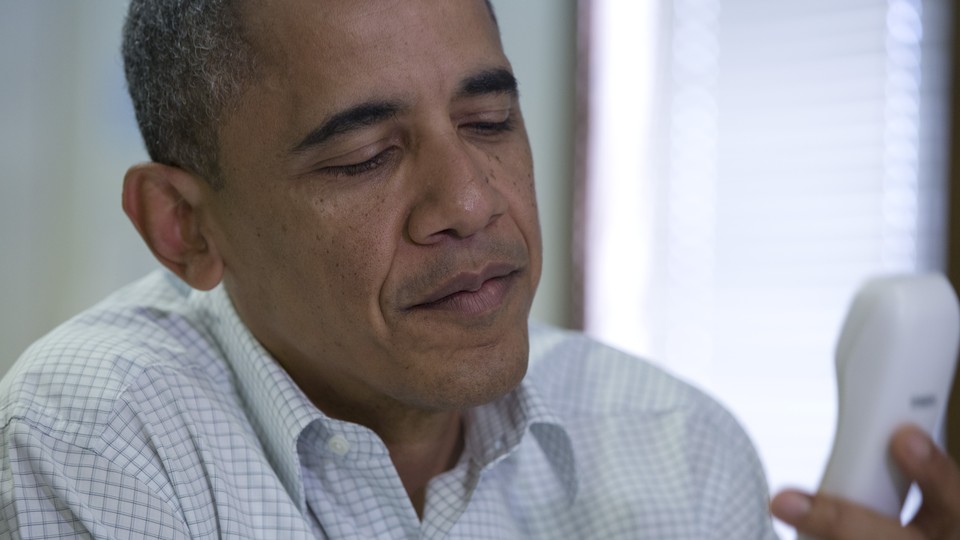 The Obama campaign has allowed The Des Moines Register to release the transcript of an off-the-record conversation with the president after the editor of the newspaper objected to the interview conditions in a blog post.
Obama spoke on the phone on Tuesday with Register editor Rick Green and Laura Hollingsworth, the publisher and president of the influential Iowa newspaper, but only on the condition that the conversation would be off the record. Republican nominee Mitt Romney met with the paper's editorial board in Iowa earlier this month and allowed an audio recording of the session to be posted.
On Tuesday night, Green wrote a blog post criticizing the Obama campaign for keeping the president's words under wraps, though he also said that the interview conditions would not influence the paper's endorsement, coming Saturday night.
"What the President shared with us this morning — and the manner, depth and quality of his presentation — would have been well-received by not only his base, but also undecideds," Green said he wrote to an Obama campaign spokesperson. "From a voter standpoint, keeping it off-the-record was a disservice."
The blog post triggered an avalanche of criticism from conservatives and protests from some in the national media. The Obama campaign reversed its decision on Wednesday morning.
In the interview, the president highlighted several prospective second-term initiatives and defended his first-term accomplishments, including health care reform. Obama also hammered Romney and his running mate, Rep. Paul Ryan, over what a debt deal would look like under their administration.
"There's no way that, if he's president, he can avoid having a showdown on a budget that his running mate introduced," Obama said.
He said he was "absolutely confident" he can reach a grand bargain with congressional Republicans in the coming months.
"It will probably be messy. It won't be pleasant. But I am absolutely confident that we can get what is the equivalent of the grand bargain that essentially I've been offering to the Republicans for a very long time, which is $2.50 worth of cuts for every dollar in spending, and work to reduce the costs of our health care programs."
Going slightly off the script and speaking bluntly — "since this is off the record," he said — Obama said that Romney and the GOP are failing in their courtship of Latino voters.
"Should I win a second term, a big reason I will win a second term is because the Republican nominee and the Republican Party have so alienated the fastest-growing demographic group in the country, the Latino community," Obama said. "George Bush and Karl Rove were smart enough to understand the changing nature of America."
The president also ended the conversation on a humorous note. "Thank you, guys. I appreciate you taking the time. I want your endorsement," Obama said. "You'll feel better when you give it."