Biden-Ryan Undercard Debate Carries Extra Punch This Year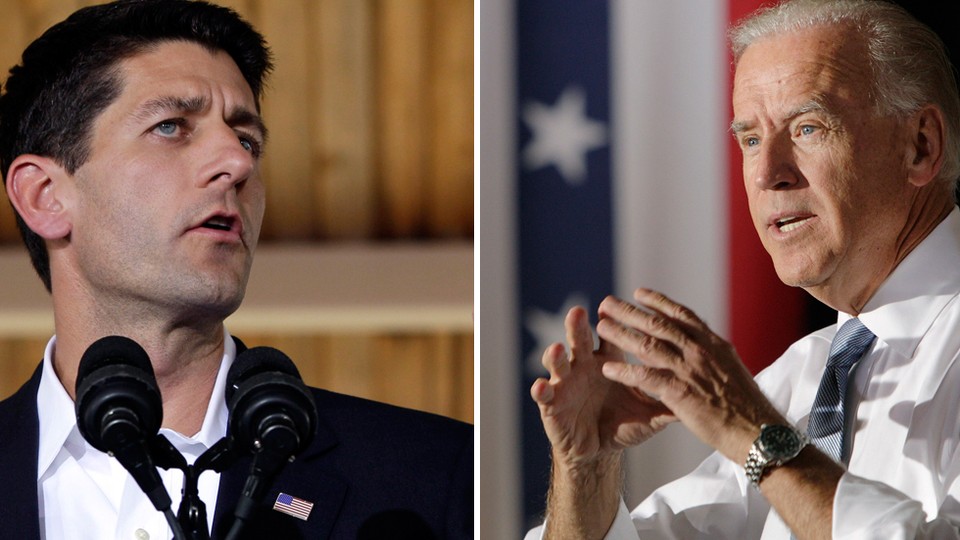 Vice presidential debates rarely matter as much as their presidential counterparts, but Thursday's showdown between Joe Biden and Paul Ryan could prove an exception. Tens of millions of voters will tune in to watch both men make the case that their ticket is the right one for America, while trying to live up to a host of other expectations.
Here are the stakes for this year's vice presidential showdown:
Battle for Momentum. President Obama's disastrous debate performance last week shifted momentum toward Mitt Romney, arguably for the first time since he became the Republican nominee. Pre-debate polls that had the president holding a comfortable edge, both nationally and in critical swing-states, now show the race is once again nearly deadlocked.
Some surveys, such as Gallup, have indicated the Romney surge has faded a bit in recent days, but his dominating performance nonetheless heightens interest in the undercard matchup. Another strong turn by a Republican could cement the notion that Romney and Ryan are peaking in the critical last month of the race. But a quality 90 minutes from Biden could bolster the sense that the troubles of the Obama-Biden ticket are only temporary.
Ryan's Return. Conservatives have salivated at the prospect of Ryan, their favorite son, debating Biden from the moment the Wisconsin congressman was tapped as Romney's No. 2. The thinking was that the wonkish Republican would easily disassemble any argument from a vice president many of the GOP faithful regard as a lightweight.
That might still happen, but it's hard to argue that Ryan's entrance into the presidential election has been a smooth one. Questions about the accuracy of some of his assertions and Romney's own distancing from parts of Ryan's voting history have removed some of his luster. And after Romney's showing last week, now Ryan is the one who must prove he's up to the fight.
Joe Being Joe. From the time Biden pulled President Obama in close to tell him that signing the health care law was "a big f---- deal" to a recent campaign-trail incident in which a fired-up vice president told a largely African-American audience that Republicans "will put y'all back in chains," the vice president has demonstrated that he has not overcome his four-decade habit of making gaffes.
The Republican research team has had a particularly busy few weeks parsing Biden's more unfortunate turns of phrase — the middle class "has been buried the last four years," he said in Charlotte, N.C. "Yes we do" want to raise your taxes, he admitted in Iowa. Both statements make more sense in their full context, but surely the last thing Democrats need is another meme-generating Joe-being-Joe moment that could potentially embarrass Obama and his team. Odds are that Biden's preparation includes a restriction on excessive ad-libbing.
The Ryan Budget. The Romney campaign has so far done a fairly effective job of keeping the Ryan budget at a distance — a remarkable feat considering that the House Budget Committee chairman was catapulted to fame in conservative circles because of it. While Romney has praised his running mate's willingness to lay out a specific plan, in the past few months the refrain has been that Romney is the nominee and has his own ideas. The debate stage could be the Obama campaign's last, best chance to tie the Republican ticket to some of Ryan's more controversial proposals, including deep cuts to popular domestic programs and turning Medicare into a voucher system, and for Ryan to defend his signature initiative as a reasonable means to trim the budget.
The Heartbeat-Away Question. When vice presidential nominees Biden and Sarah Palin met four years ago, many voters turned a critical eye toward whether the 44-year-old Alaska governor was ready to become president should anything happen to the aging John McCain. Indeed, in the final stretch, many turned away from Republican ticket because they believed the vice presidential nominee failed that test. This time around, the 42-year-old Ryan faces a similar test. His reputation as a thoughtful lawmaker has meant he is dogged by fewer questions than Palin about his readiness to step into the role of commander in chief. Still, the debate against Biden -- a former senator with decades of domestic and foreign policy experience -- is his opportunity to affirm he belongs on that stage.
{{ BIZOBJ (video: 3981) }}