Anger Aside, Voters Favor D.C. Status Quo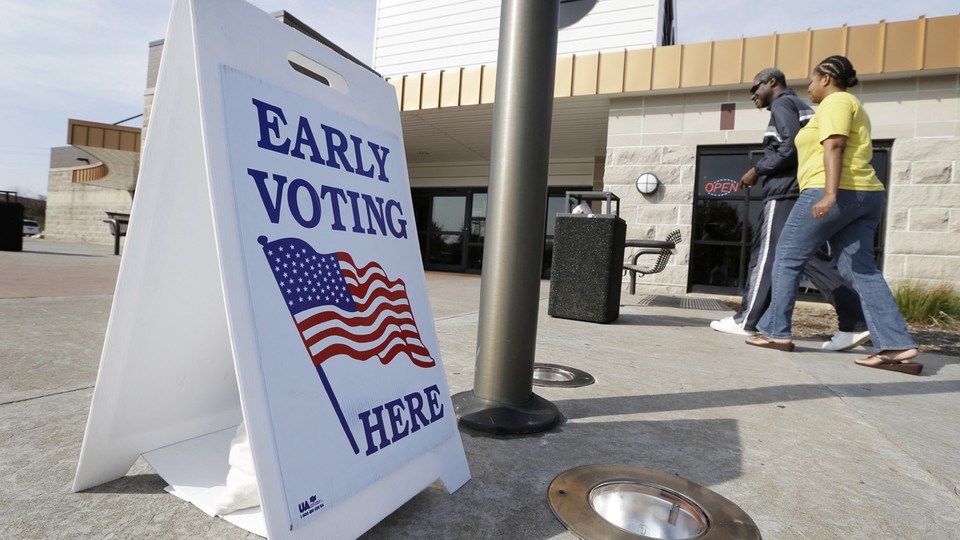 Despite dissatisfaction with the nation's direction and Washington's performance, voters lean toward retaining the status quo in Washington, the latest United Technologies/National Journal Congressional Connection Poll has found.
This final Congressional Connection Poll before the Nov. 6 election found that among likely voters, President Obama has reopened a slim advantage over Mitt Romney, while a narrow plurality prefers that Republicans maintain House control. By a wider margin, likely voters said they prefer that Democrats retain their Senate majority.
The United Technologies/National Journal Congressional Connection Poll, conducted by Princeton Survey Research Associates International, surveyed 1,010 adults — including 713 likely voters by cell phone and landline — on Oct. 25-28. It has a margin of error of 3.7 percentage points for the entire sample, and 4.4 percentage points for likely voters.
These national measures of sentiment don't necessarily predict the results in the state-by-state and district-by-district contests that will decide House and Senate control. Yet they illuminate the competing, even contradictory, impulses among voters that are shaping the relationship between the presidential and congressional contests.
The paradoxical bottom line is that even as most voters say they want to divide control of the White House and Congress to check the next president, they are displaying an increasing tendency toward party-line voting in congressional races that could make that outcome less likely.
Overall, the survey found Obama leading Romney among likely voters by 50 percent to 45 percent, after the two tied at 47 percent each in a late-September Congressional Connection Poll. Conversely, the poll recorded a slight shift toward the GOP in House races. Now, 47 percent of likely voters say they would prefer that Republicans maintain their House majority, while 44 percent want Democrats to take over; Democrats held a 45 percent to 43 percent advantage in late September. Voters, by a solid 50 percent to 40 percent margin, now say they would prefer a Democratic Senate; that's up from a 47 percent to 42 percent advantage for Democrats in September.
The survey found an overwhelming correlation between preferences in the presidential race and the battle for congressional control. In the House, fully 85 percent of Obama voters preferred a Democratic majority, while 92 percent of Romney voters said they want the Republicans to maintain control. In the Senate, Obama voters by 89 percent to 3 percent said they preferred Democratic control, while Romney voters, by 83 percent to 9 percent, want Republicans to take the majority.
These results track closely with recent state-level polls showing a tightening connection between attitudes in the presidential and Senate races. Although special circumstances always allow some candidates to swim against this tide (such as Sen. Claire McCaskill in Missouri this year), in most recent public surveys, at least 80 percent of voters supporting Obama for president also say they are backing the Democratic Senate candidate in that state, and vice versa for Romney.
The paradox is that voters are moving further toward this quasi-parliamentary style of party-line voting even as they express reluctance to unify control of Washington behind one party.
In the poll, three-fifths of likely voters say that if Romney wins they want Democrats to control at least one chamber "so they can act as a check" on his agenda; just 34 percent want Republicans to control both chambers "so they can implement his agenda." Even among those voting for Romney, fully one-fourth say they want Democrats to control one congressional chamber.
Likewise, just 36 percent of voters want Democrats to control both chambers if Obama wins; 58 percent say they want Republicans to hold at least one to check him. About one-fourth of Obama voters say they would prefer divided control.
And yet, despite that broad preference, relatively few voters in either camp appear inclined to actually split their ballots between the presidential and congressional race. That creates a formula for frustration.
On the one hand, as in this survey, voters are now consistently voicing a preference for distributing power between the parties in a way that would compel them to cooperate. On the other, by sending to Washington fewer candidates representing voters who support the other party's presidential candidate, they are reducing the number of legislators with an intrinsic incentive to compromise.
The poll's finding of a 50-45 Obama advantage in the presidential race highlights the central uncertainty surrounding the blizzard of late campaign polling: What will the partisan and racial composition of the actual electorate look like?
In its likely-voter model, the Congressional Connection Poll projected that the 2012 electorate will be virtually unchanged from 2008, with Democrats holding an 8 percentage-point advantage among voters (compared with 7 points last time) and whites representing 73 percent of voters (compared to 74 percent last time).
Other recent polls, such as the Pew Research Center survey released on Monday showing a tied race, have found a narrower, or nonexistent, Democratic identification advantage for 2012. Romney's prospects, obviously, will increase the more the partisan gap declines. The biggest message from the survey is that even small changes in the electorate's composition next week could have huge ramifications in a campaign that is dividing the nation so closely.