After 4 Years As America's Craziest State, Arizona Tries Out Moderation
Just months after making headlines for its radical immigration law and wacky politicians, the Grand Canyon State just might be turning purple.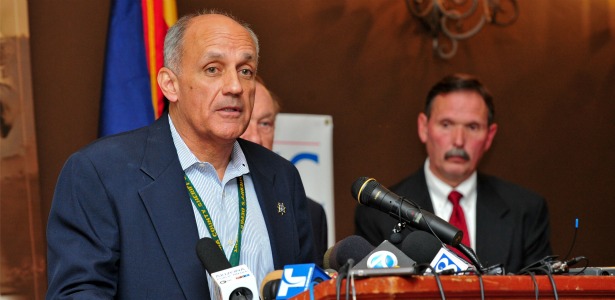 TEMPE, Arizona -- At first blush, alt-rockers Jimmy Eat World may seem like an odd group to warm up a crowd of 5,000 for Bill Clinton. But Clinton will stump for Democratic U.S. Senate candidate Richard Carmona Wednesday night at a university campus near Phoenix, and like everything else in Carmona's tightly disciplined Senate race, the choice is carefully calculated -- in this case, to attract young voters who might be turned off by what they view as Arizona's four-year foray into extremism.
The Clinton visit is an indicator of the viability of Carmona's campaign. The surprisingly close Senate race is one of several signs that the Grand Canyon State is self-correcting, veering away from zealotry, favoring moderate politicians and policies, and gradually turning purple. And while prognosticators still expect Arizona to go red for Romney, a slow but steady political transformation is occurring on the local level statewide.
Many Arizonans have been embarrassed by immigration laws that have deeply offended the state's Hispanics, now about 30 percent of the population. Voters are upset that the Republican statehouse slashed funding for Arizona's public schools by about 18 percent since 2008, passed laws allowing concealed weapons just about everywhere -- including bars -- and meddled in women's health by cutting off funding to health-care providers in the state Medicaid system who provided abortion services.
The four-year reign of extremism has also celebrated Sheriff Joe Arpaio's immigration raids, even in a time of rapidly declining illegal immigration, and created a cadre of copycat immigration hawks. Even Senator John McCain, who once favored sensible immigration reform, distributed a
campaign video
expressing an urgency to build the "dang fence" in order to win a tough 2010 primary battle. But -- in another sign Arizona is moving to the center -- no one's built the dang fence. A Tea Party-backed state law that permitted construction of a border fence with private funding has failed to attract many donors. The wall
remains unbuilt, according to The Arizona Republic, largely because only 10 percent of the money needed to build the first mile has been donated.
One major factor in the swing is those pesky independents, who are growing by leaps and bounds in the voter-registration rolls. In the fall of 2008, the Arizona Secretary of State reported about 759,000 registered independent voters; four years later the state has a little more than 1 million independent voters, comprising about one-third of the electorate. "Our continued growth of independent voters shows a disgust with politics as usual and a desire to move to the center," says David Berman, a senior research fellow at Arizona State University's Morrison Institute for Public Policy.
He cites two propositions on the November ballot that may nudge the state to the center. One "open primary" measure circumvents partisan primaries by listing all candidates -- independents, Republicans, and Democrats -- on the same ballot, a move Berman says encourages voters who don't belong to either major party to participate in primary elections. Another proposition attempts to fund schools via a one-cent permanent sales tax, guaranteeing about $1 billion for schools each year. The measure belies voter distrust in a statehouse that has severely reduced school funding.
Yet another clue Arizona's ticking to the center: "Illegal immigration isn't working for the right wing any more," says Berman. Carmona favors comprehensive immigration reform that includes some amnesty for some undocumented immigrants who already live here. His opponent Jeff Flake, a respected six-term conservative Republican congressman best known for his battles to end earmark spending, once pushed hard for similar reform. But Flake backed off and began voicing the conservative Republican mantra of "secure the borders first."
Once, Flake seemed to have an easy path to the Senate seat, which is being vacated by retiring Republican Jon Kyl. But Carmona's strategy, which banks on Arizona's extremism fatigue by pegging Flake as a right-wing extremist while portraying himself as a moderate, seems to be closing the gap. Flake's lead over Carmona has shrunk to an average of less than three points.
Even Arizona's right-wing border hawk sheriffs, statewide icons just a few years ago, have lost their luster.
Flake pegs Carmona as Obama's handpicked lackey. "We have a better message on economy and jobs," Flake says. He agrees earlier "caustic" rhetoric may have blurred that Republican message on occasion, but he remains convinced he'll win, because he says voters don't think of him as an extremist but as an "independent Arizona voice."
Carmona, on the other hand, maintains he's got the support of moderate Republicans who've quit the flock. They tell him, he says, "This is not the Republican party I belonged to. It's been hijacked."
But in a state where Republicans (about 1.1 million voters) and independents (about 1 million voters) outnumber Democrats (about 935,000 voters), Carmona needs to cobble together votes of Hispanics, Native Americans, veterans, cops, union members, and moderates of all stripes. He's got the resume to recruit them -- he's a Latino, disabled Vietnam vet, trauma surgeon, and former deputy sheriff. As U.S. surgeon general during the George W. Bush Administration, he says, he advocated for every woman's right to access to complete health care, including all "reproductive health care options."
****
Arizona's extremist jag began four years ago when Janet Napolitano, a moderate Democratic governor, left to head the Department of Homeland Security. Her vetos had held extremist legislation at bay, but that changed when Secretary of State Jan Brewer succeeded her, according to state law.
Brewer, a Republican, faced a 2010 election battle against then-Attorney General Terry Goddard. She rode a wave of Tea Party popularity back into the governor's office after signing SB1070, the controversial immigration law that made it a state crime for any unauthorized immigrant to be in Arizona. (Parts of the law were struck down by the courts, but the so-called "Papers Please" provision still stands.) The same year, Russell Pearce, the sponsor of SB 1070, became the president of the state Senate, which enjoyed GOP supermajorities. Backed by national anti-immigration groups, Pearce pushed for even more drastic laws, such as one depriving babies born in Arizona to unauthorized immigrant parents of birth certificates.
It didn't take long for the backlash to start. Business groups pressured the legislature to stop passing immigration laws, citing decreased revenues from tourism and an inability to recruit skilled, educated workers to live in Arizona. Latino activists launched a successful effort to recall Pearce in 2011, in which he lost to a moderate Republican. He ran again in 2012, in a different district, and lost again. Several of his allies also lost primaries, One of them, Lori Klein -- a state senator who once pointed a loaded pink pistol at a reporter as he sat in her office -- lost a a bid for state house despite endorsements from Herman Cain and Joe the Plumber.
Brewer herself has lost much of her mainstream credibility. Her false contention that there were beheadings going on in the Arizona desert, her finger-wag at President Obama on the airport tarmac in Mesa, and her vow to deny drivers' licenses to those covered by the president's DREAM Act executive order were viewed by many Arizonans as "mean," Berman says.
Even Arizona's right-wing border hawk sheriffs, statewide icons just a few years ago, have lost their luster. Pinal County Sheriff Paul Babeu, who made a career of clamoring for border security and appeared in McCain's fence ad, was outed as gay last spring by his angry Mexican immigrant ex-lover, and subsequently dropped a congressional bid. Larry Dever, a Mormon sheriff who became a Fox News regular, died last month when his truck rolled over on a dirt road. His blood alcohol was three times the allowable level.
And after serving as Maricopa County Sheriff for 20 years, 80-year-old Joe Arpaio, "The Toughest Sheriff in America," faces a tough reelection battle. (His spokeswoman did not respond to an interview request for this story.) Arpaio's birther investigation publicity stunts brought him national donations, but in extremist-weary Arizona, they didn't play well. What's more, he is facing a Justice Department civil-rights lawsuit alleging that his office discriminated against Latinos on the streets and in jails. Arpaio is battered by wrongful jail-death cases, a pending court judgment on alleged racial profiling in traffic stops, and repeated revelations of botched sex-crime investigations that left some victims vulnerable to even more abuse. Recently, The Arizona Republic, the state's largest daily, endorsed his opponent.
Randy Parraz, a Latino activist who helped oust Pearce, has turned his energies on Arpaio's electoral defeat. Arpaio has a "small cult following" in Arizona but "no ground operation," Parraz says. "This is not about Republican or Democrat," he says. "It's about extremism. It's about selecting a candidate who is not mean-spirited or hateful."
Latinos, especially, want to see Arpaio defeated. And Parraz says they will surprise pundits who say the bloc never votes. "The Latino vote won't come through unless you cultivate it," he says. "We cultivate it."
Republicans don't buy into the notion that anti-Arpaio voters will help Carmona get elected and trim Romney's 7.6 point lead over Obama in Arizona. They're confident Arpaio will survive, and they say Carmona's effort to brand Flake as an extremist isn't an indicator of shifting political winds in Arizona, but is instead part of a national political strategy to falsely label GOP candidates as anti-Hispanic, anti-woman, and anti-middle class. Tim Sifert, a spokesman for the Arizona Republican Party, doesn't believe mainstream voters will react negatively to the party's past performance. After all, he says, the laws were passed with strong voter support.
But Jill Hanauer, the CEO of Project New America, a progressive Colorado-based research and strategy firm, says the Arizona GOP is about to feel some major blowback. "Ultraconservatives overreached in Arizona," Hanauer says. "It's mainstream versus extreme. And that's why Carmona will win."