A Surrogate's Surprising Claim About Romney and the Kill List
Tom Ridge says the former Massachusetts governor wouldn't have one -- and then offered a unusual critique of Obama's drone strikes.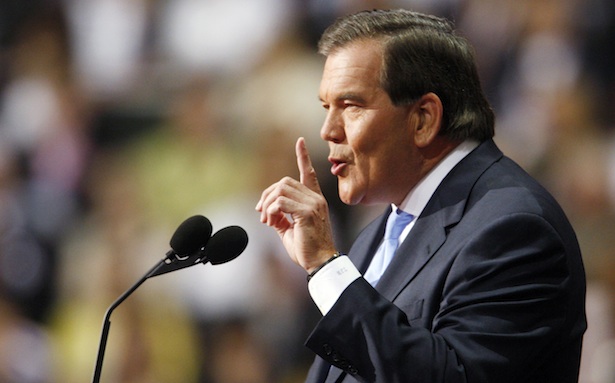 Reuters
Tom Ridge led the Department of Homeland Security under George W. Bush. After the last presidential debate, he acted as a surrogate for Mitt Romney, and Dave Weigel overheard him being interviewed. The question concerned drones and kill lists, subjects so far absent from the debates.
 
Here's Weigel:

I only heard one post-debate question about these killings, when a reporter for a left-leaning organization posed it to Tom Ridge. What, if Mitt Romney was elected, was he going to do with the kill list?

To my surprise, Ridge banked left.

"Well, listen, I was with President Bush at daily briefings every day," he said. "And I daresay, never once in my presence did I see the president target an individual or individuals. That's left up to the military, that's left up to the intelligence community. So I'm not going to speak for Gov. Romney, but I doubt very seriously he's going to take in his own hands life and death decisions about people. The only one President Bush had was Osama bin Laden."

I am not sure that it makes sense to characterize this as criticizing Obama from the left, except insofar as the left is comfortable vesting significant power in the hands of unaccountable bureaucrats. It would be one thing if Ridge were arguing that targeted killing is too much power to give government. But he seems to be saying extrajudicial killings are fine so long as the president isn't the one making the final decision about who lives or dies. Of course, Obama's CIA does engage in signature strikes, where even the guys firing the missiles don't know the identity of the target. As disturbing as I find Obama's kill list, I actually prefer it to a system where some nameless CIA operative is making the call without consulting the president.
The ideal thing would be if America didn't keep a secret kill list at all, something it's managed to survive without for much of its history. Any enemy deserving of premeditated killing can at least be named and have the evidence against him adjudicated by someone outside the executive branch. But as best I can tell, that's not what Ridge is saying. In any case, someone should ask Romney if his surrogate is correct. If elected, will he end Obama's targeted killing program?
My bet is that he won't.