A Majority of Voters Want America to Stop Intervening Abroad So Much
Almost two-thirds of Democrats and a majority of Republicans agree that the United States should be less involved in Middle Eastern politics.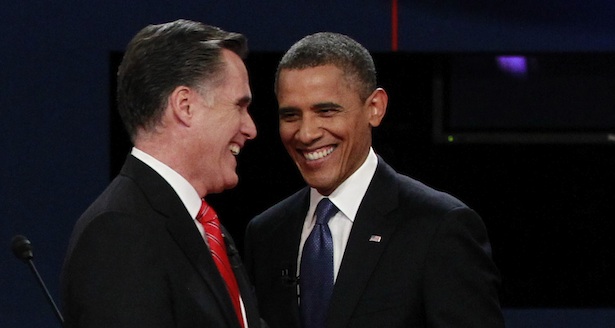 Reuters
Observing Election 2012, you'd think that the incumbent's greatest failings on foreign policy have been excessive passivity and reluctance to assert America's influence abroad. That's the critique Mitt Romney has been making. At various times in the campaign he's faulted President Obama for failing to get more involved in Iraq, Libya, Syria, and Iran. Its a critique that resonates with Republican foreign policy establishment and neoconservatives. But voters don't buy it.
Quite the contrary.
Four years into President Obama's tenure, the average American believes that the United States should be less involved in the Middle East's political changes. The Pew Research Center has
the data
: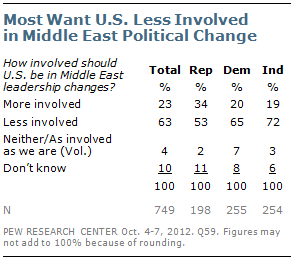 The Republican candidate's advocacy for greater U.S. involvement is a loser even among the Republicans surveyed. And the incumbent's chosen level of involvement strikes 65 percent of Democrats as excessive. Put another way, there is a clear bipartisan failure to satisfy voter preferences on this subject. But the odds of that coming up in Monday's foreign policy debate are long.
That doesn't mean voter preferences about intervention are irrelevant. A poll result like this one "doesn't mean that future policy in the region will turn out to be significantly less activist than it is now, but it suggests that publicly calling for greater activism in regional conflicts and internal political struggles is a very foolish political move," Daniel Larison
predicts
. "To the extent that tomorrow's debate centers on this question of less vs. more U.S. involvement in the Near East, Romney's own positions will greatly contribute to his losing the debate. If he can direct attention away from his hawkishness and keep the debate at the level of generic complaints about lack of American 'leadership,' Romney might be able to fight his way to a draw."