Why Obama's Speech Was Dull
Neither candidate in this race gains points from real policy proposals.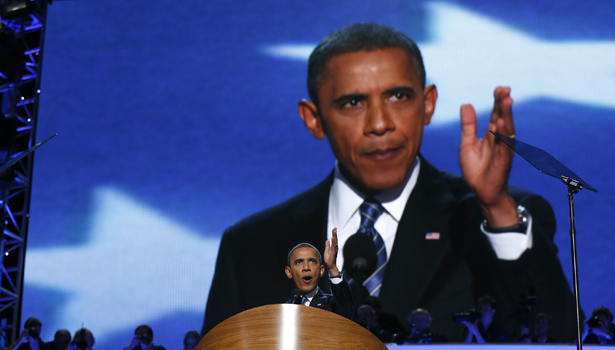 Reuters
Now we know why Obama chose not to adopt a more upbeat tone last night. A difficult jobs report for the Democrats to spin. The unemployment rate is down, but for the wrong reason: lower labor force participation. Employment growth was too slow to keep pace with population growth, let alone get the unemployed back to work.
Like many others I thought the president's speech was underwhelming -- as much for its tepid delivery (except for the last 10 minutes) as because of its content or lack of content. But I've a couple of theories about why it was likely to disappoint regardless of what was coming in the employment report.
It's difficult for an incumbent to summon inspiration based on a mere vision for the future. The glow has come off. Since he's already in the White House, with his hands (supposedly) on the levers of policy, he's expected to say more about specific proposals than he did first time round. Expectations of the challenger in that regard aren't as demanding. Also, part of Obama's task is to position the policies he's already presided over within this ongoing program. That's doubly hard, because he's done so little to explain or defend his signature initiatives and they remain far from popular. He seems to have decided it's too late to put that right -- a big mistake, I think, and not just because it spoils his speeches.
Also, in spelling out where the U.S. goes from here, both candidates (though, as I say, especially the incumbent) need not just a policy program but a feasible policy program--one that a semi-functioning Congress might plausibly enact. Even if Obama and Romney actually had detailed policy proposals, voters wouldn't have much confidence anything would come of them unless the candidates can say how they'll revive Congress as a legislative body. Of course, promising to do that was a big part of Obama's pitch in 2008. This time, neither of them has anything to say about it -- except to summon the mirage of undivided power, which isn't going to happen under this constitution. The Democrats' position that Republicans will be silenced and disempowered by an Obama win is patent nonsense. No wonder they can't say it with much conviction.
The underlying problem is that neither candidate can acknowledge the tight limits of presidential power. That would destroy a great national myth, the confidence trick in which both candidates and the media are invested, namely that the presidential election matters ten times more, a hundred times more, than the elections to Congress. With a reasonably pliable and productive Congress, you could get away with that conceit. Now that the salient feature of American politics is the breakdown on Capitol Hill, you can't.
Here's the result: Fighting a forward-looking campaign based on real policy proposals won't work for either man. So it's an election mainly about fear of what the other guy might do. Elect Obama to stop Romney, or vice versa. I don't think either man is scary enough for this to get voters' juices flowing, but it's all they've got. That's why Romney's speech was flat and dull as well, just like Obama's.
One other thing hurts the president's campaign, though perhaps it's too obvious to mention: diminishing returns. I'm not sure Obama's speech was actually as weak and boring as it seemed. There were plenty of good lines. (And the "take two tax cuts" bit was excellent. I laughed.) It's just that we've heard it all before. The rhetorical tricks -- the catch in the voice, the seductive cadences--are no longer so thrilling. Coming from an incumbent unwilling to defend his record and unable to lay out a detailed policy agenda, they're starting to annoy.