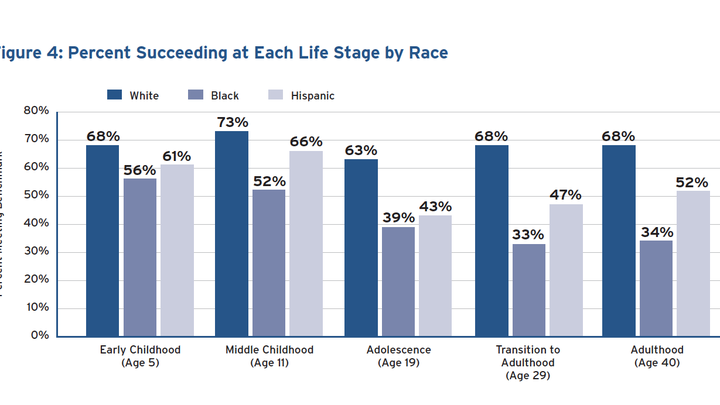 In each benchmark leading to the middle class, African-Americans trailed all racial groups from childhood to age 40. Only a third of blacks entered the middle class, compared with nearly 70 percent of whites and 52 percent of Hispanics.
A Brookings Institution report, "Pathways to the Middle Class: Balancing Personal and Public Responsibilities," shows that children who achieve professional success are disproportionally from higher-income and white families; those who never move up come from lower-income or black families, or both.
While high poverty rates can help explain these numbers, other obstacles to the middle class include teenage and unwed pregnancies and criminal convictions, said Juan Williams, a Fox News commentator who appeared on the Brookings panel.
Another avenue that slows ascension is poor education. In early childhood, 56 percent of black 5-year-olds possess adequate pre-reading and math skills and demonstrate behaviors considered "school-appropriate," compared with 61 percent of Hispanics and 68 percent of whites.
The road ahead for blacks is riddled with obstacles. By age 11, only 52 percent of black kids have adequate English and math skills, compared with 73 percent of white youngsters.
By high school, 39 percent of blacks graduate with a 2.5 grade-point average; have no conviction for a criminal offense; or exit their teens without becoming a parent.
"The most dramatic difference is that whites are twice as likely to end up in the middle class by middle age, which is essentially making three times the poverty line compared to blacks," said Scott Winship, an institute fellow and a report coauthor. 
We want to hear what you think about this article. Submit a letter to the editor or write to letters@theatlantic.com.