Who Is Julián Castro, the Democratic Convention Keynote Speaker?
The San Antonio mayor, a rising star in his party, has been touted as the next Barack Obama.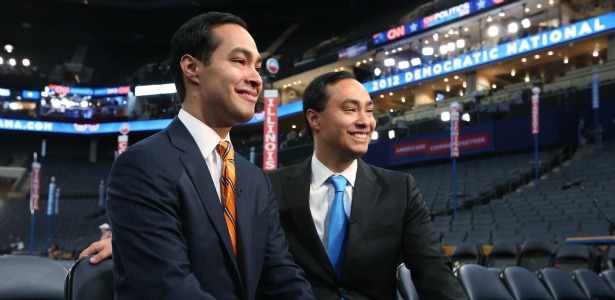 Updated, 10:58 p.m.
CHARLOTTE -- San Antonio Mayor Julián Castro took the stage here Tuesday night as an unknown to the vast majority of viewers. That's changing already: His speech drove more tweets per minute than any speaker at the Republican National Convention except Mitt Romney. Castro was the Democratic Party's first Hispanic keynote convention speaker. You can read his full prepared remarks here, and here's what you need to know about the party's Texan rising star:
1. Who Is This Guy? Julián (pronounced Hoo-li-AN) Castro, 37, is the mayor of Texas's second-largest city (yes, San Antonio is bigger than Dallas). First elected in 2009, he was reelected last year with a whopping 82.9 percent share of the vote. Before that, he was on the city council. A lawyer by training, he attended Stanford University and Harvard Law School. His family is Mexican-American, and he's not a first-generation politician -- his mother Rosie Castro describes herself as a "Chicana activist," and she passed the civic-engagement gene not only to Julián but also his twin brother Joaquin. Joaquin Castro serves in the Texas state house and, unlike his brother, actually faces an election this year: He's favored to win a seat in the U.S. House in Texas's 20th district (inner-city San Antonio) currently held by retiring Democrat Charlie Gonzalez.
2. Why Was He Tapped? Castro is a useful pick for Democrats for several reasons. He helps the party with its appeal to Latino voters, a key voting bloc this year, and respond to the sea of diverse faces the GOP showcased in Tampa. His selection offers a chance to introduce a young man the party sees as having great potential to a national audience -- much like Democrats did with a certain state senator from Illinois in 2004. The other side of that coin is that he's unlikely to overshadow the man at the top of the ticket, as some worried Governor Chris Christie might in his equivalent keynote in Tampa last week. It's also a pragmatic selection. Behind Obama, the Democratic bench is weak. One of the few other party rising stars, Massachusetts Senate candidate Elizabeth Warren, will speak Wednesday night. New York Governor Andrew Cuomo, an oft-mentioned 2016 hopeful, has opted to lay low at the DNC. With few Marco Rubios and Chris Christies available, Democrats are leaning heavily on mayors, including Castro, Charlotte Mayor Anthony Foxx, and Los Angeles Mayor Antonio Villaraigosa, the convention's chair.
3. Is He the Next Barack Obama? Like the search for "the new Bob Dylan," the frequent invocation of the president's name to describe up-and-coming non-white-male politicians -- from Marco Rubio to Artur Davis to Hakeem Jeffries to, uh, Sarah Palin -- can take on a pathetic, desperate, and reductive tone. But there are a few undeniable parallels between the two men: Both were raised by single mothers, attended Harvard Law School, and have sought to transcend racial politics while maintaining a connection to (and base in) their ethnicities. (Castro, interestingly, does not speak Spanish fluently -- though you wouldn't know it from the accent he likes to use when pronouncing names or words with Spanish origins.) And both reach for broadly unifying themes but are happy to throw a rhetorical punch at Republican adversaries. Obama has taken Castro under his wing -- he's been invited to White House summits, sat with first lady Michelle Obama at the 2012 State of the Union, and has now been tapped for the DNC keynote.
4. What Is His Future? Like all skilled politicians, Castro is careful not to telegraph his ambition too clearly. When Time named him a member of its "40 under 40" list and asked where he saw himself in five years, he replied that he'd be mayor of San Antonio. But Castro has been an ambitious local star since high school -- the type of local boy who might come home and make good, but is expected to make good on a larger stage, too. Former George W. Bush adviser Mark McKinnon told The New York Times Magazine, "Julián Castro has a very good chance of becoming the first Hispanic president of the United States." What would Castro's next step be? He faces a challenging landscape in Texas, where Republicans have a lock on statewide offices, but he has loudly criticized Governor Rick Perry and may have an eye on the governor's mansion anyway. Whatever he decides, the DNC slot should raise his profile and give him a boost.
5. What Can We Expect From His Speech? Keynote speakers like Castro are expected to make the presidential ticket look good and echo major themes, but other than that, he's been cagey about what he'll talk about. One good way to get a feel for Castro's style is to watch his July keynote address at the Texas Democratic Convention. (As he will in Charlotte, Joaquin introduced Julián there.) Castro isn't as talented an orator as Obama, but he's a good speaker, and can deliver a good line. Expect Castro to talk a lot about education, an issue near and dear to him. He's married to an educator; has spoken passionately about how important affirmative action is and how it helped him (and his brother) gain admission to Stanford; and is currently working to get voters behind a sweeping new pre-kindergarten program in San Antonio. That July speech shows how some of his themes align with the Democratic Party's major messages for this campaign. At one point, he delivered a sort of Lone Star spin on Obama's "you didn't build that" message. "Texas may be the one place left where people actually still use bootstraps, and we expect folks to pull themselves up by 'em," Castro said. "We also recognize that there are things that nobody, no matter how sturdy your bootstraps, can do alone." And his closing line echoed a theme of Obama's 2004 keynote, spinning his story as an exemplar of the American dream: "My family's story is not special. What's special is the America that's made our story possible."