When Andy Williams Sang at Bobby Kennedy's Funeral
The strange political journey of the late crooner, who died at 84 on Tuesday, from friend of the Hyannis Port set to opponent of Obama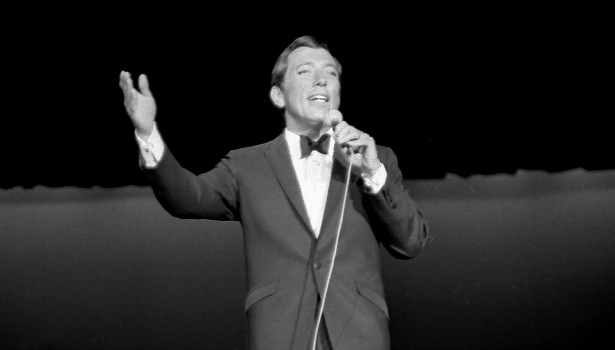 Associated Press
Like anyone who lives to the ripe age of 84, Andy Williams -- the "Moon River" singer, who died Tuesday of bladder cancer -- witnessed a great deal of history. But unlike most people, he witnessed it up close.
Williams, it turns out, was a close friend of Robert and Ethel Kennedy. In a memoir, he warmly remembered the senator's charisma, and recounted asking him whether after the death of his brother John, "the fear of another assassin preyed on his mind." That must have been an unusually sombre moment in the Williams-Kennedy friendship: Evan Thomas reported a story in which the two, along with author George Plimpton, went on a hike at the Grand Canyon that ended with Plimpton too drunk to walk and Williams needing to be carried on a donkey.
When tragedy struck Kennedy in 1968, Williams wasn't there -- though he's often said to have been. He was across town, waiting to meet up with the presidential hopeful. He told the Daily Telegraph the story:
On the June night in 1968 that Bobby Kennedy won the election for California's delegates to the Democratic presidential convention, the senator concluded his televised victory speech with a secret signal to Andy and [his then-wife] Claudine, who were watching at home.

"It was almost midnight and we were going to meet up at the Factory, which was a very trendy disco. Claudine and I were half-dressed and were lounging on the bed waiting for Bobby to make the little hand gesture that was the signal to leave for the Factory. He made it, then walked away from the podium and we started to get dressed."

Williams was looking in the mirror putting on his tie when he heard chaotic noises coming from the television speakers. He ran to the set and discovered to his horror that his friend had been shot. Almost immediately after Kennedy left the ballroom at the Ambassador Hotel in Los Angeles, he was met by a Jordanian gunman -- Sirhan Sirhan -- who fired several shots, gravely wounding the senator in the head.
Plimpton was again with Kennedy, and wrestled Sirhan to the ground. By the time the Williamses reached the hospital, RFK was beyond saving. John Glenn, then a NASA hero with a Senate career still ahead of him, went to get clothes to replace Kennedy's blood-soaked suit. But when he returned, he didn't have a tie, so Williams took his off and it was put on the body. Kennedy was buried in the tie.
Williams sang for his friend's funeral at St. Patrick's Cathedral in New York, delivering a rendition of "The Battle Hymn of the Republic," an RFK favorite Williams's rendition is at around the 18-minute mark of this recording of the entire funeral here on WNYC's website. He also recorded a single that was sold to benefit a Robert Kennedy memorial:
Williams also performed at benefits for George McGovern's 1972 campaign, but he described himself as a lifelong Republican and gave money to GOP candidates. And even though he was also close to Ted Kennedy, a staunch backer of Barack Obama, Williams didn't share Kennedy's affection for the president. "I think he wants to create a socialist country. The people he associates with are very Left-wing. One is registered as a Communist," he told the Telegraph in 2009. "Obama is following Marxist theory. He's taken over the banks and the car industry. He wants the country to fail."