What's the Secret to the Youth Enthusiasm Gap?
Obama backer Kal Penn insists there's no deficit of excitement from 2008 -- but the data says otherwise. Why aren't young voters more fired up?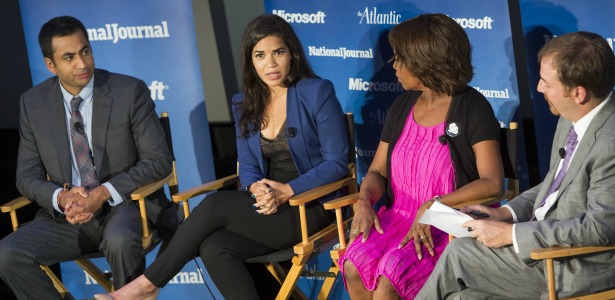 CHARLOTTE -- In 2008, young voters were a much-watched x-factor that helped Barack Obama take the White House by a comfortable margin. This year, they will be a key demographic again, but for the opposite reason. Obama's path to reelection depends in part on his ability to get those young voters back to the ballot box -- a tough sell for voters disappointed by the struggling economy and the absence of a vast shift in the culture of government.
But are younger voters really all that disappointed? A panel of younger celebrity activists at The Atlantic and National Journal's Conversations With the Next Generation Town Hall -- including Kal Penn and America Ferrera, along with moderators Chelsea Clinton and NBC's Chuck Todd -- pushed back against the idea that America's youth are nothing than more than apathetic, uninformed, social-media-obsessed slackers.
"I reject the notion that there's an enthusiasm gap," said Penn, who jumped from making stoner comedies to working in the White House Office of Public Engagement after volunteering for Obama's 2008 run. "The crowds that we had in 2007 and 2008, both in the primary and in the general election, are the exact same crowds I'm seeing now." He said one reason for an apparent difference is that there wasn't a long Democratic primary to showcase excitement. Now, he said, there's a more subdued but no less real thirst for policy details. "I don't think there's an enthusiasm gap, I think there are questions about how we get these things done." He said he's focused on educating voters about things like the filibuster, noting that few young voters know that 60 votes is the de facto minimum to pass any bill in the Senate today.
Ferrera, who is involved with the group Voto Latino and is best known for her role on Ugly Betty, argued that far from depressing enthusiasm, the nation's economic struggles during Obama's tenure have stoked political awareness. "We're living the lack of jobs, the debt when we come out of college, the inability to find a job," she said. "I think the truth is that there is an enormous amount of energy in this generation, and we have more tools to communicate with each other."
These outlooks from the left-leaning panel appear to be overly rosy -- at least as far as the ballot box goes. (The handwringing about the laziness of kids today is, on the other hand, a perennial -- and perennially frivolous -- pursuit of aging Americans.) Anecdotes aside, polling suggests that young people's intention to vote has dropped nearly 15 percent relative to the national average from its 2008 level. The Obama campaign will have to find ways to improve the intention to vote if the president is to win in November. But they do have some demographic tailwinds. For example, there are 15 million Americans who have reached voting age since the 2008 election. Rod Snyder, president of the Young Democrats of America, said at the town hall that his group had been making a special push to register voters on college campuses and even at high schools around the country.
Ferrera, Penn, and company offered a few more hints about the shape of the electorate to come. Ferrera, who is of Honduran extraction, and Penn, an Indian-American, both said that members of their generation define themselves less by race and ethnicity, sexual orientation, or party loyalty than their parents do. The panel also discussed learning from foreign models. "Every time I travel abroad, I think, 'if every child had the opportunity to see how other people live, we could be so different as a country,'" Ferrera said. Interestingly, a call for national service elicited the largest applause of the day from a room largely filled with local college and high-school students.
Acting as the panel's elder stateswoman, actress Alfre Woodard -- herself the mother of two children -- told of taking her son's car keys away on his 18th birthday and refusing to give them back until he registered to vote. And she offered a warning to any young people enticed by apathy: "You can't afford to be disappointed, you can't afford to be tired. It'll go on with or without you."