West Virginia Delegates Say Coal Trumps Race
At the Democratic National Convention, the Mountain State's delegates vow to fight on for him anyway.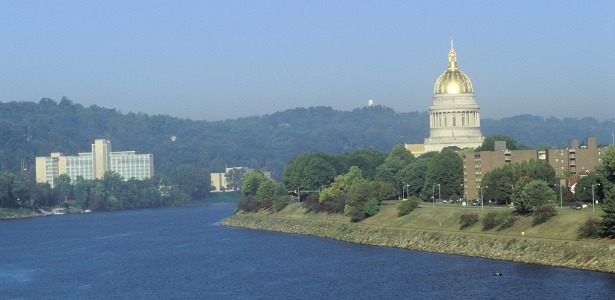 spirit of america / Shutterstock
CHARLOTTE -- As the delegate roll call at the Democratic National Convention neared West Virginia last night, the jokes started to fly on Twitter. "It's going to be awkward when the West Virginia delegation gives delegates to federal inmate Keith Judd," quipped BuzzFeed's Andrew Kaczynczki, a representative example.
The truth, of course, was that they didn't: No one had filed delegate paperwork on behalf of the convicted felon, who won 40.7 percent of the vote in the Mountain State's 2012 Democratic primary despite being in prison. In fact, the West Virginia delegates in attendance were as rabidly excited about Obama as the Massachusetts delegation -- which, in a twist of fate or sarcasm, was seated directly adjacent to them in the Time Warner Arena.
"This is the Democratic wing of the Democratic Party!" said Nancy Guthrie, a delegate from Charleston. "Everybody in this delegation is a strong Obama supporter."
But Guthrie and her comrades know how outsiders see the state. West Virginia wasn't Obama's weakest primary performance -- at 59.3 percent, he did better there than in Oklahoma, Kentucky, or Arkansas -- but the fact that an inmate was nipping at his heels meant it got the most attention. Adding fuel to the fire, three high-profile Democrats up for reelection, Senator Joe Manchin, Governor Earl Ray Tomblin, and Representative Nick Rahall, decided to skip the convention. Manchin and Tomblin even said they weren't sure if they'd vote for the president. (The state's senior senator, Jay Rockefeller, did attend and backs Obama.) "I think a lot of us wish they would just say, 'We're Democrats, we're voting for Obama,'" Guthrie said. "That would have been the end of that news cycle."
Was state Lieutenant Governor Jeffrey Kessler risking his political career by coming to Charlotte? "No. Leaders lead," he said. What did that say about Manchin, Tomblin, and Rahall? Kessler smiled tightly.
But it's true that the president is deeply unpopular in the state -- though one delegate noted, somewhat acidly, that West Virginians don't like Romney much either. I asked state Senate President and Lieutenant Governor Jeffrey Kessler whether he felt he was risking his political career by coming to Charlotte.
"No. Leaders lead," he said.
What did that say about Manchin, Tomblin, and Rahall? Kessler smiled tightly. "Everyone has their own reasons why they're here or not here. I thought it was important to be here and support the Democrat platform."
Speculation about why Obama is so unpopular in West Virginia has tended to hone in on race. In this month's issue of the magazine, Ta-Nehisi Coates mused on the ways in which America is still not comfortable with a black president, citing the West Virginia primary as a prime example. He noted a study that found high density of racially charged Google searches in the state.
Delegates trod carefully around the issue. "I don't think and I would hate to think it's racism" that explains Obama's struggles, said Tim Miley, a member of the state house of delegates from Clarksburg. "Can I deny that it still exists? Of course not." Instead, Miley -- and everyone else I talked to -- said the president's unpopularity came down to one word: coal. (Miley said some people might use coal as an excuse for opposing the president when race was the real issue.)
Anyone who's ever even driven through West Virginia understands the central role coal plays in the state's consciousness. The landscape is dotted with mines, and the highways are lined with billboards in support of it. While the Romney campaign and the coal lobby have recently started to take their campaign accusing Obama of harming the coal industry national, such ads have filled the West Virginia airwaves at least 18 months. Manchin famously fired a rifle -- literally -- at a copy of Obama's cap-and-trade bill in a campaign ad. Kessler was less strident but no less opposed to the idea. He said he took issue with the Environmental Protection Agency's "less than receptive approach" to coal, which he thought was rigged against the state's biggest industry. "But it's hard to have a seat at the table if you won't come into the dining room," he added.
The problem for West Virginia Democrats, Miley said, is that there's no way to knock on every constituent's door and explain that the major driving forces behind sinking coal prices are plentiful natural gas and decreased Chinese demand, not the big, bad EPA -- especially when the industry is on TV saying the opposite. Instead, Miley said he would head back home from Charlotte and make a pitch that Obama was more aligned with the average Mountain State resident on issues like Medicare, taxes, and economic policy.
"Look, I'm married to my wife and I don't agree with her on every issue right down the line," he said. "But President Obama has more in common with the average West Virginian than Mitt Romney does."