Voters Trust Real People, Not Pols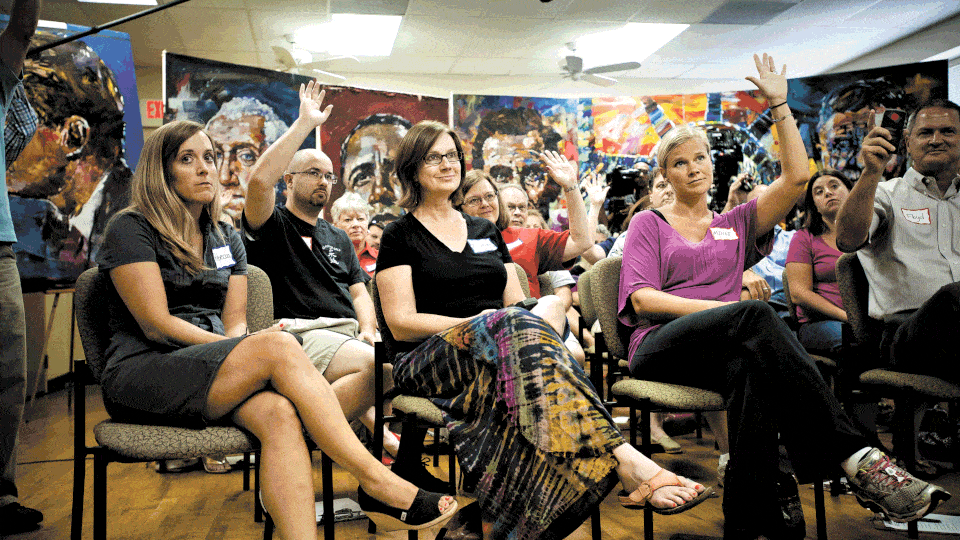 Cynical about the veracity of political attacks, voters are increasingly resistant to messages they find exaggerated, political strategists for both parties say. Now, the campaigns are being urged to turn to an unlikely tactic to push them into the lead of a close race: understatement.
Strategists argue that a softer approach will help keep voters plugged in — or at least prevent them from tuning out.
"You almost have to trick [voters] into watching the ads," Republican operative Frank Luntz said. With reporters observing, the longtime conservative political guru earlier this week conducted a focus group of 27 undecided voters from the Charlotte area, including 24 who voted for Barack Obama in 2008. During the sessions, he tested the effectiveness of a litany of political ads.
The anti-Obama messages that scored the highest used the same technique: Average adults talking plainly to the camera about their disappointment in the president. Their remarks weren't delivered with ominous music playing in the background and didn't employ any jarring images. The men and women featured — Obama voters from four years ago — even spoke well of the president personally. "I think he's a great person," said one woman. "I don't think he's the right leader for our country, though."
The focus group, meanwhile, universally concluded that ads from MoveOn.org that showed people impersonating Republican nominee Mitt Romney and running mate Paul Ryan literally stepping on firefighters and senior citizens were the least effective. The image was over-the-top, even silly, the group concluded.
Putting real people in ads carries with it inherent advantages, according to Democratic pollster Celinda Lake, not the least of which is that voters simply don't trust many politicians when they carry the messages personally. "People are so alienated from politics right now that when they see real people talking, it's much more persuasive," she said. "They also think all politicians are out of touch with their lives."
The pollster added that she thought the most effective anti-Romney ads aired so far have included real people criticizing Romney's tenure at the private-equity firm Bain Capital. It's the type of ad that the Obama campaign needs to redeploy, she said.
Cynicism about political ads certainly isn't a new phenomenon. Consultants say that the proliferation of information sources over the past 20 years has heightened voter skepticism. Not long ago, "people would say, "˜OK, that was on TV? It must be real. I read it in the newspaper; it must be real,' " Democratic pollster John Anzalone said. "Now, they just don't count on that. They can go and look it up a couple different ways to see whether they think it's the truth or not."
Although that skepticism has forced an evolution in campaign tactics, the resistance to exaggeration might have hardened in this campaign, marked already by never-ending media coverage and hundreds of millions of dollars in preconvention ad spending. Now, the opening is smaller to persuade the few remaining undecided voters.
"I think that's why you've seen, in the last several cycles, more candidates talking directly to the camera, because now they have to touch people," Anzalone said. "Anything else looks like a political ad."