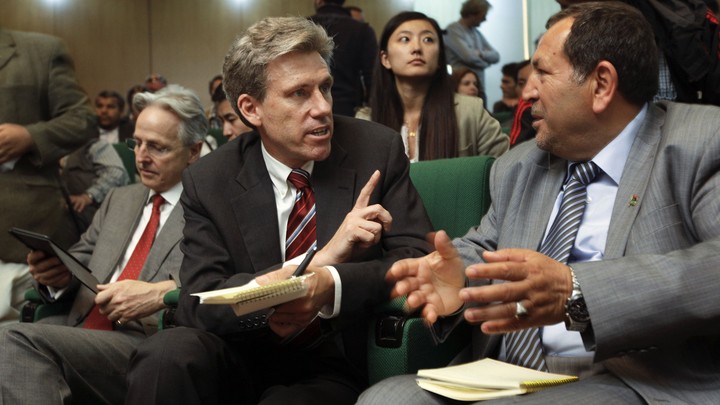 U.S. ambassador to Libya J. Christopher Stevens and three other embassy staff were killed in an attack in Benghazi on Wednesday, the White House confirmed on Wednesday.
President Obama strongly condemned the attacks, while also calling on embassies across the globe to increase security.
"Right now, the American people have the families of those we lost in our thoughts and prayers," Obama said. "They exemplified America's commitment to freedom, justice, and partnership with nations and people around the globe, and stand in stark contrast to those who callously took their lives."
(RELATED: Romney Campaign Denies Acting Rashly on Libyan Situation)
Later on Wednesday, Obama administration officials told the New York Times they believed the attack did not spontaneously spin out from protests, but had been planned ahead of time. Militants holding machine guns and rocket propelled grenades raided the embassy at night, as shown by a Reuters video, setting fire to the compound and eventually killing four personnel. Stevens died of suffocation, while the three other personnel were killed by gunshot wounds, CBS News reports.
Obama praised the work of Stevens, saying he was "a courageous and exemplary representative of the United States."
"Throughout the Libyan revolution, he selflessly served our country and the Libyan people at our mission in Benghazi," Obama said in a statement. "As Ambassador in Tripoli, he has supported Libya's transition to democracy. His legacy will endure wherever human beings reach for liberty and justice. I am profoundly grateful for his service to my administration, and deeply saddened by this loss."
At a press conference on Wednesday morning, Obama continued his praise: "It's especially tragic that Chris Stevens died in Benghazi because it is a city that he helped to save."
(RELATED: Obama Stays Above Political Fracas Over Libya Deaths)
Secretary of State Hillary Clinton called Stevens a dedicated member of the foreign service, saying he helped liberate an entire nation.
"Everywhere Chris and his team went in Libya, in a country scarred by war and tyranny, they were hailed as friends and partners," she said in delivered remarks. "And when the attack came yesterday, Libyans stood and fought to defend our post. Some were wounded. Libyans carried Chris's body to the hospital and they helped rescue and lead other Americans to safety."
Clinton confirmed that one of those killed was Sean Smith, a foreign service information management officer. Smith worked in the foreign service for 21 years. Clinton said he joined the State Department 10 years ago, and has served in Baghdad, Pretoria, Montreal, and most recently The Hague.
(RELATED: Anti-Islamic Filmmaker Stands By Video)
She said the State Department is waiting to release the names of the other two killed until their families are notified. She also further condemned the violence.
"Some have sought to justify this vicious behavior, along with the protest that took place at our Embassy in Cairo yesterday, as a response to inflammatory material posted on the Internet," Clinton said in delivered remarks. "America's commitment to religious tolerance goes back to the very beginning of our nation. But let me be clear. There is no justification for this. None."
The protests broke out due to outrage linked to an American video posted online that many Muslims have found offensive. The film's almost 14-minute trailer, which is still on YouTube, shows people acting as violent Muslims, taking their aggression out on Christians and women. The actors, who are predominantly white, are covered in dark makeup and use thick accents. The film also depicts the prophet Mohammad, who is subject to several slurs.
Afghanistan banned YouTube on Wednesday, to prevent its citizens from watching the controversial film, Reuters reports. Soon after news of Ambassador Stevens' death broke, Afghan President Hamid Karzai condemned the "inhuman and abusive act" of the filmmakers, which he said, "has caused enmity and confrontation between the religions and cultures of the world," according to the Wall Street Journal. 
In his own statement, President Obama rejected the denigration of religious beliefs, but condemned the violent response.
"While the United States rejects efforts to denigrate the religious beliefs of others, we must all unequivocally oppose the kind of senseless violence that took the lives of these public servants," Obama said.
Clinton further rejected violence based on religious anger in her remarks: "Let me be clear, there is no no justification for this. None," she said. "Violence like this is no way to honor religion or faith."
Reactions from the U.S. embassy in Cairo and the Obama administration were criticized by Republican nominee Mitt Romney, saying, "An apology for America's values is never the right course." In his remarks to the press, Obama did not address these charges.
A Marine fast team of about 50 is being sent to Benghazi to provide further security for embassy officials, Fox News reported. Additionally, the U.S. is considering the use of intelligence-gathering, unmanned drones over Benghazi and other areas in Libya where Americans are stationed, CNN reports.
(PICTURES: U.S. Ambassadors Killed in Line of Duty)
We want to hear what you think about this article. Submit a letter to the editor or write to letters@theatlantic.com.