Unions Prepare for a Bittersweet Labor Day in Charlotte and Nationwide
The movement is still fuming that the Democratic National Convention is in a right-to-work state. It's just one piece of a tough year for labor.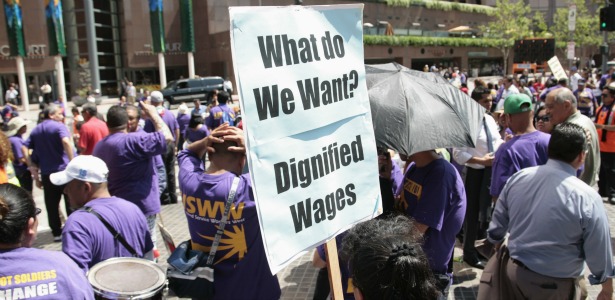 Reuters
It ought to be one big party for America's unions: Labor Day, the holiday celebrating workers, followed immediately by the Democratic National Convention, the year's biggest party for unions' longtime political allies. But for the labor movement, it's likely to be a bittersweet moment.
Though there have been a few notable bright spots, unions have suffered several major defeats in the last year. A much-hyped campaign to recall Wisconsin Governor Scott Walker, intended as retribution for pushing through laws banning public-sector collective bargaining, fell short by a wide margin. Across the nation, union membership has continued its slide, although the decline from 2010 to 2011, the latest data available, was small. Two weeks ago, workers at a Caterpillar plant in Illinois lost a contract battle, in what experts say could be a bad omen for future disputes. And adding insult to the injury, the DNC is taking place in North Carolina -- a so-called right-to-work state.
The Democrats' choice of Charlotte was intended to help mobilize support for President Obama, who narrowly won North Carolina, long a Republican stronghold, in the 2008 presidential race. But the decision immediately raised hackles in the labor movement. Not only does North Carolina have right-to-work laws -- which ban collective-bargaining agreements that require workers to join unions -- it also has the lowest union membership rate in the nation. Just 2.9 percent of North Carolina workers were in unions in 2011, according to the Bureau of Labor Statistics.
Union disappointment with the locale has led to a smaller labor presence in Charlotte than at past conventions. While unions are typically among the top donors to the quadrennial nominating gatherings, they're spending less this year, and some groups went so far as to host a "shadow convention" in Philadelphia, called "Workers Stand for America," in mid-August. (DNC Chair Debbie Wasserman Schultz spoke at the rally.) Meanwhile, the central premise of holding the convention in the Tar Heel state seems more tenuous with each poll that shows North Carolina leaning Republican in November.
But labor can't abandon the Democrats entirely. AFL-CIO President Richard Trumka is holding an event in Charlotte on Tuesday, and the SEIU, another major group, will also attend. As labor historian Nelson Lichtenstein wrote in the Los Angeles Times, "American unionists are flocking to Charlotte. They are trapped this Labor Day by a geopolitical logic that keeps them dependent on the Democrats even as President Obama and other party leaders hold the unions at an uneasy arm's length." The Republican Party remains implacably opposed to organized labor. At the Republican National Convention in Tampa, the party approved a platform with a plank that calls for a national right-to-work law.
The Wisconsin battle with Walker shows the stakes. Although the left won several key victories by successfully recalling Republican state legislators not long after the collective-bargaining showdown, it lost momentum by the time of the June gubernatorial recall and was unable to knock out Walker. Even before that final loss, labor's favored candidate to face Walker, Dane County Executive Kathleen Falk, lost a Democratic primary to Tom Barrett, the less pro-union Milwaukee mayor. Barrett went on to lose to Walker by seven points.
In a rare bright spot, unions effectively mobilized in Ohio over a collective-bargaining ballot issue. After Governor John Kasich and the Republican legislature passed a law similar to Wisconsin's, opponents managed to get a referendum on the law onto the November 2011 ballot. The result was a landslide: by a 62-38 margin, voters reinstated collective bargaining for public-sector unions. Democrats are hoping that continuing anger at Kasich and Co. will help re-elect both President Obama and Senator Sherrod Brown in November 2012.
Ironically, the issues that concern the labor movement most -- income inequality, progressive taxation, and redistribution of wealth -- have been more prominent in the last year than at any time in recent memory. But the driving force behind that buzz has been the Occupy Wall Street movement; unions have mostly stayed on the sidelines. The face of the protestors has been the unemployed or underemployed twenty-something, not the picketing pipefitter, carpenter, or teamster. Unions did team up with Occupy for a May Day protest -- what was billed as a general strike reminiscent of labor's glory days in the early twentieth century. But the future viability of Occupy remains hard to predict, and it's even harder to foresee what role -- if any -- unions might play in its movement.
Meanwhile in Charlotte, union organizers are sounding a slightly more hopeful note. Work setting up for the convention has provided hundreds of jobs for union workers. N.C. AFL-CIO President James Andrews told the Charlotte Observer that Democrats and labor were rekindling their romance. "It's like a block of ice that gets into the sunlight and begins to melt," he said. "Warming up to it." Still, if union workers are feeling the need for a day of rest more than ever this Labor Day, it's no surprise.