Timeline on Egypt and Libya Undercuts Romney Attack on Obama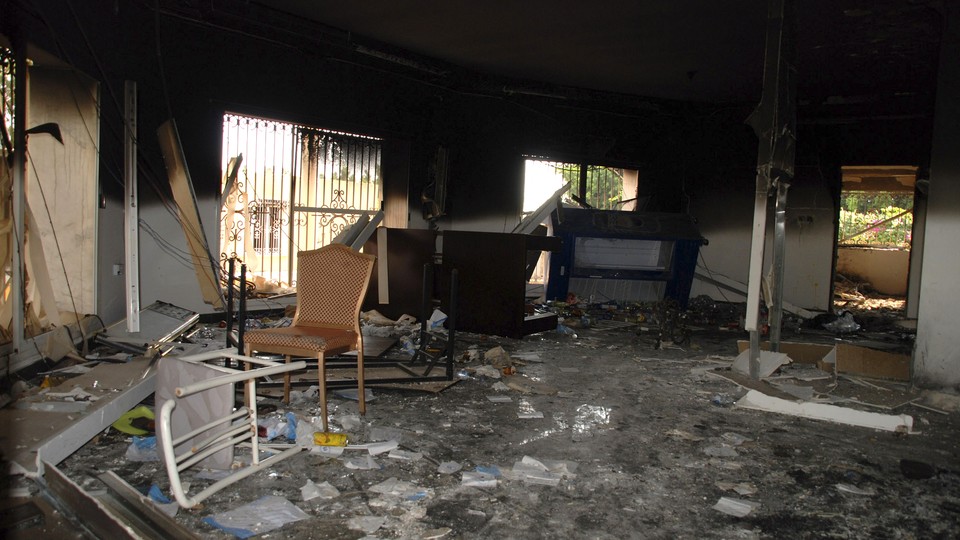 Editor's Note: This story was updated at 2:54 pm ET to reflect new information about the Twitter feed from the U.S. Embassy in Cairo.
The protests and killings in Cairo and Benghazi have sparked a political clash between Republican presidential nominee Mitt Romney and the Obama campaign. Romney, citing a statement from the U.S. Embassy in Cairo, has accused the Obama administration of making the equivalent of an apology to protesters after they breached the embassy grounds. A timeline of events suggests that the embassy posted its statement hours before its grounds were breached.
The White House, State Department, and U.S. Embassy in Cairo declined to answer questions about the timeline. Here is the sequence of events based on e-mails, websites, and Twitter. All times are Eastern.
July 2
Sam Bacile (possibly a pseudonym), a 56-year-old (possible) Israeli living in California, posts the trailer to a two-hour movie he made criticizing Islam and the Prophet Muhammad. Bacile says he believes that "Islam is a cancer."
Sept. 10
Ali Gomaa, the grand mufti of Egypt, releases a statement to AllAfrica.com condemning the film. "Freedom of speech does not warrant desecrating sanctities," he says.
Sept. 11
4:53 a.m. — The U.S. Embassy in Cairo, apparently trying to head off violent reaction to the Bacile movie, tweets that "Respect for religious beliefs is a cornerstone of American democracy."
6:11 a.m. — The embassy tweets a link to an extended statement on its website headlined "U.S. Embassy Condemns Religious Incitement." It says, in part, "The Embassy of the United States in Cairo condemns the continuing efforts by misguided individuals to hurt the religious feelings of Muslims — as we condemn efforts to offend believers of all religions."
11 a.m. — Roughly 2,000 protesters start demonstrating outside of the U.S. Embassy in Cairo, Al Ahram reports. Protests begin to turn violent after protesters set off fireworks, which sound like gunfire to observers. At one point, Egyptian military personnel intervene to contain demonstrations. Similar protests break out in Libya.
12:45 p.m. — Word is out at the State Department that protesters have breached the U.S. Embassy in Cairo, according to a department spokesman.
1:43 p.m. — CNN reports that protesters have scaled the walls and hung a black flag where the American flag once flew. Thousands of protesters are gathered outside the embassy.
6:30 p.m. — The embassy tweets that "This morning's condemnation (issued before our protests began) still stands. As does our condemnation of unjustified breach of the Embassy." This tweet may be Romney's basis for saying the administration was wrong to "stand by" its initial statement after the breach. Buzzfeed reports that this tweet and others were later removed.
9:39 p.m. — The State Department announces on Twitter and on its website that a U.S. Foreign Service officer was killed in Libya. Secretary of State Hillary Clinton declines to identify who was killed, but condemns the violence.
10:10 p.m. — The Romney campaign issues a statement, embargoed for midnight, criticizing the U.S. Embassy in Cairo for its reaction to the protests. "I'm outraged by the attacks on American diplomatic missions in Libya and Egypt and by the death of an American consulate worker in Benghazi," Romney says. "It's disgraceful that the Obama Administration's first response was not to condemn attacks on our diplomatic missions, but to sympathize with those who waged the attacks."
10:25 p.m. — The Romney campaign lifts the embargo on the statement by the Republican nominee, despite pledges by both campaigns not to invoke politics on the anniversary of 9/11.
Sept. 12
12:09 a.m. — Obama campaign spokesman Ben LaBolt accuses Romney of bringing politics into a tragedy. "We are shocked that, at a time when the United States of America is confronting the tragic death of one of our diplomatic officers in Libya, Governor Romney would choose to launch a political attack," LaBolt says in a statement.
6:18 a.m. — The Associated Press reports that Libyan officials confirmed the death of J. Christopher Stevens, the U.S. ambassador to Libya.
7:22 a.m. — In a statement, President Obama confirms that Stevens and three other embassy staff were killed by Libyan protesters.
7:39 a.m. — Clinton confirms that one of those killed was Sean Smith, a Foreign Service information-management officer.
9:58 a.m. — Clinton delivers remarks on Stevens' death. "This was an attack by a small and savage group, not the people or government of Libya."¦ Let me be clear, there is no justification for this. None. Violence like this is no way to honor religion or faith."
10:16 a.m. — Romney stands by his decision to criticize the president and his administration for making "an apology for American principles." "The embassy in Cairo put out a statement after their grounds had been breached," he says in Jacksonville, Fla. "When our grounds are being attacked and being breached," he says, the first response of the United States "must be outrage."¦ "
10:22 a.m. — The Obama campaign says in an e-mail that Romney misstated the timeline on the embassy statement: "The Embassy had not yet been breached when they issued the statement he's criticizing."
10:42 a.m. — Obama, speaking at the White House, pledges to increase security for embassy personnel across the globe and seek justice for the killers. "There's absolutely no justification for this senseless violence. None," he said. He did not address Romney's criticism.