The Tragic Geography of Disconnected Youth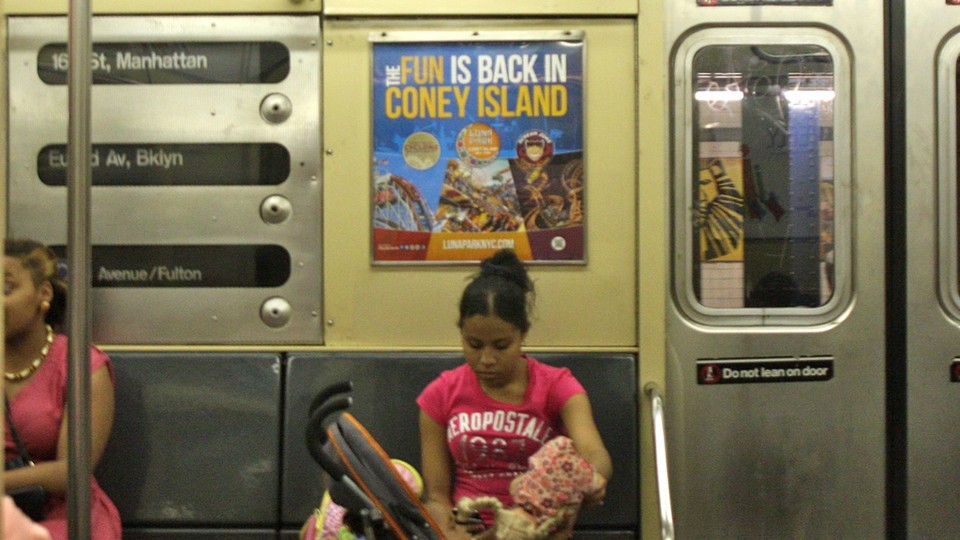 More than one in seven young Americans are "disconnected" from work and from school, according to a report released Thursday by the Social Science Research Council's Measure of America project.
The report (PDF) is based on data from the U.S. Census and American Community Survey, and looks specifically at the numbers of young people aged 16 to 24 who are not working nor enrolled in school. The report tracked the data for the U.S. as a whole, in comparison to other countries, by race, and for the 25 largest metro areas as well as neighborhoods within cities.
Nationally, over 5.8 million young people (almost 15 percent) are disconnected — a figure that grew by 800,000 as a result of the economic crisis, according to the report.
Globally, the U.S. has a higher rate of youth disconnection than many advanced nations, including the United Kingdom (13.4 percent), Austria (11.4 percent), Canada (10.5 percent), Germany (9.5 percent), Norway (9.2 percent), Finland (8.6 percent), Switzerland (6.8 percent), Denmark (5.7 percent), and the Netherlands (4.1 percent).
Youth disconnection varies substantially by race. More than one in five (22.5 percent) young African-Americans are disconnected, 18.5 percent of Latinos, 11.7 percent of whites, and just 8 percent of Asian-Americans.
There is considerable variation by location as well. The table below, from the study, shows the top 25 large metros ranked by the percentage of disconnected youth, broken down by ethnicity. (Click the table to view a larger image.)
Table courtesy of "One in Seven: Ranking Youth Disconnection in the 25 Largest Metro Areas" (PDF)
Phoenix, Arizona, has the highest rate of disconnected youth, at 18.8 percent. Miami is second (17.1 percent), and Detroit third (17.0 percent). These three metros, so hard hit by the economic collapse, attest to the lingering effects of the crisis on the economic status of young people. Seven of the 10 metros with the highest levels of disconnected youth are in the Sunbelt.
Youth disconnection varies substantially within cities and metros as well. Parts of the South Bronx have a rate of 35.6 percent — more than double that of the New York metro as a whole. In Los Angeles, the rate of youth disconnection in Watts is 25.1 percent, versus 3.5 percent in West L.A.
Table courtesy of "One in Seven: Ranking Youth Disconnection in the 25 Largest Metro Areas" (PDF)
The proportion of college degrees also are strongly related to the number of disconnected youth, according to the report.
Table courtesy of "One in Seven: Ranking Youth Disconnection in the 25 Largest Metro Areas" (PDF)
The table above, from the report, shows a strong correlation between a place's percentage of disconnected youth and its percentage of adults with bachelor's degrees. It is important to point out that this chart does not compare the percentage of young people with bachelor's degrees to the proportion of disconnected youth, but rather the proportion of all adults over 25 years of age with college degrees. The report notes that the "positive benefits for the community seem to accelerate in impact...as the proportion of adults with bachelor's degrees in an area increases."
Adults with college degrees are better able to contribute to their own children's academic and labor market success. In addition, the accelerating bonus demonstrated in the graph shows that their presence in a community also contributes to the range of opportunities open to young people outside their immediate families. For instance, college-educated adults have higher rates of volunteerism, which could contribute to community opportunity through mentoring programs or other forms of civic engagement. Finally, because those with a college degree earn more, they tend to spend more in stores, restaurants, and other businesses and thus support entry-level jobs in the local community.
The report also highlights the long-term consequences that stem from disconnected youth:
When young people miss out on these opportunities, they suffer short- and long-term harm. The blows to one's self-confidence and sense of self-efficacy at this critical juncture are painful and damaging, as is the social isolation that often accompanies youth disconnection. In addition, disconnection in late adolescence and early adulthood has deleterious effects — some researchers call it "scarring" — across the life course. Failure to find work is distressing for anyone, but unemployment in youth increases the risks of unemployment in later life, both by limiting the ability of young adults to accumulate work experience and skills and by signaling to potential future employers a lack of productivity. These scarring effects can manifest themselves in other areas as well. Possible romantic partners can interpret unemployment and lack of educational credentials as a sign of limited earning potential or evidence of poor motivation, affecting one's personal life. Researchers have also found that disconnection has scarring effects on health, happiness, and job satisfaction — effects that endure years later.