A look at some races that influenced the nation in the state where Democrats are holding their national convention.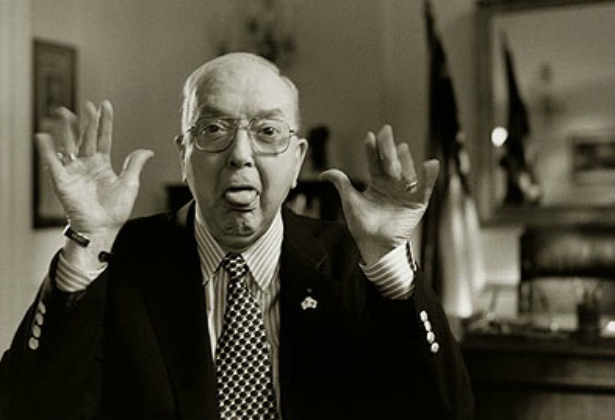 The late U.S. Senator from North Carolina, Jesse Helms. (Mike Benson)
America saw a Hollywood version of North Carolina politics with the release this summer of The Campaign. I've watched real Tar Heel elections first hand for 25 years, and heard the details of Carolina campaigns going back to the 1950 U.S. Senate race that marks the beginning of modern politics in the state. Although there's never been a race here as farcical as the Will Ferrell-Zach Galifianakis celluloid contest, the Old North State certainly has had its share of campaign drama and state election outcomes that made a national impact.
Since everyone interested enough in politics to attend (or even watch) the Democratic National Convention ought to know something about the campaign history of the host state, I offer to delegates and viewers alike a list of the top five North Carolina political races since 1950, followed by a (short) list of caveats about them:
(5) Elizabeth Dole v. Kay Hagan, U.S. Senate. In 2008, incumbent Senator Elizabeth "Liddy" Dole was presumed to be on a general election glide path thanks to positive name recognition and a flush campaign war chest. Instead, Dole dropped Icarus-like as Election Day neared and Hagan won going away (53 percent to 44 percent) in November. What happened? Hagan proved to be a talented, tenacious candidate who expertly leveraged her ties to the donation and vote-rich Triad area she represented in the state legislature. She was also aided by a humor-laced but lacerating anti-Dole TV ad paid for by the national Democratic Senatorial Campaign Committee, plus a surge of Obama-driven voters that lifted North Carolina Democrats up and down the '08 ticket. Hagan's poised response to Dole's desperate attempts to tie her to atheism sealed the win and secured Democrats a seat held by Republicans since 1972. The national implications are still being felt: Dole's 2008 loss deprived the GOP of one more polished, nationally recognized female voice in the Senate.