The Tar Heel Top 5: North Carolina's Most Notable Campaigns
A look at some races that influenced the nation in the state where Democrats are holding their national convention.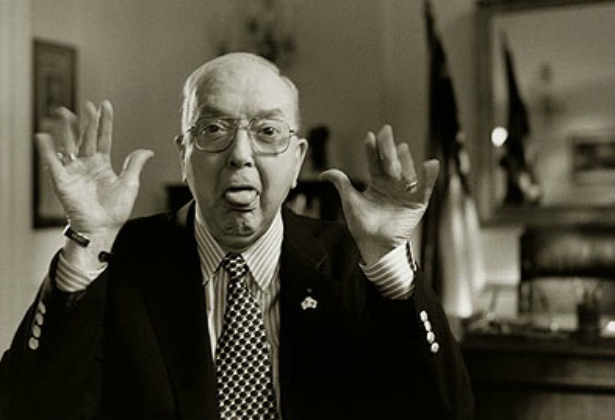 America saw a Hollywood version of North Carolina politics with the release this summer of The Campaign. I've watched real Tar Heel elections first hand for 25 years, and heard the details of Carolina campaigns going back to the 1950 U.S. Senate race that marks the beginning of modern politics in the state. Although there's never been a race here as farcical as the Will Ferrell-Zach Galifianakis celluloid contest, the Old North State certainly has had its share of campaign drama and state election outcomes that made a national impact.
Since everyone interested enough in politics to attend (or even watch) the Democratic National Convention ought to know something about the campaign history of the host state, I offer to delegates and viewers alike a list of the top five North Carolina political races since 1950, followed by a (short) list of caveats about them:
(5) Elizabeth Dole v. Kay Hagan, U.S. Senate. In 2008, incumbent Senator Elizabeth "Liddy" Dole was presumed to be on a general election glide path thanks to positive name recognition and a flush campaign war chest. Instead, Dole dropped Icarus-like as Election Day neared and Hagan won going away (53 percent to 44 percent) in November. What happened? Hagan proved to be a talented, tenacious candidate who expertly leveraged her ties to the donation and vote-rich Triad area she represented in the state legislature. She was also aided by a humor-laced but lacerating anti-Dole TV ad paid for by the national Democratic Senatorial Campaign Committee, plus a surge of Obama-driven voters that lifted North Carolina Democrats up and down the '08 ticket. Hagan's poised response to Dole's desperate attempts to tie her to atheism sealed the win and secured Democrats a seat held by Republicans since 1972. The national implications are still being felt: Dole's 2008 loss deprived the GOP of one more polished, nationally recognized female voice in the Senate.
(4) James Holshouser v. Hargrove "Skipper" Bowles, Governor. Holshouser's gubernatorial win in 1972 gave Republicans the governor's mansion for the first time since 1896 and has proved a model for moderate Republican gubernatorial candidates (from Jim Martin to Richard Vinroot to Pat McCrory) ever since. For North Carolina Democrats, the loss (coupled with the defeat of the party's U.S. Senate candidate, left the newly elected Lieutenant Governor -- 35 year-old Jim Hunt -- as the party's de facto head, a position he arguably still holds 40 years later. The campaign also introduced Bowles' son Erskine to public life, a place from which he has rarely retreated over the past four decades.
(3) Jesse Helms v. Jim Hunt, U.S. Senate (1984); Jesse Helms v. Harvey Gantt, U.S. Senate (1990); Jesse Helms v. Harvey Gantt, U.S. Senate (1996) Every Helms race is famous (and, to many Democrats, infamous) but these three had an outsized influence on national politics and policy. Helms' first U.S. Senate win came in 1972, when he defeated actor Zach's uncle, Nick Galifianakis, after deploying the campaign slogan "Jesse Helms: He's One of Us."
Jesse Helms' first U.S. Senate win came in 1972, when he defeated actor Zach Galifianakis' uncle, Nick Galifianakis, after deploying the campaign slogan "Jesse Helms: He's One of Us."
By 1984, Helms was on the verge of being the most influential Republican senator since Barry Goldwater and, apart from then-President Reagan, was arguably the national GOP's leading (and most conservative) voice on foreign affairs. Hunt was ending a second successful term as governor and, had he vanquished Helms, would have been a leading contender for the Democratic nomination for president in 1988 or 1992. Thousands of pages have been written about the campaign but the bottom line is this: Hunt ran 10 points ahead of the Democratic presidential nominee, Walter Mondale, but he need to run 12. Helms won 52 percent to 48 percent.
Six (and then again 12) years later, Helms faced Harvey Gantt, the African-American architect who, as a college student, desegregated Clemson University and became Charlotte's first black mayor. Helms -- a beneficiary of the notorious "white hands" ad and a postcard campaign to suppress black turnout -- beat Gantt by the same margin in both elections, winning 53 percent to 47 percent. The Helms-Hunt and Helms-Gantt campaigns captured the nation's attention as few state races anywhere have before or since. The wins allowed Helms' clout, already considerable, to grow over 18 more years.
(2) Frank Porter Graham v. Willis Smith, U.S. Senate. While Helms's campaigns may be North Carolina's most famous, the race that ushered in an era of politics comparable to our own took place at the mid-point of the last century. In 1950, North Carolina was still very much a one party state (and Democratic one) so what mattered in the race for U.S. Senate that year was who would emerge from the Democratic primary as the party's nominee. "Dr. Frank", the progressive head of the University of North Carolina college system based in Chapel Hill, was the nominal incumbent, having been tapped in 1949 to fill a vacancy-by-death. In his race to keep the seat, Graham's principal opponent was segregationist Smith. Particularly in the second run-off primary, Smith painted Graham as the puppet of Communist sympathizers, the NAACP, and labor organizers. The red-baiting, race-baiting, and union-bashing paid off as Smith won 52 percent to 48 percent. The race was important in and of itself but even more so for its searing impact on several future generations of Tar Heel politicians. Many Smith operatives, such as Helms and Tom Ellis, would switch parties and become leading Republicans in the years to come. Grahamites such as Terry Sanford and Dickson Phillips would redouble their efforts to forge winning progressive coalitions in future elections. For anyone involved in state campaigns in the 1980s and '90s, it was amazing to hear older North Carolina pols re-live the Graham-Smith race as if it had happened just a year or two before rather than two score.
(1) D.G. Martin v. John Edwards, U.S. Senate. This may be a surprising top choice but, as I've argued before, Edwards' 1998 triumph over Martin may be the most significant development in modern North Carolina politics. Martin, an endearing and talented politician, was swamped by a multi-million advertising campaign Edwards largely self-funded. Edwards then began gunning for even higher office almost immediately upon being sworn in. He moved aggressively, for example, to be tapped as Al Gore's running mate in 2000). Amazingly, he was finished as a factor in state politics by 2004 (when he gave up his Senate seat to run for president) and was dead as a viable national political figure by 2008 (after cheating on his cancer-stricken wife and lying about during the midst of his second presidential run).
Edwards the hare (pun intended) won the '98 race but ultimately left little imprint on either state or national politics or policy. And as a viable presidential aspirant in 2008, he could well have immolated the Democratic Party's electoral prospects at least for that cycle had he attained the nomination before his affair with (and child by) Rielle Hunter was revealed. Conversely, had Martin rather than Edwards been victorious in '98, he almost certainly would have begun a tortoise-like climb up the seniority ladder. Today, Martin might well be one of the two or three most powerful Democratic members in the U.S. Senate and a political kingpin in North Carolina.
* * *
Those are my top five Tar Heel campaigns (well, seven, if you count Helms's races as three rather than one). Here are my caveats:
1. For every race I picked, others could make good arguments for a different selection. Here are five more key state races (winners in bold) to start those conversations: Terry Sanford v. I. Beverly Lake, Governor (1960); Harvey Gantt v. Mike Easley, U.S. Senate (Democratic primary run off) (1990); Lauch Faircloth v. Terry Sanford, U.S. Senate (1992); Elaine Marshall v. Richard "The King of NASCAR" Petty, N.C. Secretary of State (1996); Richard Burr v. Erskine Bowles, U.S. Senate (2004).
2. Some readers may be wondering, "Weren't Barack Obama's victories in North Carolina's 2008 presidential primary and general elections a big deal?" Absolutely! But this list is limited to races for offices that solely represent North Carolina. If I included the most notable presidential campaign outcomes in North Carolina on the list, Obama's '08 wins would make it, as would John Kennedy's defeat of Richard Nixon in 1960 (with Terry Sanford providing JFK crucial support), Ronald Reagan's victory over incumbent President Gerald Ford in the 1976 Republican primary (orchestrated by Jesse Helms and his political keys), and George W. Bush's thumping of John Kerry in 2004 despite the presence of Edwards on the Democratic ticket. Of course, if Obama carries North Carolina for a second time -- when no Democrat since Jimmy Carter in 1976 has won the state even once, and after Republicans swore Obama's last win here was an aberration -- it would be the clear chart topper.
3. In recognition of the networks' condensed convention coverage, I've crammed six decades of North Carolina elections into a mere 1,400 words. If you want to know more about the races I've mentioned (or missed), there are time-worthy books galore to consult. These include The Paradox of Tar Heel Politics: The Personalities, Elections and Events that Shaped Modern North Carolina by Rob Christensen, Triumph of Good Will: How Terry Sanford Beat a Champion of Segregation and Reshaped the South by John Drescher, and Tar Heel Politics 2000 by Paul Leubke. Also, Talking About Politics, a bipartisan North Carolina-focused political blog authored by Gary Pearce (D) and Carter Wrenn (R), serves up bite-sized but compelling Tar Heel political history lessons as well as astute real-time campaign analysis. There is even an upcoming two-day seminar in Chapel Hill on the history of Tar Heel elections, perfect for those who come for the convention and don't want to leave and for those of us, like me, who love calling North Carolina home.