The Price of Hugging the President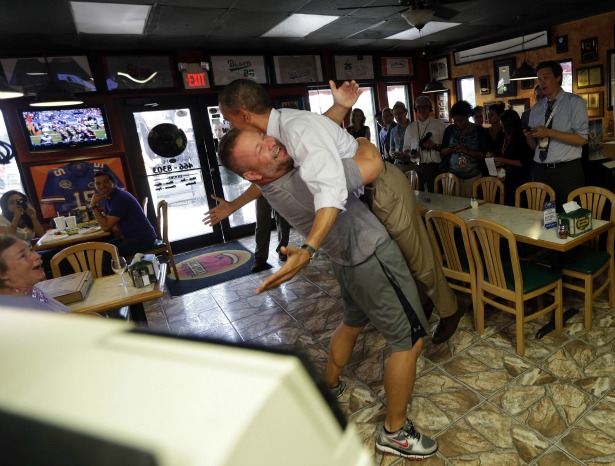 Associated Press
Via Andrew Sullivan, it's worth taking a look the Yelp page for Big Apple Pizza, where owner Scott Van Duzer lifted the president up this weekend. Some selections:
Distgusting show show of support for a disgusting POTUS. I suspect the food and service is disgusting as well. If you support big government stepping all over the constitution then by all means eat here....I will never step foot in this place...




For a small American business (built on Capitalist business models) owner to openly accept and embrace an open, devout communist synthesizer/ Socialist Party Member is nothing short of shameful. *See Obama 2016 and Google "Obama" for evidence. 




This IS not "His" country, as he believes it is, rather, it's ours, "We The People". For someone is who was supposedly a "Constitutional" attorney/ professor, it sure seems to be a throne in his side. It seems difficult to reconcile what his direction for this country is, and where Our Constitution and "We The People" allows us the pursuit of happiness....




Always happy to add another name to our boycott list. We will not support obama-loving MARXISTS. Not now, not ever. This estabishment has been added to the FL section of my list, and Scott Van Nuzer's name has been added to list of MARXISTS in the United States. Thank you for identifying yourself so we know who the enemies of this Nation are....




Making are president look like a weak defenseless woman by picking him up is disgusting. The Gov. should shut you down. Food sucks service is ok...