The Base Election on the Ground
Away from the political spotlight, voters and nonvoters eke out livings along the still-depressed I-4 corridor in Florida. Can anyone win their hearts?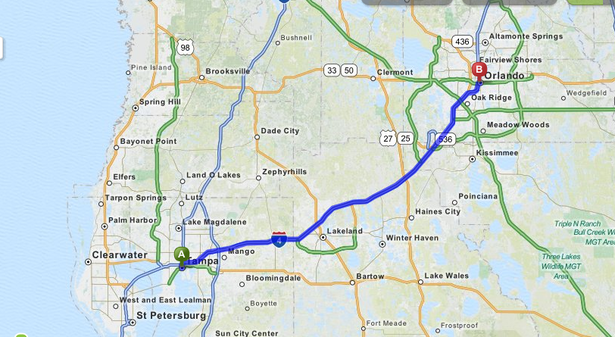 LAKELAND, FLA. -- When Mitt Romney went to the airport here the morning after his convention speech, he asked Republicans to find Obama voters and try to persuade them to switch their votes.
But in talking to shoppers in this impoverished suburban community and others along the politically significant I-4 corridor later in the day, it was clear why both campaigns so far have pursued a base-turnout strategy instead of one to broaden their reach: Neither has successfully made a compelling case for being able to fix the economic problems that have devastated communities like those in this part of Florida.
That joint failure has made more narrowly targeted appeals based on specific beliefs, cultural identity, and race and ethnicity stand out more.
Rebecca Simmons, 34, a part-time certified nursing assistant, was shopping at Walmart just outside of central Lakeland Friday afternoon. Obama was the only person she's ever voted for, she said, and she had no plans to vote for him again.
The economy "sucks," she said bluntly. "People at my work are actually crying when they go home because they can't pay their bills." She and her husband and 17-year-old son -- who has been held back so many times he's just now starting 10th grade, making her worry he'll never finish because "ain't no kid want to be in high school and be 21" -- are "barely holding on."
Obama promised change, but all she's seen in the past few years economically is that "it's getting worse."
"I don't feel like it matters who is up in there," she said, waving her hand in disgust at the idea of Washington.
Florida's unemployment rate in July was 8.8 percent -- down from 9.4 percent as recently as February -- but that substantially underestimates the extent of its problems. Local politicians have tried to put a game face on the state's economy. "Our state is doing extremely well," Republican Governor Rick Scott boasted recently. "We still have 800,000 people out of work, but we're changing it. Tourism is way up, jobs are up, housing prices are staying stable. If you want to buy a house, now is the time."
The overly positive talk has been going on for a while. In 2010, Lakeland ranked number five in the nation in suburban poverty, according to a report from the Brookings Institution, and even though Florida officials predicted that would improve quickly, not much has changed since.
According to the U.S. Census, per capita income in Polk County, which contains Lakeland, was $21,881 in 2010, and 15.2 percent of the population - which is 80 percent white - lived below the federal poverty line.
"We're not even voting, because there's so many crooks now in politics," an older man missing his front teeth waved me off when I approached him to chat about the economy outside the Lakeland Walmart.
Eighty-four-year old Nathaniel Horton was more forthcoming. He'd already voted early and for Obama. "I don't like no Republican," he said, based on his experiences growing up black in the deep South. But Obama "could lose" this time, he said, thanks to the economy. "It's bad. People ain't got no jobs, can't work," said his wife Nancy Horton.
Outside the Hobby Lobby, retired nurse Lizander Izsak, 64, a Jewish former McCain supporter and Canadian immigrant who recently became a citizen but has not registered to vote, said she'd go with Obama this fall if she could get on the rolls in time. In 2008, "I didn't think he was knowledgeable enough. He didn't have enough behind him," she said. "Now I think Romney is in the same position."
The local economy is "terrible," she said. "It's not better" than four years ago. "I think the housing market is coming back," she said, "but a lot of people are losing their jobs, being foreclosed on" still. The malls have emptied out as businesses in them failed, and at least three restaurants in her community shut down. The Hobby Lobby where she bought artificial flowers was relatively new, a sign of life in a big space that had gone vacant, she explained. Her son, who lives in Maryland, hasn't had a raise in three years but she tells him, "Don't complain, you've got benefits."
At 27, Lakeland's Christopher Gunter, an unemployed "disabled American" and father of two, said he was looking forward to voting for the first time but still "trying to figure out what campaign is with who." He'd tried to watch the final night of the Republican National Convention on television, but by the time Romney came on the channel his wife "had done changed it." He'd absorbed the messages from the political ads, though, saying as far as he could make out Romney shipped jobs overseas and Obama was "more for the middle class." "I think in politics the truth should always be known," he said, elaborating that he meant "whether they're in politics to benefit for their own or to benefit for all of us."
"I'm for the person for the middle class," he said. Meanwhile the debate over Medicare was confusing, because he was having trouble sorting out if cutting Medicare to pay for Obamacare was worth it because "I don't know what Obamacare is about."
Further down the I-4 corridor in Kissimmee in Osceola County, where Obama held a 35,000-person rally with Bill Clinton in the waning days of the 2008 race before winning the state outright, things were no better. "His big platform was change and the things that have changed have not benefited the middle class," said Sharon Lanier, 63, the owner of an antiques shop in the historic downtown area for the past 19 years. In her 40 years running businesses downtown, "the worst three-and-a-half years in that 40" were the most recent ones. "We don't have air [conditioning] on and the reason we don't have air on is because it's too expensive," she said. "We don't have air at home, either." Several fans ran in corners of her Lanier's Historic Downtown Marketplace, barely making a dent in the warm, humid August air that hung thickly inside the store.
A Republican, she is planning to vote for Romney in hopes he can get the banks lending again to small business owners. "When we try to borrow money as entrepreneurial, self-employed people, they won't lend us money," she said. "We're on our own and we know that," she added later. Meanwhile, "there are so many people on welfare and subsidized."
"Obama has had a chance and he has not impressed me," she added.
Donald Corley, 52, had come into the shop from nearby Narcoossee, Fla., with his brother to show him a picture he liked but wasn't going to purchase, because he doesn't buy things. Unemployed for three years - "it's embarrassing" he said - he lives on the $75 he gets from doing lawn care one day a week, after losing the $20/hour jobs he had doing "commercial doors and door hardware" when both firms he worked for went under during the crash. He manages on that pittance by never going out, and because he owns his house free and clear and two of his three adult daughters live with him. The youngest works two jobs and pays the electric bill. "I don't have any debt. I don't have any credit cards. I don't even have a bank account right now," he said. And if he can live like this, he thinks America needs to get its debt under control, too.
"My problem is government is too big," he said. That, and all the toll roads in Florida. "How come they can't build new public roads" or widen the existing freeways, he asked.
A McCain voter in 2008, he says he plans to vote for Romney this fall because he liked what he had to say about being pro-life as the first part of America's commitment to life, liberty and the pursuit of happiness.
In short, until someone can make a believable economy argument that doesn't just sound like another empty promise, the voters here seem likely to remain up for grabs, reachable through their identity groups -- small business owner, social conservative, African American -- and motivated to the polls by other issues as much as by the one big thing that's affecting all their lives.