Scott Walker Weighs In on Another Bitter Labor Dispute: The NFL Refs
After a botched call handed his homestate Packers a loss, the Wisconsin governor says it's time for union employees to be back on the job.
The sports world is buzzing about the positively atrocious call that handed a win to the Seattle Seahawks on Monday Night Football. The short version is that referees ruled that Seattle's Golden Tate caught a ball that, in fact, was clearly intercepted by the Green Bay Packers' M.D. Jennings; Tate also clearly committed pass inteference (The Atlantic Wire has the full story and the incredible video).
This isn't the first awful call of the year. Due to a labor dispute, the NFL is using replacement refs -- some of whom are so bad that, allegedly, they were fired by the Lingerie Football League. The officials and the league are at odds over retirement benefits and salary, as well as a couple more arcane points. So who should come into this labor dispute but a man with plenty of knowledge with both disgruntled unions and Packers football: Wisconsin Gov. Scott Walker.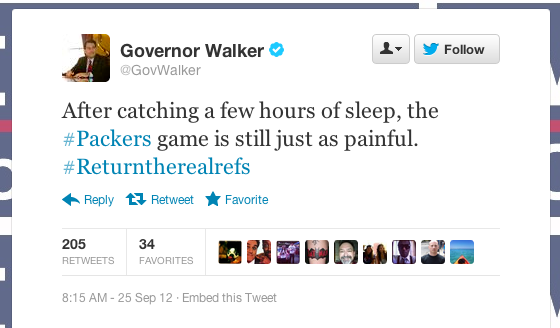 Walker famously battled public-sector unions in the Badger State, winning a Herculean struggle to end collective bargaining. He claims that he has no beef with private-sector unions, though his opponents charge otherwise. In this case, regardless, the governor seems to think that a more conciliatory approach is necessary -- and that it's important to get the unionized refs back on the field. And on that, at least, Wisconsinites should be able to find bipartisan agreement.
Hat tip: Armin Rosen