Protests Continue Outside U.S. Embassy in Cairo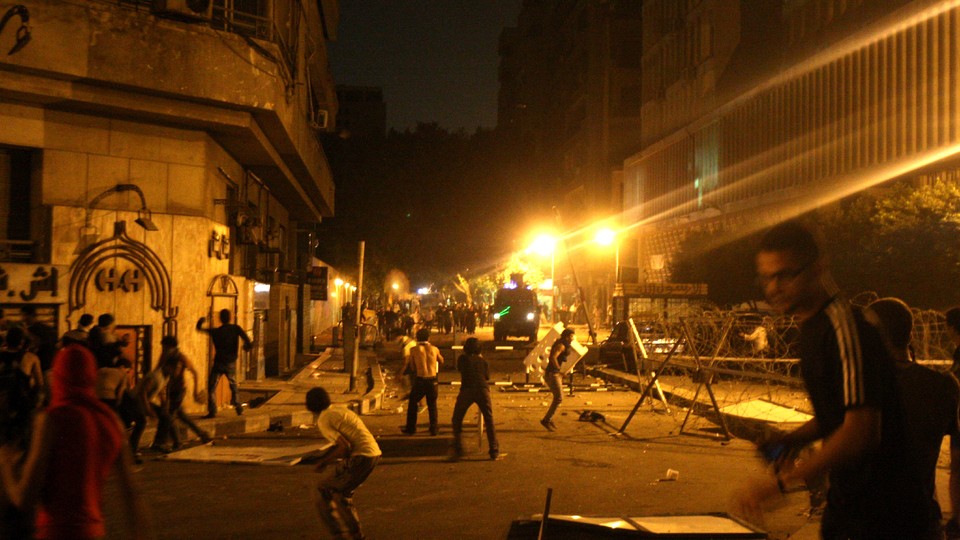 Protests continued outside the U.S. embassy in Cairo on Thursday, as 13 people were injured in clashes between protesters and Egyptian security forces, Reuters reports.
Demonstrators, angered by an anti-Islamic video, demanded an apology from the U.S. for the video. At one point, several demonstrators set fire to a police van and blocked a road leading to the embassy.
Egyptian President Mohamed Morsi condemned the violence on Thursday in a televised statement.
"Expressing opinion, freedom to protest and announcing positions is guaranteed but without assaulting private or public property, diplomatic missions or embassies," Morsi said, according to Reuters.
President Obama called Morsi early on Thursday to discuss the "strategic partnership" between the two nations, according to the White House. Obama challenged Morsi to cooperate with the U.S.'s efforts to provide safety for its diplomats.
"The president said that he rejects efforts to denigrate Islam, but underscored that there is never any justification for violence against innocents and acts that endanger American personnel and facilities," the White House said in a statement.
Morsi, according to the statement, expressed his condolences for the deaths in Libya, where four diplomats were killed on Tuesday, and said he would work with the U.S. to protect diplomats.
In an interview with Telemundo, Obama responded to questions concerning to the relationship between the new government in Egypt, saying he will have to "wait and see" how Morsi and his government move forward.
"I don't think that we would consider them an ally, but we don't consider them an enemy," Obama said.
Sen. John McCain, R-Ariz., agreed on Thursday that the U.S. must use caution when dealing with the new regime in Egypt, which he said took too long to respond, but also recognize its importance in the Middle East.
"I think we have to examine our relationship with Egypt but also recognizing Egypt is the heart and soul of the Arab world," he said on MSNBC's Morning Joe. "What they do, usually the rest of the Arab world follows."
On Tuesday, protesters breached the U.S. embassy in Cairo, scaling the walls and replacing the American flag with an Islamic flag. The scene in Benghazi was more violent, as protests and militants reportedly the U.S. embassy and killed four Americans, including the U.S. ambassador.
On Thursday, protests broke out in Yemen, with protesters storming the U.S. embassy in Sanaa, but order was quickly retored, according to officials in Yemen.