Obama's Tricky Convention Task
What can the president hope to accomplish with his weeklong infomercial in Charlotte? The answer is complicated.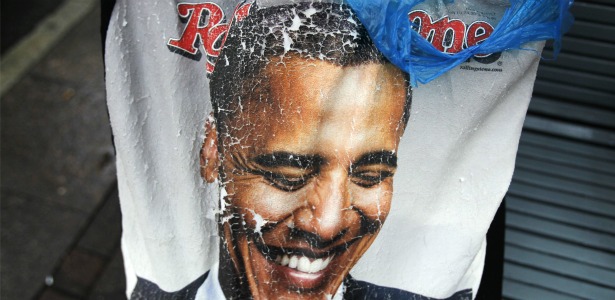 Reuters
CHARLOTTE, North Carolina -- A week ago in Tampa, Mitt Romney's task was obvious: To introduce himself to America. Now, as Democrats gather for their convention in Charlotte, President Obama faces a much more complex task.
The incumbent must reintroduce himself to a public that knows him exceedingly well. He must look forward without seeming to avoid responsibility for the past; he must tout his accomplishments without seeming to overlook the nation's continuing misery. He must evoke the promise of 2008, but not so vividly that his present campaign pales in comparison. He must disqualify his opponent, but not to the point that the negativity overshadows the positive message he must simultaneously project.
It's a lot to get out of one convention, let alone one speech. The week-long infomercial that is a party convention, typically an unparalleled opportunity to broadcast a candidate's sales pitch, for Obama seems more like a series of pitfalls to be avoided.
Democratic strategists acknowledge it will be a bit of a tap-dance. "The president needs to tell the American people the story of what he's been able to do," said Donna Brazile, who managed Al Gore's campaign in 2000. "Most Americans know that he inherited a mess. They want to know what he's done to clean it up and what he'll do in the future. He needs to ask people to rehire him to finish the job he started."
The balancing act Obama faces was vividly illustrated in recent days by some Democrats' difficulty in answering Ronald Reagan's famous question, "Are you better off than you were four years ago?"
On the Sunday talk shows, the question prompted some squirming. "No, but that's not the question," said Martin O'Malley, the governor of Maryland. "It's going to take some time," said Obama's campaign mastermind, David Axelrod. "We're beginning to recover," said White House adviser David Plouffe.
Republicans pounced on the men's obvious discomfort. By Monday, Democrats had a fresh talking point -- say "yes," then add a string of qualifiers, while reframing the question so as not to seem insensitive to individuals' plight.
"When you get elected the first time, it's based on the promise of what you're going to accomplish. Reelection is always a tougher case, because people are judging what you did."
"We are better off, but we need to continue ahead and build on what we've done," Antonio Villaraigosa, the mayor of Los Angeles and chairman of the convention, said in an interview. "Over the course of this convention, we're going to tell the story. We're going to answer the question 'Are we better off than four years ago,' and the answer is yes."
"The country is clearly better off than when [Obama] was elected," Ed Rendell, the former Democratic National Committee chairman and former Pennsylvania governor, told me. "Are there some Americans who are not? Sure. We've got to address the concerns of as many people as possible. But on balance, is America better off than it was? Absolutely."
Brad Woodhouse, communications director for the DNC, said the "long form answer" to the question was obviously a positive one -- the country was losing jobs when Obama was elected and is gaining them back now, if slowly. But he acknowledged a simple "yes" wouldn't suffice.
"We're not going to tell the American people something they don't believe. We're not going to say everything's pushing up roses," Woodhouse said. But the president "grabbed the stick" of a plane that was crashing and "leveled things out." "It's also the wrong question," he added. "The question is where we go from here."
For the thousands of rank-and-file Democratic activists attending the convention as delegates, there was an acute desire, after watching last week's GOP parade, to see their leader sling the red meat and go hard against the other side.
"We need to get the truth out there. We need to get rid of the hate and the lies," Rowena Nieroda, an insurance-agency owner from O'Fallon, Missouri, told me urgently. Elisa McConnehea, a lesbian single mom from Long Beach, California, said she hoped the president would address "all the lies and the mistruths of the past week."
But strategists mostly told me they don't think Obama should make his message too much about Romney. "I don't think he has to go out there and paint the hard contrast," said Democratic strategist Chris Kofinis, a former adviser to John Edwards and Wesley Clark. The attacks are better left to Vice President Biden and other surrogates, he said.
"When you get elected the first time, it's based on the promise of what you're going to accomplish. Vision matters more than anything else," Kofinis said. "Reelection is always a tougher case, because people are judging what you did." Obama, he said, needs to make a positive case for the future -- "the more specific, the better."
The official word from the Obama campaign echoes that idea. "I think that most Americans who have tuned into the conventions are looking for answers to the questions about how we're going to restore economic security for the middle class," campaign spokesman Ben LaBolt said. "The middle class has been stretched thin over the past couple of decades. ... And the Republican convention didn't address those questions last week."
Of course, those past decades include four years under Obama, who must find a way to cast his plans for the future as enticing ideas rather than things left undone. With Romney's convention having apparently failed to make much of a positive impression -- there's no post-convention "bump" apparent in national polls, and his speech got the worst public reception recorded by Gallup since 1996 -- it's hard not to wonder whether, with all the land mines in his path, Obama might have preferred not to speak at all. Romney's convention was a high-stakes necessity; Obama's seems like an afterthought, if not a nuisance.
But if Obama's speech seems superfluous, Cory Booker, the mayor of Newark, argued that's because he has already made his case by the way he's governed.
"The president has done the best thing possible before a convention, which is to show four years of extraordinary leadership," Booker told me. "That's what this conversation is going to be about. This is a president who inherited an economy in shambles, a nation in peril, and has brought us back to stability and on the road to full recovery. If the truth is told, this president is going to be victorious."