Obama's Enthusiasm Deficit Among Youth, Minorities Could Haunt Him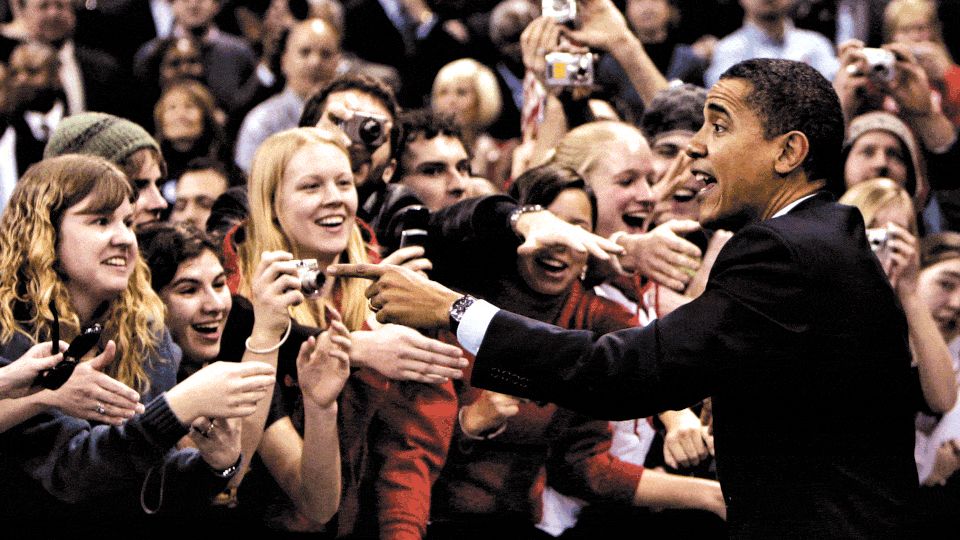 Just as Mitt Romney's challenge last week at the Republican National Convention was to connect on a personal level with voters and make them comfortable with the idea of him sitting in the Oval Office, President Obama's challenge this week at the Democratic National Convention is to reignite the flame — the passion among young and Latino voters that burned four years ago but is now just a smoldering ember.
Three demographic groups turbocharged Obama's 7-percentage-point victory over John McCain in 2008: young voters ages 18-29, Latinos, and African-Americans. Their influx changed the composition of the electorate that year, making it look quite different from the makeup of voters in 2000 and 2004. Whether the 2012 electorate looks more like 2008 — or 2004, or 2000 — is a very big deal for both Obama and Romney.
Among the 9,659 registered voters interviewed by the Gallup Organization's tracking polls Aug. 6-26, Romney and Obama were tied overall at 46 percent. But Obama beat Romney by 24 points, 58 percent to 34 percent, among voters ages 18-29 and by a whopping 32 points, 61 percent to 29 percent, among Latinos. In each case, the percentage who say they will definitely vote is significantly lower than it is among other demographic groups who view Obama less charitably.
Voters ages 65 and older favor Romney by a 15-point margin, 54 percent to 39 percent, and 86 percent of those in that oldest cohort say they definitely plan to vote, compared with just 61 percent of those ages 18-29. Romney has a statistically insignificant 1-point edge (46 percent to 45 percent) among those 30 to 49 years of age, but 80 percent of them say they will definitely vote. Among the 50-to-64 age group, Romney leads by 3 points, 48 percent to 45 percent, with 86 percent of that cohort saying they will definitely vote.
Among Latinos, just 66 percent say they definitely plan to vote, far below the 82 percent level among non-Hispanic whites, who favor Romney by 17 points, 55 percent to 38 percent.
Of those three critical groups from 2008, only African-Americans look reliably likely to turn in numbers in the same ballpark as four years ago. The Gallup polling shows Obama beating Romney by 90 percent to 4 percent, with 80 percent of African-Americans interviewed saying they definitely plan to vote, almost the same level as the 82 percent among whites.
In short, Obama has to fear that his good margins among young and Latino voters will be offset by their low volumes and that those groups simply won't matter as much as they did four years ago.
The influx of new voters in 2008 was the subject of a national survey conducted in the spring by LouisianaState University's Reilly Center for Media and Public Affairs, which produced a report last month titled "What Happened to Hope and Change?" The survey was conducted from April 20 to June 16 and compared 511 first-time 2008 voters with 498 other voters who had voted in previous elections. The report, by the Reilly Center's Kirby Goidel, Michael Climek, and Maxwell Means, found that, as one might expect, first-time voters remained more supportive of Obama than the overall electorate, in large part because "they are younger, more likely to identify as racial minorities, and more Democratic in their partisan affiliation."
But the study also found "consistent evidence that President Obama's 2008 first-time voters are less supportive than other Obama voters, reflecting a decline in enthusiasm among a key voting bloc in the 
2012 elections."
The importance of these groups for Obama's chances can't be overstated. Among so many other demographic groups, the fight is close. But among young voters, Latinos, and Hispanics, Obama's margins are huge. They can yield a higher return on investment for Obama than the more closely fought groups. But first they have to show up.