In a perplexingly lifeless convention address, the president fails to live up to his reputation as a brilliant orator.
Reuters
CHARLOTTE -- Democrats were having a very good convention. Michelle Obama made America fall in love, Bill Clinton made voters believe. On the final night Thursday, Senator John Kerry, of all people, delivered a stirring call to arms ("Ask Osama bin Laden if he is better off than he was four years ago!"), and the oft-ridiculed Vice President Joe Biden went on only slightly too long, with a soft-spoken seriousness that rose above the political.
And then President Obama got up and just sort of didn't do anything special.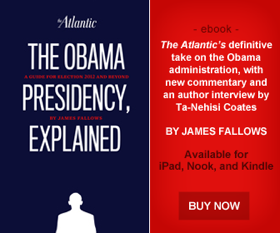 The president, that legendary orator, vaunted crowd-mover, well-known sweeper-away of audiences in general and political conventions in particular, gave a warmed-over rehash of his stump speech, right down to the exit music, Bruce Springsteen's "We Take Care of Our Own," that generally plays him out at campaign events.
The theme -- stop me if you've heard this one -- was hope. Obama began and ended by invoking it, giving the address the neat circularity of a high-schooler's five-paragraph essay. Eight years after his 2004 convention debut, he said, "that hope has been tested -- by the cost of war, by one of the worst economic crises in history, and by political gridlock that's left us wondering whether it's still possible to tackle the challenges of our time."