Obama Won't Talk About Stimulus, But He's Happy to Talk About What It Did
Though the $800 billion American Recovery and Reinvestment Act is unpopular, the projects that made it up are actually well-liked.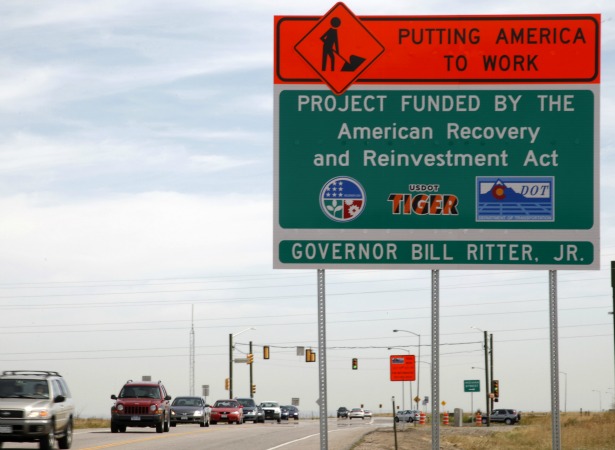 Reuters
The stimulus is the law that dare not speak its name -- but we're hearing a lot about it anyway.
Unlike the Affordable Care Act, which emerged from the closet into the light at the Democratic convention, the $800 billion stimulus -- the American Recovery and Reinvestment Act -- is considered unmentionable by most Democrats. Why wave a red flag in the face of Republicans poised to charge?
Yet every time President Obama talks about how he "cut taxes for folks who need it," which is pretty much every time he talks to anyone anywhere, he is referring to the 2009 stimulus package. The most recent estimates show there have been nearly $300 billion in tax cuts and credits under the act. The largest chunk, about two-thirds, has gone to individuals; the next largest went to small businesses.
When Obama says that "we've doubled our use of renewable energy like wind and solar," he's talking about industries that were revived and in some cases practically created by tens of billions of dollars in stimulus funds.
When Obama says that "we've now created half a million jobs over the last two years just in manufacturing," he doesn't credit the stimulus. But along with the auto bailout, it is part of what fueled that comeback, through tens of billions in tax credits, incentives, and research for manufacturing -- particularly for the renewable-energy sector. "Today, thousands of Americans have jobs building wind turbines and long-lasting batteries," as Obama put it this week in West Palm Beach, Florida.
When Obama talks about states picking up the ball on education reform and running with it, he's referring to Race to the Top. The $4.35 billion competitive grant program funded out of the stimulus package challenges states to enact reforms aimed at improving teaching, academic standards, and measurements of student progress. Only some states win grants but most have tried for them in a program that's drawn praise from many Republicans. "Nearly every state has answered our call to raise their standards for teaching and learning. And some of the worst schools in the country have made real progress and real gains in math and reading," Obama said in Melbourne, Florida.
When Obama says that "millions of students are saving money, paying less for college," he's referring in part to stimulus provisions that increased Pell grants, work-study programs, and the tuition tax credit, and expanded the tax credit to nearly 4 million low-income students by making it partially refundable.
When he talks about giving 2 million workers the chance to learn job skills at a community college, he's building on not just the student aid in the stimulus but also on billions of dollars more that helped, in part, preserve jobs at community colleges and fund job training for youth, adults, and dislocated workers.
Or, as Bill Clinton put it at the convention, "The president and his education secretary have supported community colleges and employers in working together to train people for jobs that are actually open in their communities."
Though he never uttered the word stimulus, Clinton was one of the only convention speakers to brag about the Recovery Act by name ("The Recovery Act saved and created millions of jobs and cut taxes for 95 percent of the American people. In the last 29 months the economy has produced about 4.5 million private-sector jobs"). Fewer than a handful of Republicans voted for it and hundreds, rejecting findings by independent economists and the nonpartisan Congressional Budget Office, have attacked it as a total failure - some going so far as to say it did not create one job.
There's been a tradition of avoiding the name of the act and the word "stimulus" altogether. Former Rep. Tom Perriello made a funny 2010 reelection advertisement that showed him running from project to project -- broadband installation, road repair, park paths -- in an effort to show what the stimulus law was actually doing in his district, without ever saying the word or the name of the act. He lost, as did many other Democrats that year.
Michael Grunwald, a Time magazine writer who chronicled the passage and impact of the stimulus law in his book The New New Deal, joined Twitter a few months ago to promote the book. He says he's found himself in the role of Twitter watchdog, making sure credit goes where credit is due. "Half of what I do is say 'That was the stimulus!'" he said in an interview.
Grunwald joked that it would be very convenient for him if Obama suddenly started talking about the stimulus and pitching it as "the new new deal." But he said that's highly unlikely. He said that Obama read a piece he wrote for The Washington Post on five myths about the stimulus, and teased his political advisers by threatening to make the stimulus part of his stump speech. Their reaction, Grunwald said, was "Noooo! Nooooo!" Where the stimulus is concerned, Grunwald said, "they feel that the cake is baked."
Where the actual impact of the stimulus is concerned, Obama may eventually get some political credit -- long after the 2012 campaign is done and dusted.