Netanyahu: Place a 'Red Line' Before Iran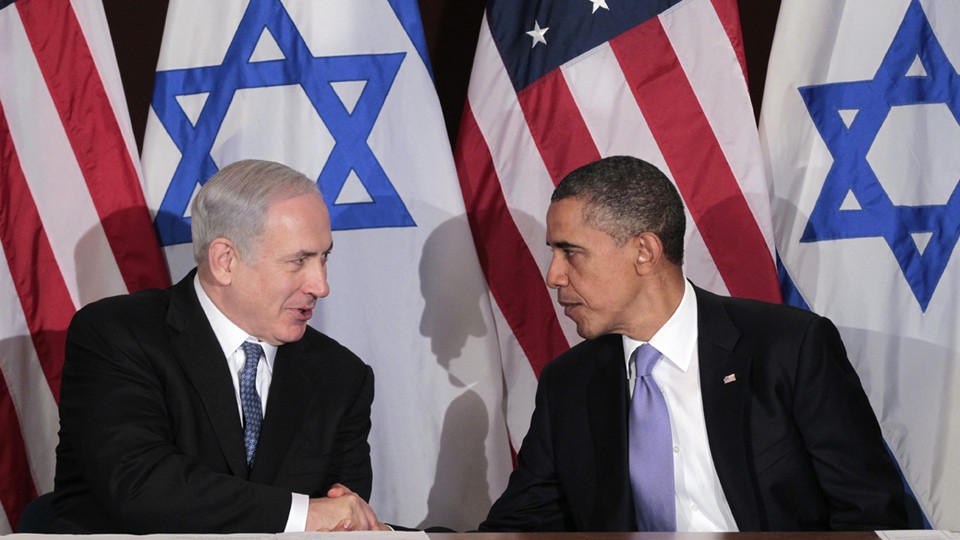 Israeli Prime Minister Benjamin Netanyahu denied Sunday that he is injecting himself into the U.S. presidential election by pressuring President Obama to join Israel in setting a "red line" for Iran, which if crossed would provoke a retaliation against the country's nuclear program.
His call came with a sense of urgency, however, as he explained that Iran is just more than six months away from having the enriched uranium needed for an atomic bomb.
"They're moving very rapidly to completing the enrichment of the uranium that they need to produce a nuclear bomb," he said on CNN's State of the Union. "In six months or so, they'll be 90 percent of the way there."
In order to get to bomb-grade enrichment, Iran needs the uranium to get to 20 percent purity. It currently has 201.5 pounds of the 20-percent material stockpiled, Reuters reports, and would need 440 to 550 pounds for a bomb.
Netanyahu's comments came as he appeared on several morning talk shows on Sunday, downplaying talk about a rift between his country and the Obama administration and offering harsh criticism of Iran.
"They put their zealotry above their survival," he said on NBC's Meet the Press. "They have suicide bombers all over the place. I wouldn't rely on their rationality.
"You know, since the advent of nuclear weapons, you have countries that had access to nuclear weapons who always made a careful calculation of cost and benefit. But Iran is guided by a leadership with an unbelievable fanaticism."
Accused by several pundits of injecting himself into the presidential election — who cite his pressure for a "red line" and his friendship with Mitt Romney, which dates back to Boston in the 1970s — Netanyahu vehemently denied that there was any political motivation behind his stance.
"I know people are trying to draw me into your election," Netanyahu said when asked on CNN whether he sees major differences between Obama and Romney. "We value and cherish the bipartisan support for Israel in the United States. This is not an electoral issue."
He echoed these comments on the NBC: "What's guiding my statements is not the American political calendar but the Iranian nuclear calendar," he said. "It's really not a partisan political issue."
At a fundraiser in New York on Friday, Romney blasted the president over not meeting with Netanyahu when he visits the U.S. later this month for U.N. meetings. "I thought the president's decision not to meet with Prime Minister Bibi Netanyahu was an extraordinary confusing and troubling decision," Romney said. "I don't know what the president is trying to send to the world in terms of a message but it does send a message. It sends a message not just to Israel but to the other nations throughout the Middle East."
Netanyahu, however, said it was merely a scheduling conflict, and praised his "close" relationship with Obama. "I'm always pleased and happy to have a conversation with President Obama," he said. "We've had our discussions; our schedules on this visit didn't work out "¦ but we continue to be in close consultations."
Romney has accused Obama of throwing Israel "under the bus" when dealing with Iran's nuclear program. When asked about these comments, Netanyahu shot back, "There's no bus, and we're not going to get into that discussion."
In arguing for a deadline for action against Iran, Netanyahu said on CNN that the U.S. has set red lines in the past, citing President John F. Kennedy and the Cuban missile crisis. "As Iran gets closer and closer to completion of a nuclear program I think it's important to place a red line before them," he said.
U.S. Ambassador to the United Nations Susan Rice, who also appeared on CNN, said that the economic sanctions against Iran are beginning to work and that Iran's economy is beginning to buckle. While saying all options are on the table when it comes to Iran, Rice said there is "still considerable time for this pressure to work."
She added that there "is no daylight" between the United States and Israel on the need to prevent Israel from obtaining a nuclear weapon.
On NBC, Rice was fervent in her defense of Obama, saying Iran will not develop a nuclear bomb under his watch.
During an appearance on Fox News Sunday, Rice also defended Obama's relationship with Israel. "As Prime Minister Netanyahu and Defense Minister Barak repeatedly said, the relationship between the United States and Israel at present is unprecedented," Rice said. "It has never been stronger. Those are their words. That is the overall nature of our relationship, very strong."
The rhetoric surrounding a red line does not seem to have affected that coming out of Tehran, however.
On Sunday, Gen. Mohammad Ali Jafari, the top commander of Iran's Revolutionary Guard, said if Israel were to attack his country's nuclear program, Iran would take decisive action so that "nothing would remain" of Israel. Further, he said Iran would close the Strait of Hormuz, attack U.S. bases in the region (assuming Israel had U.S. support) and withdraw from the Nuclear Non-Proliferation Treaty.
See all NJ's Sunday show coverage | Get Sunday show coverage in your inbox