Mitt Romney and Bill Clinton: The Bromance of 2013?
The Republican presidential candidate joined the former president in New York to extol the power of free trade and private investment to defang radicalism abroad.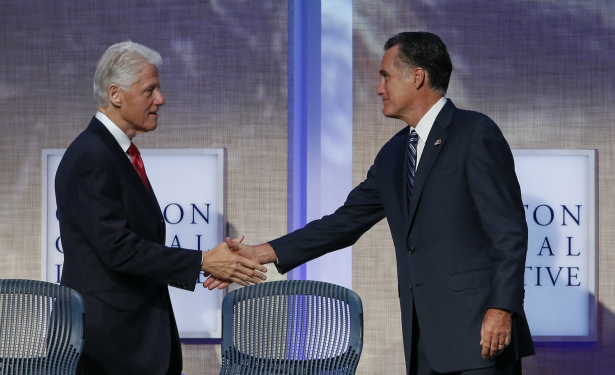 Reuters
NEW YORK -- It was definitely one of the stranger moments in Campaign 2012. Bill Clinton, the man who more than any other helped turn the presidential contest away from Mitt Romney, welcomed him on the stage Tuesday morning at the Sheraton New York Hotel for his annual Clinton Global Initiative conference, where Romney was the featured morning speaker.
Was it going to be a set-up? And if so, for whom? Was Romney going to make a dig at President Obama at the conference hosted by the Big Dog himself? Or would Clinton deftly use the appearance to create a contrast between the former governor and the president, as well as media anticipation for his own moment on the stage with Romney? In many ways, it seemed a natural audience for Romney -- the wealthy former corporate leader, come to talk to a community of his own -- and the appearance drew so many members of the New York and national press the ballroom reached capacity and spilled out into overflow press rooms.
In the end, it turned out not to be that awkward. The wizened, lean, former president, a few inches shorter than Romney, warmly welcomed the robust former Massachusetts governor, barely a year his junior, thanking him for his support for the nonprofit City Year program, a public-private partnership that began in Boston and which the Clinton Administration used in the early 1990s as a model for the national AmeriCorps youth service program.
Calling Clinton's introduction "very touching," Romney quipped: "If there's one thing we've learned in this election season, by the way, it is that a few words from Bill Clinton can do a man a lot of good."
The audience laughed appreciatively.
"All I gotta do now is wait a couple of days for that bounce to happen," Romney continued. "... One of the best things that can happen to any cause, to any people, is to have Bill Clinton as its advocate."
Romney's remarks hit three major points. The main one, and most obvious reason for his appearance, was a discussion of how to do public-private aid ventures in the third world through something he called "Prosperity Pacts." It sounded in many ways like Romney's prescription for the U.S. economy -- free enterprise and free markets and private investment would all lead to job creation overseas, he said, strengthening developing nations. Along with humanitarian aid and the pursuit of strategic diplomatic and military interests, it was the major justification for U.S. foreign assistance, Romney said.
The heart of his remarks was a paean to the power of work to defang fanaticism, especially in the Middle East, where, he said, youth unemployment was a major problem:
Work has to be at the heart of our efforts to help people build economies that can create jobs, young and old alike. Work builds self-esteem. It transforms minds from fantasy and fanaticism to reality and grounding. Work does not long tolerate corruption nor will it quietly endure the brazen theft by government of the product of hard-working men and women. To foster work and enterprise in the Middle East and other developing countries I will initiate something I will call Prosperity Pacts, working with the private sector the program will identify the barriers to investment and trade and entrepreneurship and entrepreneurialism in developing nations. And, in exchange for removing those barriers and opening their markets to U.S. investment and trade, developing nations will receive U.S. assistance packages focused on developing the institutions of liberty, the rule of law, and property rights ....

The aim of a much larger share of our aid must be the promotion of work, and the fostering of free enterprise. Nothing we can do as a nation will change lives and nations more effectively and permanently than sharing the insight that lies at the foundation of America's own economy, and that is that free people pursuing happiness in their own ways, build a strong and prosperous nation.
Romney also found time to zing Obama on his handling of the tumult in the Middle East, saying that America has found itself "at the mercy of events rather than shaping events."
"A lot of Americans, including myself, are ... troubled by developments in the Middle East," he said, listing four examples: "Syria has witnessed the killing of tens of thousands of people. The president of Egypt is a member of the Muslim Brotherhood. Our ambassador to Libya was assassinated in a terrorist attack. Iran is moving towards nuclear-weapons capability."
The administration had hesitated to call the attack a terrorist one.
And Romney appeared to be walking away from an analysis of the causes of difference between nations that had been a part of his stump speech since at least 2007. That take got him into trouble during a visit to Israel this summer, when he attributed Israel's economic strength when compared to Palestinian Authority-governed areas to its culture, offending some Palestinian leaders. Romney's new version of his historic riff also excised references to authors Jared Diamond and David Landes, whom Romney had been citing for years as the source of his thinking on the comparative wealth of nations; Diamond objected to Romney's interpretation of his work in August, writing in a New York Times piece that Romney "misrepresented my views." Said Romney in New York:
When I was in business, I traveled to a number of other countries. I was often struck by the vast difference in wealth among nations that were sometimes neighbors. Some of that was of course due to geography. Rich nations often had natural resources like mineral deposits or access to waterways for transportation. But in some case, all that seemed to separate a rich country from a more poor one was a faint line on the map. Countries that were physically right next door to each other were in some cases economically worlds apart. You can think of North Korea and South Korea. I became convinced that the critical difference between these countries wasn't geography. I noticed that the most successful countries shared something in common: They were the freest. They protected the rights of individuals. They enforced the rule of law. They encouraged trade and enterprise. They understood that economic freedom is the only force in history that has consistently lifted people out of poverty, and kept people out of poverty.
Wrapping his remarks, Romney took a swipe at Iranian President Mahmoud Ahmadinejad, who'd appeared at the United Nations just across town on Monday and raised hackles by saying that Israel would be "eliminated" in the long run because it lacked the regional roots in the Middle East that Iran has.
"We should not forget, we cannot forget, that not far from here a voice of unspeakable evil and hatred has spoken out, threatening Israel and the entire civilized world," Romney said. "But we come together knowing that the bitterness of hate is no match for the strength of love."
And with that, and a bit of boilerplate, Romney concluded.
Clinton shook Romney's hand. The governor left the stage. Clinton turned back to the podium, saying to the audience flatly, "Thank you, governor." He looked down at the podium and shuffled his notes.