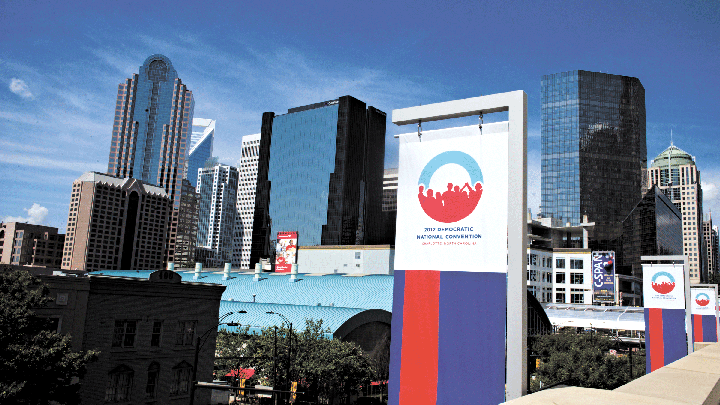 Name any one part of the country that has changed more economically and politically over the past decade, and you'd be hard-pressed to find a better example than Mecklenburg County, site of the Democratic National Convention.
The region's explosive growth and economic development has transformed the city of Charlotte into a vibrant, modern banking mecca of the South. The newly developed uptown is filled with hip restaurants, a spanking-new basketball arena, and skyscrapers housing Fortune 500 companies such as Duke Energy and Bank of America, which set up shop in the city. Meanwhile, many natives have decamped to the surrounding suburbs to escape urban sprawl and rising taxes.
In turn, the surrounding region, once a Republican-friendly bastion, became so Democratic that it allowed President Obama to narrowly carry the state in 2008. George W. Bush won the county with 51 percent of the vote against Al Gore in 2000, but John McCain mustered only 37 percent eight years later.
The changes have been fueled by an influx of 147,000 new county voters in those eight years, many without any ties to the South and drawn to the region because of its business-friendly reputation.
"This is the new South; it is not the Deep South anymore. This is a whole different Southern state," said Democratic pollster John Anzalone, who consults for many Southern Democrats, including Charlotte Mayor Anthony Foxx. "They don't have this tension between the business community and the government, black and white. There's a vibe here, and it's different [than] in other Southern states."
Indeed, Charlotte's explosive growth is the leading engine driving North Carolina into the battleground-state column. But winning North Carolina is proving to be much more challenging this time around for Obama, and his struggles could revolve around the region. While Obama's gains in Mecklenburg County came thanks to a diversifying electorate (particularly among Hispanics), his resounding margin of victory came thanks to the support of white-collar-educated professionals, many with ties to the banking industry. That support has since eroded, in part because of his administration's populist rhetoric against Wall Street, and it could cost him dearly in the state.
The Elon University/Charlotte Observer poll, conducted last week, showed Obama receiving 46 percent of the college-graduate vote in the state — down 5 points from his 2008 performance. Overall, the poll showed Republican nominee Mitt Romney leading Obama statewide, 47 percent to 43 percent.
Hispanic growth within the county has also driven Democratic optimism about winning the state — it has boomed from 6.4 percent in 2000 to 12.4 percent in 2011 — but Hispanics' relative lack of enthusiasm for voting appears to be dampening Obama's chances in the Tarheel State.
We want to hear what you think about this article. Submit a letter to the editor or write to letters@theatlantic.com.