Marines Sent to Yemen to Protect Embassy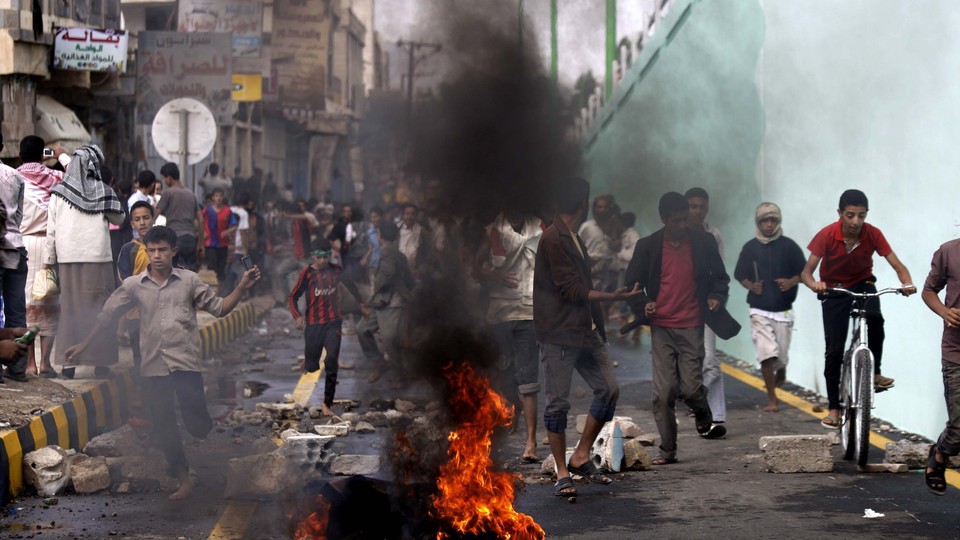 Marines have been sent to the U.S. Embassy in Yemen following violent protests that erupted in the capital city of Sana'a, the Associated Press reports.
Protests have ripped through the region this week, as people have reacted violently to an anti-Islamic video produced in the U.S. On Thursday, protesters burnt the embassy's American flag, set fire to tires and destroyed cars. Yemeni security forces eventually dispersed the protesters, who were not armed.
Yemeni President Abd al-Rab Mansur al-Hadi publicly condemned the violence and sent further security personnel to the U.S. Embassy. President Obama and Hadi discussed the violence over the phone on Thursday.
"President Hadi committed to doing everything possible to protect American citizens in Yemen, and said he had deployed additional security forces around the U.S. Embassy," the White House said in a statement.
White House press secretary Jay Carney said no embassy personnel were hurt in Thursday's clashes.
Protests still raged across North Africa and the Middle East on Friday, as demonstrators breached the compounds of the U.S. embassy in Tunisia and the German embassy in Sudan. In Tunis, protesters set fires to trees and broke windows inside the compound, Reuters reports.