Kicking Off the DNC: Notes, Photos, and Dissents from Charlotte
The Democrats say they're throwing the most open and accessible convention in history. A critical report from the scene.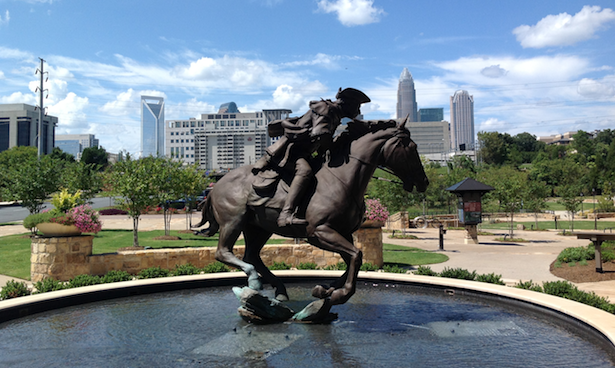 When did the Democratic National Convention begin?
I'd have sworn it started Saturday, when I attended an official "media party" open to credentialed members of the press and Democratic Party insiders. 4 hours of free food, drinks, and music were provided for perhaps thousands of invited guests, and although I only made it for the last hour, I managed to hear three bands on as many stages, drink several small cups of Fat Tire beer, and eat Carolina crab cakes, brisket tacos, and heirloom tomatoes sprinkled with artisinal sea salt.
Democrats know how to cater a party.
But wandering around Carolinafest, a Monday street fair in Uptown Charlotte, I kept being told that it marked the beginning of the DNC -- that kicking off the convention with a public event symbolized the party's commitment to throwing "the most open and accessible convention in history," as a DNC official put it. I guess it's the most open and accessible in the way the Obama Administration is history's most transparent: aspirationally, selectively, and ultimately much less than was advertised.
Carolinafest was much more open than anything held at the RNC in Tampa, where the uncredentialed public was never permitted inside the security perimeter, never mind in the convention hall.
Matt Welch describes it well:
Thousands thronged in the sweltering heat to listen to bands, eat delicious North Carolina BBQ, and engage in goofy civic projects like seeing how big Abraham Lincoln's shoes were (pretty big!). But by far the most crowded area was the double-sided row selling Barack Obama-themed political swag, from "Run DNC" shirts to somber presidential portraits to items available at Obama-Bling.com.

Vendors who didn't shell out the tent-money were also doing a brisk business in Obama pins, bizarro-world calendars, and photographs next to a sort of Obama-Buddha made of sand. Even inside the perimeter, the official gift stores have been shoulder-to-shoulder with T-shirt buyers. By any comparison, the market for Democratic-ticket swag outpaces that of Republicans by a factor of several.

I wandered around for several hours observing, taking pictures, and talking to attendees. Perhaps things will change tomorrow when the "speeches by important people" begin. But today, I was glad to see that, while there were a lot of police, none were dressed in military fatigues, or carrying assault weapons, or driving armored vehicles. They were just municipal police.
Uptown Charlotte didn't feel like an Orwellian cityscape (though I did see one helicopter hovering overhead).
Once again, the number of police that surrounded protesters made me uneasy. I've yet to see Occupy protesters here, despite being on the lookout. I thought I was about to find them when, while walking away from Carolinafest, I suddenly saw a mass of police officers on bicycles riding up the street and another mass coming from a side street. They were clearly organizing themselves to round the corner just in front of me, so I followed, and saw the tail end of a protest. I ran half a block to catch up, expecting to find scores of Occupy folks marching single file down the sidewalk. But it turned out to be about 15 to 20 citizens of Charlotte marching against a state law that banned gay marriage. They were incredibly mellow and being followed by police on bikes who easily outnumbered them, with perhaps 1.5 police officers for every protester.
At one point, a woman in a wheelchair stopped with her service dog, which was panting and exhausted. Five officers stopped, waiting beside her and a guy who waited with her, apparently instructed not to leave any protester alone. While they passed the time, they were incredibly polite, and offered to help obtain more water for the dog. Had I been watching from 30 yards away, it would've seemed as though marching in a protest gets you surrounded by intimidating police officers. These guys were kind and good-humored up close, but the ratio of officers to peaceful marchers still sent the message that walking around with signs is a subversive activity.
Jodie Evans, a Code Pink protester, said she got that message too. "I'm here because it's kind of like Disneyland. It's all programmed. Nobody's talking about the real issues," she told me when I stopped her on the street for an interview. "They say it's the most open convention ever. Well I held up a banner that said, 'Bring the War Dollars Home' inside the convention center today and I was escorted out. I've been to almost every single convention since 1972, and I've never seen a convention so juice-less -- without passion or energy or people fighting for ideas or having the conservation or discussion. That's just missing. So I came here to bring some of that."
What else did I encounter on Monday at the DNC?
A lot of corporate sponsors. Tim Carney lays out the unseemly connections in detail; without knowing all of them, I was just struck by the optics. Here's what you see walking around Charlotte, for example: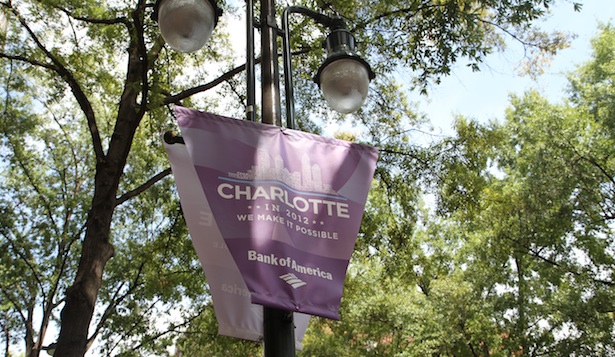 Pro-choice fans. Hundreds of people were using these to fan themselves at the height of Monday's heat: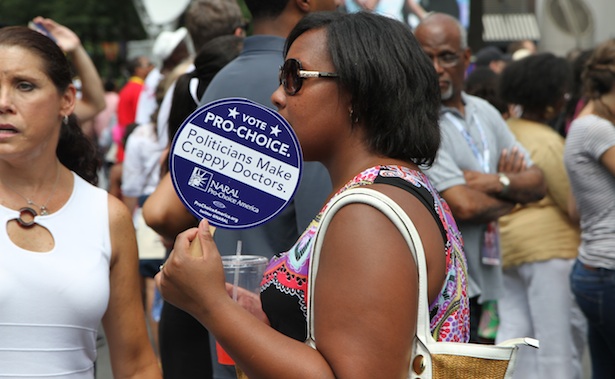 Free union hugs. I'm not exactly sure what it means either:
A visual reminder that planning to have a green convention and actually having a green convention are different things: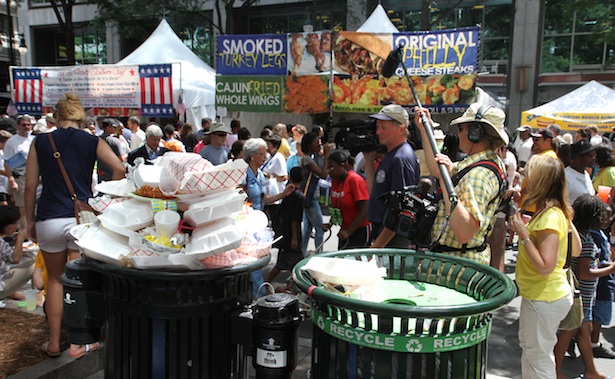 An hour later, a questionable solution to the problem above: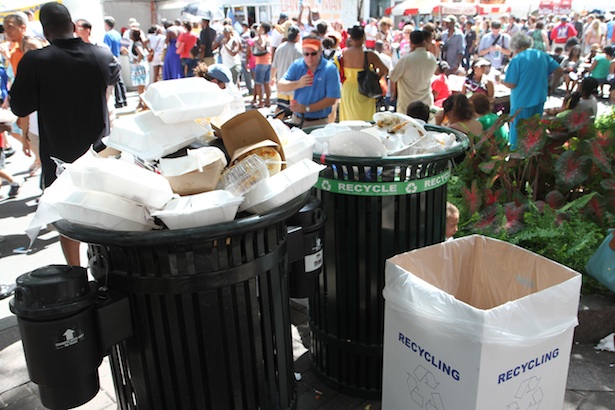 A lot of nostalgia for Obama's 2008 victory (lots of people took four year old t-shirts out of a drawer when they got dressed this morning) -- and entrepreneurs ready to capitalize on that nostalgia: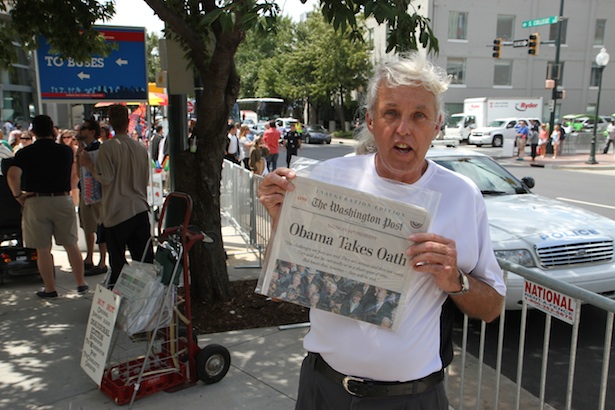 A few dissenters, like this kid: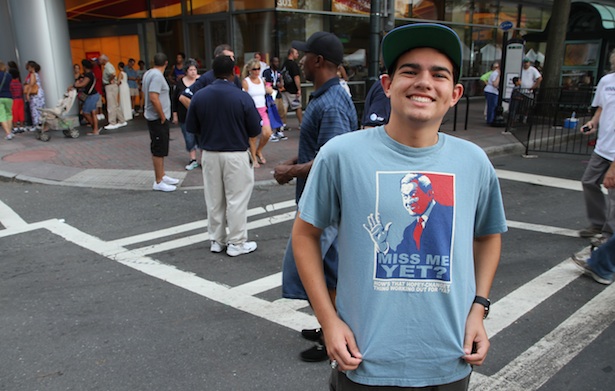 And this guy: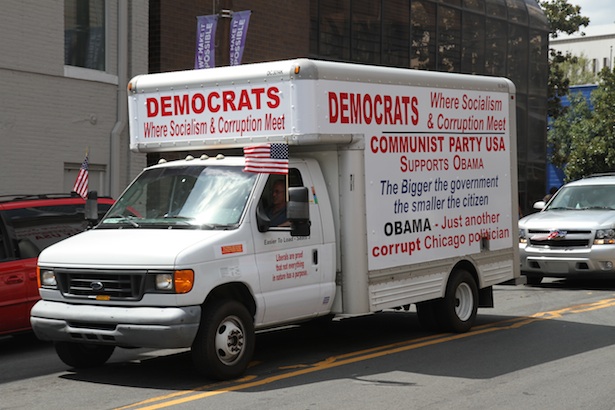 And Team Obama's prepared response, which is also one of the more expensive campaign signs you'll ever see: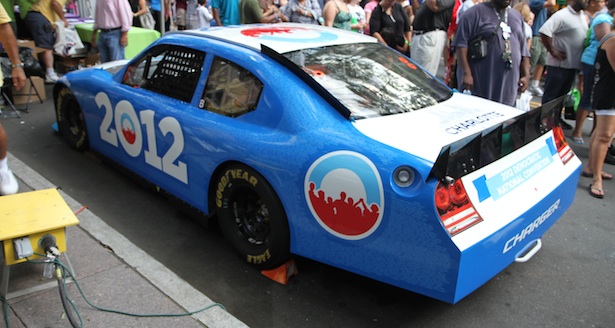 People posing with photographs or cardboard cutouts of Obama, something I saw a lot: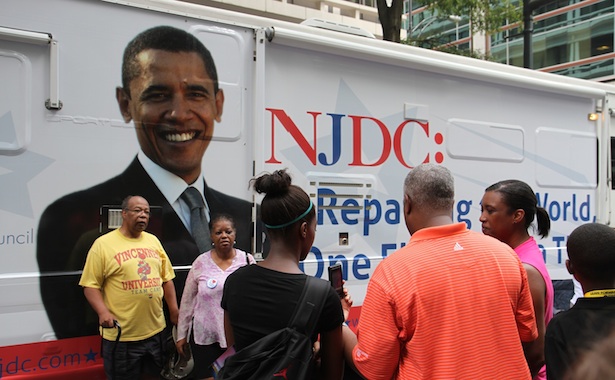 And finally, a lot of private security guarding buildings and office parks in downtown Charlotte. I didn't notice them until I took a few steps off the sidewalk and onto private property to photograph this whimsical bear: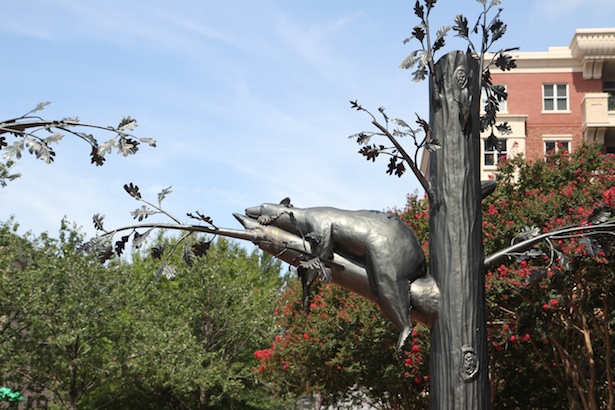 A security guard promptly emerged and chased me off. With all the financial companies that have offices here, the presence of Occupy, and private security everywhere, I wonder if there will be clashes later in the week, and hope there won't be any violence, police misconduct, or property destruction.
That's all for now. The speeches start tomorrow. And if all goes well, here's who the Democrats will be indebted to: